Editor's note: The following review is part of Macworld's GemFest 2012 series. Every weekday from mid June through mid August, the Macworld staff will use the Mac Gems blog to briefly cover a favorite free or low-cost program. Visit the Mac Gems homepage for a list of past Mac Gems.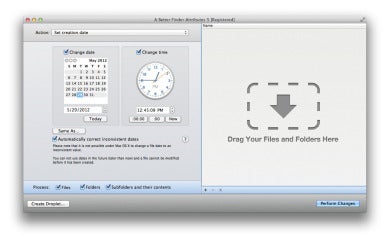 There are times when you may want to change certain Finder attributes on specific files, like the creation or modification dates. You may want to apply Finder labels to a number of files in folders and sub-folders without performing the operation for each group of files manually. Or you may want to lock or unlock files, or perhaps remove invisible files.
For photographers, settings to adjust EXIF timestamps, or match them to file creation dates, can be useful, so photos can be sorted in the Finder by the date they were shot, rather than the date they were imported. Web designers might want to adjust file creation dates as well, so they show up on a server correctly. And anyone who uses Finder labels may want to apply labels to a group of files or folders with a single click.
Read more »
2