Literature and Latte's $15 Scapple is a unique amalgamation of productivity tools from the folks who brought us the amazing Scrivener (

) writing app. The developers describe Scapple as a freeform, nonlinear, mind-mapping text editor—unlike most mind-mapping software, there's no suggested hierarchy and no set system for capturing ideas.
The app starts you off with a blank canvas. Double-click anywhere to add a new note. To connect notes, just drag and drop one onto the other. If you change your mind, you can repeat that process to disconnect the two notes. The default connection is a simple dotted line, but if you'd rather have a directional arrow, hold down the Option key as you drag and drop. If you'd rather the arrow point the other way, instead hold Command+Option. If you prefer an arrow that points both ways, hold down Shift+Command.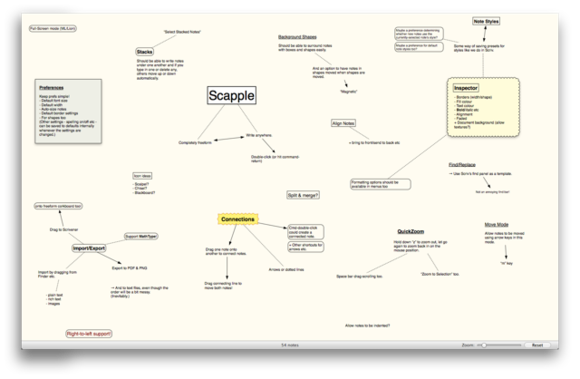 Read more »
4