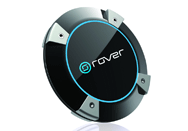 Clearwire is offering a pay-as-you-go mobile hotspot called the Rover Puck as an alternative route to its 4G service. Aimed at consumers who don't want to commit to (or can't qualify for) a service contract, this very portable device lets you become a walking hotspot, sharing 4G Internet access with up to seven friends.
The catch is that you can use it only in Clearwire's WiMax service areas. I took it to an offsite staff meeting, but the building was not quite within range of the WiMax signal. The WiMax symbol (which resembles a martini glass) on the top of the disc flashes as the device seeks a signal, and stays solid when the Puck is connected to WiMax service. I walked about 20 feet from the meeting room and got a connection, but the WiMax indicator started flashing when I returned to the meeting. What's more, the Puck doesn't support 3G—and though Clear is ambitiously expanding its WiMax service, that service still doesn't reach some places I frequently go. But if you stick to WiMax turf, the Puck is a good and economical option.
About the same size as Clearwire's Clear Spot 4G, the $150 Puck connects to the same Clear WiMax network as other Clear 4G products, but it doesn't require a contract. In contrast, the Clear Spot 4G router costs $100 outright or you can lease it for $5 monthly, but it requires a contract of about $30 per month for unlimited use.
Read more »
4