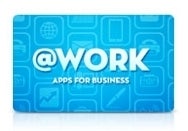 When Alaska Airlines started distributing iPads to its pilots last year, the company also gave them $10 iTunes gift cards.
The company wasn't just being nice. Alaska wanted its pilots to buy specific apps they'd need in the cockpit—but the App Store offered no good way to purchase and distribute such apps in bulk. Without the gift cards, pilots would have had to buy the apps on their own and bill the airline for reimbursement.
"There was no nimble way to do this," says Jim Freeman, a captain with the airline.
Read more »
9