Don't-Miss Networking Stories
Installing Nagios on Mac OS X 10.5 Server
John C. Welch updates his instructions for installing the open-source Nagios on to the latest version of OS X Server, an operation that will turn a Mac into a network monitoring station that can notify you of hardware and software problems.
Have an 802.11n network that's slowed down by an older Mac's "g" wireless card? Here's a solution.
While OS X has long included basic firewall software, Leopard introduced some significant changes to it, leaving many Leopard users confused as to how to keep their Macs secure. But though the firewall interface in Mac OS X 10.5 is indeed quite different from that in earlier versions of the OS, it's still relatively easy to use.
If you travel with colleagues for business trips, or if your multiple-Mac family brings its laptops on vacation, getting Internet access for everyone can be an exercise in configuration frustration. There is an alternative: a cellular router.
While Wi-Fi signals are supposed to reach 150 feet in any direction from a gateway, that optimistic number is rarely reached indoors.
Troubleshooting AirPort Interference
Imagine a large room full of loud people. Voices bounce off the walls, making it impossible to follow any one conversation. That's something like what happens to wireless networks: there are all sorts of other electronic devices out there using the same wireless spectrum, and your AirPort hardware can have a hard time distinguishing one transmitter from another.
Here are some favorite pieces of low-cost software specifically designed for—or just especially handy for—use on a laptop.
Registering more than one domain name to point to a single Web site isn't unusual. Nor is it strange to host a Web page at an ISP or community site and want a subdomain to bring people directly to what's often a long and hard-to-remember URL. Redirection is the answer.
Apple's new AirPort Extreme Base Station, based on the still-in-progress IEEE 802.11n standard, can wirelessly transmit more than 90 megabits per second (Mbps) of data.
An energy-efficient office is good for the planet—and your wallet
Built-in and add-on spam busters—programs designed to work with your e-mail program to eliminate spam—go about determining what is and isn't spam in a variety of ways.
If you travel with any regularity, chances are you have your favorite tricks for making each trip go as smoothly as possible. Here are a few more techniques to add to your repertoire, from three of our mobile Mac experts.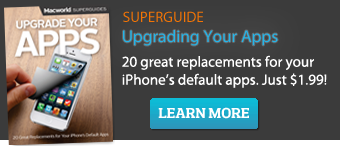 Sponsored Links