Don't-Miss Storage Stories
Time Machine tips and troubleshooting
Some people will be able to set up and turn on Time Machine with a single click. But you may need to do some manual configuration to get it to work the way you want. You should also be aware of some quirks in Time Machine's operation, particularly when restoring data.
Although any backup is better than no backup at all, Time Machine may not protect your data to the extent or in the way that you need. A few significant weaknesses offset its impressive strengths.
The inclusion of Time Machine as part of Mac OS X 10.5 shows the importance of good backups for every Mac user. And while backing up and restoring files may be easier than before, you're still going to need a place to store all that data. In this excerpt from his Take Control of Easy Backups in Leopard ebook, Joe Kissell tells you what to consider when shopping for a backup drive to hold all that Time Machine-saved data.
Fitting your files on a MacBook Air
If you've ordered a MacBook Air, you've got some storage decisions to make. The 80GB of storage that ships with this thin notebook goes against the trend of higher-capacity hard drives. But not to worry—Joe Kissell has some advice on how to make sure all your vital files and applications fit on your new laptop.
Learn a couple of different ways to see what Time Machine's been doing on your Mac.
File sharing helps coordinate group projects, create a central archive of files, and share media. But before you dig into the details of how to share files, consider the risks of file sharing. Glenn Fleishman does just that in this excerpt from his new ebook, Take Control of Sharing Files in Leopard; he also looks at what actions you can take to avoid such risks.
You know you should back up your data. But whether it's the cost, the setup, or the hassle of swapping discs or shuttling around hard drives, most of us find a million excuses not to get the job done. So wouldn't it be great if you could click on a few buttons and ensure that your data was backed up regularly?
Christopher Breen answers reader questions about blurry iMovie stills, nonprinting printers, syncing select contacts, and iMovie chapters as iDVD clips.
Here are some favorite pieces of low-cost software specifically designed for—or just especially handy for—use on a laptop.
Christopher Breen troubleshoots reader problems with converting unprotected DVDs, diagnosing the Apple TV, iSight alternatives and AirDisk and Apple's Backup.
The Mac Pro and the previous top-of-the-line desktop Mac, the Power Mac G5, may look alike on the outside—cheese-grater exterior, huge brushed-aluminum handles, and USB and FireWire ports up front—but inside, they're entirely different beasts.
Storage Videos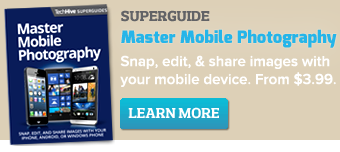 Sponsored Links