Macworld Magazine
Macworld has varieties of subscriptions types, from print to digital, to help you stay on top of today's fast-changing Apple technology. Combining product reviews, valuable tips, and analysis of the latest news developments, every month Macworld Magazine provides you with what you need to know about the universe of Apple products.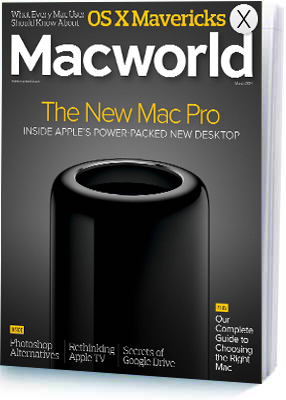 Macworld Magazine
In every issue of Macworld you'll get Mac news and reviews in our MacUser section, discover great Mac apps in our Mac Gems column, read the latest iPhone and iPad news in iOS Central, find the very best of the App Store in our App Gems column, get a shot of productivity in Working Mac, take control of your digital entertainment life with Playlist, make the most of your photos and videos with Create, and get the best tips and tricks in the business from Help Desk (featuring Mac 911 and Mac OS X Hints). Plus, there are timely feature stories and insightful opinion columns.
About Macworld Magazine Subscriptions:
Print - Annual Subscription: $21.97 - Includes FREE Access to the Enhanced iPad Edition (for a limited time*):
Macworld is the ultimate resource for savvy users of Apple products. Every issue is filled with authoritative news, analysis, and tips about all things Apple - Mac, iPhone, iPad, and beyond!
The most trusted product reviews, from Apple hardware to accessories to the very best apps.
Make the most of your iPhone.
Get work done on your iPad.
Learn tips and tricks for all your Apple products.
Shoot videos with pizzazz.
Plus, get 5 of our Macworld Power Guides FREE as your gift with subscription. Click here to learn more.
Enhanced iPad Edition:
Optimized views for the new iPad, including Retina Support
Integrated Video Clips, Sound Bites, and Multimedia
High-Resolution Images
iPad Intuitive Layout
Swipe and slide through digitally remastered articles
Fully Interactive Table of Contents
URL and Macworld Find-Product Code Supported
Links to webpages, app and product reviews
Back issues storage on your iPad
Bookmark Capabilities
Share Content via Twitter and Email
iOS 5.0 or later required
Available for free with any print subscription for a limited time* through Macworld.com, or through Apple, via the Newsstand (for $1.99 monthly recurring).