Don't-Miss Antivirus software Stories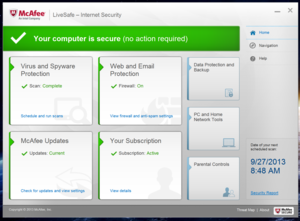 Padlock lets you lock your Mac's screen, either by putting the display to sleep or by starting the screensaver, using the keyboard.
Identity Finder 5.1 helps keep your personal data secure
This scanning program is dedicated to rooting out personal information cached without encryption anywhere on your computer's internal and attached disks. It can also securely delete, encrypt, or move files with troubling personal details.
It might lack the polish of other Twitter clients, but this iPad app puts the core features of the microblogging service front and center, while making other new and unique tools quickly accessible.
LastPass syncs browser passwords across platforms.
Data Rescue 3 is a program that every Mac user should at least know about, if not own outright, for those times when you need to restore important files.
Undercover monitoring software lets you see everything that happens on your Mac.
SpectorSoft's eBlaster Mac 2010 is a powerful tool for surreptitiously monitoring every keystroke someone makes on their computer.