Don't-Miss iOS Stories
macworld.com
If you're fixing for a fight, these iPhone and iPad games can help you enjoy the sting of battle.
Most weather apps add more features to get you to ditch the built-in iOS offering. Solar takes the opposite approach with a minimalist, but eye-catching use of color.
There's a lot going on in this physics puzzler -- perhaps too much, in fact. The frenetic, fast-paced Bucketz feels more like an assault on your senses than a pleasant way to pass the time.
App Guide: Sesame Street iOS apps
macworld.com
These apps may not be able to tell you how to get to Sesame Street, but they do feature some of your favorite characters from the children's TV show.
Cinemagram answers the burning question a fair number of folks between the ages of 8 and 28 have these days: How can I create those fancy animated GIFs of cute cat expressions like a professional?
App Guide: Training apps for iOS
macworld.com
Are the Summer Olympics inspiring you to get in a workout of your own? These fitness apps can get your run, swim, or gym session started on the right foot.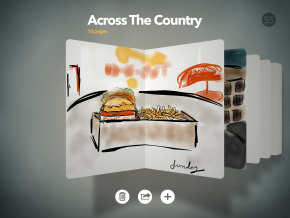 Paper, created by design studio Fiftythree, may be one of my favorite drawing apps ever to grace the iPad. But sadly the app as-is has a few major flaws that make it exceedingly frustrating to work with.
Disc Drivin' for iPhone and iPad
Asynchronous turn-based games are quite popular for the iPhone and iPad, but racing games really don't translate well to this slower-paced, casual format.
macworld.com
If you want to know what's happening in your vicinity, these iPhone and iPad apps promise to keep you informed of nearby happenings.
macworld.com
Stay on top of all the Olympic action from London with the help of these apps, which offer news, profiles, results, and -- in one case -- live streaming.
Houzz Interior Design Ideas for iPhone and iPad
Houzz lets you scroll through hundreds of thousands of photos and products and add them to your own virtual lookbooks, but you can also peruse informational content, buy products, and find professional home-design services in your local area directly through the app.
Sponsored Links