Don't-Miss Photography software Stories
Five low- or no-cost iPhone image editors
The App Store is loaded with a number of great third-party apps to help you make the most of your mobile photos. And many of these filters will cost you very little -- or nothing at all. Jeff Phillips looks at five free (or nearly free) image editors.
Stop motion animation package is fun at first but frustrating as you try to go beyond the basics.
macworld.com
Give the videos you shoot on the go a distinctive look with these iOS editing and effects apps.
Collage maker lets you create beautiful photo collages quickly and easily.
For those times when you need to think about video file sizes and formats, this iOS app can be a big help.
Flare offers a simple, iPhone-inspired interface that makes it easy for novice photo editors to add fun, stylized color effects and borders without requiring a trip to a more complicated program like Photoshop.
Photo collage creator lets you produce sophisticated and stylish images.
iMovie for iOS 1.2 for the iPad makes movie editing tactile and engaging. While the app isn't perfect, it offers a surprising amount of flexibility. Jeff Carlson weighs in with this review.
If you're intimidated by high-powered image editing tools, this iPad app provides a good mix of powerful functionality and ease of use.
PhotoCopier for iPhone and iPad
The variety of filter choices available in this universal image-editing app -- and the results they produce -- will impress you, even if the sheer volume of choices can be a little overwhelming.
This image editor lets you insert effects -- sunglasses, necklaces, and more -- over photos stored on your iOS device. The fun wears off pretty quickly.
Four years in the making, Skitch 1.0 is a unique, easy to use, and well-connected screenshot- and photo-sharing app and Web service available for the Mac.
This iPad app provides a terrific way to explore photos on Flickr and -- after a recent update -- Facebook.
This app, which organizes Flickr photostreams into browsable arrangements by time and space, provides a perfect interface for interacting with the photo-sharing service on an iPad.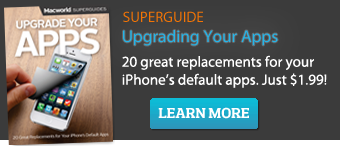 Sponsored Links