Don't-Miss Social networking software Stories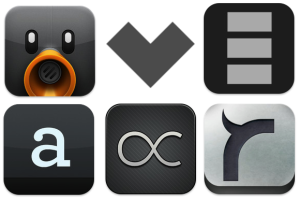 If you need to write and post to a blog when you're out and about, Posts is a well-designed app that's of particular value for managing blogs.
TransFire XP is meant to simplify chatting between you and your friends who speak other languages. Unfortunately, however, the app is uniformly awful.
Bobsled Calling for iPhone and iPad
If you're looking for an unfussy little app to make Voice over IP calls on your iPhone, iPod touch, or iPad, Bobsled Calling is a solid choice.
This social networking app, which aggregates location-based check-ins from Facebook, Twitter, Foursquare, Instagram, and Google+ to let you know if friends are nearby, delivers on what it promises. But some might find the app's ability to follow strangers' check-ins to be a little off-putting.
Twittelator Neue for iPhone doesn't look or behave like every other Twitter client; it sports unique design choices all its own. It faces tough App Store competition, though.
Global Delight's Game Your Video wants to make the video-editing process as simple as possible, and it does an excellent job of it.
Tweetbot was already great on the iPhone. On the iPad, it gets even more room to shine--and shine it does.
Apple's Find My Friends follows through on the promise of its name, though you need to bring your own friends.
Even when shrunk down to fit the iPhone's screen, Flipboard still offers a great interface for casual reading.
App Guide: iOS people locators
macworld.com
Wondering where everybody is? These iOS apps can help you track down friends and family -- or let other people know your location.
Verbs is a beautiful IM client for iPad and iPhone. It's missing a few features that could push it from good to great.
Facebook finally arrived on the iPad, and the iPhone version of the app merited a few updates of its own, too. Despite a few quirks, the app offers a superb way to browse the social network from any iOS device.