Don't-Miss Stories
Live Blog: Kutcher and Gad on playing Jobs and Woz
Ashton Kutcher and Josh Gad take the Macworld/iWorld Main stage to share their experiences playing the technology industry's two most celebrated and influential personalities, Steve Jobs and Steve Wozniak, in the upcoming feature film, JOBS.
The annual Mac and iOS trade show and conference kicks off Thursday. Join Macworld editors for your guide on what to expect from the three-day gathering of developers, users, and enthusiasts.
Macworld's own live interview stage will be featured once again at Macworld|iWorld. Here's the schedule.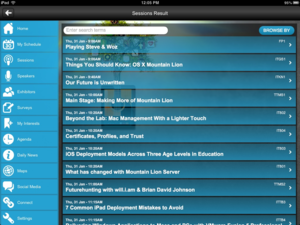 Macworld/iWorld turns to star power with Ashton Kutcher, Will.i.am
Ashton Kutcher, who plays Steve Jobs in an upcoming biopic, will kick off next week's Macworld/iWorld conference in a session with co-star Josh Gad. Musician Will.i.am will also appear at next week's Mac and iOS conference, discussing future technology with Intel's Brian David Johnson.