Now Playing:
Tech For Life: Golf apps and accessories
Jul 9, 2013 11:18 AM
Recent and Recommended Videos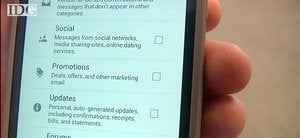 Don't like how Gmail is putting your emails into categories like social, promotions or updates? It's an easy feature to disable.
Don't let your information accidentally get erased. It's easy to back up to iCloud and to iTunes; here's a short video primer to help you do so.
How to sync your iPhone and iPad using iTunes
Do you still need to use iTunes to sync your iPad and iPhone with your Mac? The answer is (probably) yes. Associate Editor Serenity Caldwell explains why, and leads you through the ins and outs of the syncing process.