For on-the-go dads
I've been a father for less than five years now, but I've already learned a few things. First off, dads are busy. Really busy. They're always running from place to place, whether it's for work, errands, parental obligations, or, most likely, some combination of all three. Since I continue to find myself away from home far more than I'd like, I've crafted a list of some iPod-related suggestions for other dads on the go.
The car as sanctuary The stereotypical father is still a road warrior, driving long distances in order to provide security for his family. Stereotypes be damned, a lot of people still spend far too much time in traffic. Thank goodness the iPod can ease the pain of long drives.
Rather than adding a flashy gadget to the car, why not integrate dad's iPod via a more subtle approach? Dension's $200 Ice-Link Plus replaces his car's existing trunk CD player with an iPod. Instead of CDs, his car stereo now has five iPod playlists at the ready, which he can fill to bursting with his favorite artists, genres, or albums. Dension makes an "active cradle" to drop your iPod into, but I never want to be bothered with taking my iPod in and out of the car every time I park somewhere. Instead, get Dension's Dock Cable and stow your iPod out of sight in your car's trunk—right where that obsolete CD player used to be.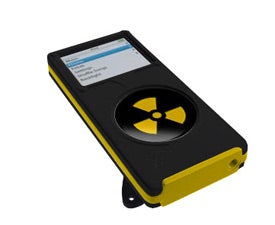 Silicone iPod cases from iFrogz come in a number of colorful designs such as "Toxic Black Sunburst."
Walking, running, mowing When dad's out navigating the cold, cruel world, make sure his iPod is protected. iFrogz's line of $31 iFrogz silicone iPod cases are colorful and protective, with an optional screw-on belt clip.
Once his iPod is stowed away safely on his belt or in his backpack, dad will still want to control the volume, pause, and skip tracks at his leisure. There's no better alternative than Apple's own $49 Apple FM Radio Remote . Not only does the Apple accessory feature a snazzy white clip-on wired remote, but it also comes with a built-in FM radio tuner.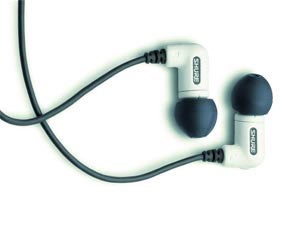 In-ear headphones like Shure's E3c model can help dad drown out the outside world without pumping up the volume to dangerous levels.
I've found that there's no better place to use an iPod than when I'm mowing the lawn. Unfortunatley, those lawnmowers are noisy! But smart dads don't simply turn up the iPod's volume controls—that's what leads to deaf daddies. Instead, dads need to use a high-quality pair of in-ear headphones that block outside sounds while also making beautiful noises in your ear. Shure's $110 E3c headphones will replace that awful lawnmower noise with music of incredible detail and clarity.
Planes, trains and hotel rooms Many modern businessdads find themselves traveling far away from home, riding on airplanes and sleeping in hotel rooms. It's a sad time for any dad who wants to be back with his family—so why not use the iPod to make it less unpleasant?
Dad may enjoy watching a full season of episodes from his favorite show purchased off Apple's iTunes Music Store.
For video iPod-toting dads, consider a season's worth of TV episodes, such as Lost, available for $35 at the iTunes Music Store. And let dad watch that video on the plane without any interference with an amazing set of high-quality in-ear headphones, UltimateEars' $250 super.fi 5 Pro .
In the hotel room—or in your back yard, or even perched on the toilet tank in your bathroom—there are plenty of times when you want to listen to music, but don't want to wear any headphones. My favorite portable speaker is Tivoli Audio's $150 iPal . It's got an auxiliary jack for your iPod, tunes in AM and FM radio stations, and will run when unplugged on a rechargeable battery. The iPal is great for a trip to the beach, a sunny afternoon in the backyard, or a sojourn in a far-off hotel room.
Make the experience even better by letting dad pack his dock and Apple's $29 Apple Remote , which lets him control the iPod wirelessly from across that hotel room. If he doesn't have an infrared-controlled iPod dock, you can get one from Apple for $49 .-JASON SNELL
For dads at home
Sure, there are plenty of ways for pop to enjoy his iPod on the go. But what about when he's relaxing at the homestead? Here are some suggestions for bolstering at-home audio enjoyment.
Connections are cheap You could buy a powered dock that connects an iPod (or a computer) to a home stereo, but such a setup can run $50 to $150. Shoppers on a budget should consider the less expensive route of separate cables and a charger. Belkin's $6 Y Audio Cable gives you left/right RCA connections (for connecting to a stereo receiver or amplifier) on one end and a 1/8-inch miniplug (for connecting directly to an iPod's headphone jack or the audio output of Apple's iPod Dock) on the other.
For better quality, Belkin has a $20 Stereo Link Cable offers better cable and connectors and the $20 AV Cable for 4G/5G iPods includes a video cable for watching photos and videos on the TV. (Most self-powered speaker systems, such as those you'd connect to a computer, include a cable with a 1/8-inch miniplug, so you don't need to buy one.)
If you go this route, you'll also want to keep your dad's iPod powered up, and Sonnet's $20 iPod USB Power Adapter , compatible with 4G and newer iPods, is the most inconspicuous—and one of the least expensive—we've found.
It'sn iPod dock! It's a flash card reader! Actually, Edge Tech' Dock & Multi Flash Card Reader for iPod is both.
What's up, dock A dock for charging and syncing an iPod with iTunes is a handy gift, but if your dad is like most modern fathers, he also has a digital camera. Edge Tech' $45 Dock & Multi Flash Card Reader for iPod can save some space on his desk by combining a standard iPod dock with a universal media card reader. The iPod cradle on top works with all dock-connector iPods and features a dock-connector port and audio and S-Video outputs on the back. The media-card slots on the front accommodate xD, SD, MMC, Memory Stick (standard, Pro, and Duo), SmartMedia, Compact Flash, and MicroDrive cards. USB2.0 speed means tunes and picts transfer quickly.
Old school, new sound Most dads born before the '80s likely have music in a format other than CD. Getting that music onto an iPod can be a challenge, but ADS Tech's $50 Instant Music makes it easy. Simply connect your receiver or tape deck—or phono pre-amp if your dad still has vinyl—to the Instant Music's inputs and then connect the Instant Music to your computer via USB. Play back your music source and then record to your favorite audio format on your computer. (Mac users can use GarageBand to record, whereas Windows users can use the included Nero Mix and Wave Editor 2. You can also use other audio-recording apps on either platform.)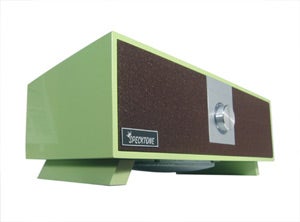 Go retro with Speck Product's SpeckTone, an iPod speaker system that recalls the radios of the Eisenhower Administration.
There are plenty of options for iPod speaker systems out there, but older dads will get some nostalgia from the design of Speck Product's $150 SpeckTone. With an enclosure made of real wood and available in white, black, or super-retro mint green with brown, the glossy SpeckTone is a spitting image of the table radios of yesterday. But this radio features an iPod dock cradle, 28-Watt amplifier, and 4-inch subwoofer, which means it will easily fill the den or bedroom with music. It even includes two "skin" cases, one for the iPod nano and one for the iPod (with video).
As for a newer speaker systems, Apple's $349 iPod Hi-Fi purports to be "portable," but its size and weight limit how far you can take it. If your pop wants something that offers comparable sound quality—perhaps better, depending on dad's preferences—in a more portable package, get him ZVOX Audio's $200 ZVOX mini. At 13-by-10-by 3.3 inches, the ZVOX mini, available in black, white, or silver, is significantly smaller than the Hi-Fi and also 10 pounds lighter (7 pounds lighter if you include the mini's external power supply). Yet the mini offers superior detail, soundstage, and stereo imaging. You won't get the room-shaking volume or bass levels of the Hi-Fi, but it's a more-than-fair tradeoff, especially given the mini's lower price. And if dad wants to take the ZVOX mini out to the back yard, an additional $100 gets him a hefty rechargeable battery and a padded case for carrying the mini, battery, power supply, and an iPod—he won't even have to take the mini out of the bag to use it.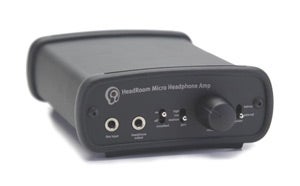 The HeadRoom Micro Amp offers a dedicated headphone amplifier that will lets higher-end headphones reach their full audio potential.
Money's no object Got a father with golden ears? Got deep pockets? Get dad a headphone rig that'll do his lossless music justice. HeadRoom's $299 Micro Amp bypasses your iPod's headphone jack and provides a dedicated headphone amplifier with better circuitry and the ability to drive higher-end headphones to their potential. (You should connect such a product to the iPod's dock-connector audio output via an iPod dock or an accessory such as SendStation's $30 PocketDock Line Out .) With a Micro Amp between his iPod and headphones, he'll hear increased dynamic range, better detail, punchier presence, better bass response—simply better sound overall. In addition, HeadRoom's crossfeed processor—which adds an ever-so-tiny bit of delayed audio from the right channel to the left, and vice versa—helps reduce the "blobs in the head" effect of traditional headphone listening; it makes listening to headphones less fatiguing and more like listening to speakers or a live performance. (The processor can be switched off if dad prefers.)
But don't stop there: If dad spends a lot of time in front of the computer, HeadRoom's $299 Micro DAC is a matching digital-to-analog converter (DAC) that dad can connect to his computer's digital audio outputs for high-end desktop listening. Superior to the DACs found on computer sound cards, the Micro DAC will make working at home much more enjoyable—in fact, it might be difficult to pull dad away from the computer. And the aluminum-bodied Micro Stack (as HeadRoom calls the pair) is only 3.5-inches wide by 4.5-inches deep and just a few inches tall—it takes up less desk or table space than a couple iPod docks.
To get the most out of this high-end gear, dad will likely need a headphone upgrade. AKG's new $400 K 701 headphones may look like an example of iPod-influenced style-over-substance, thanks to their white-and-silver appearance, but these cans are among the best in the world. Like their predecessors in AKG's line, the K 701 offer stunning resolution across the audio spectrum, but you also get deep bass extension and enough punch and impact to keep you rockin'.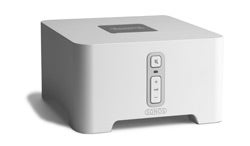 Sonos' ZonePlayer 80 is a smaller unit than the original ZP100—but it adds optical and coaxial digital output.
Let dad (and everyone else) enjoy music no matter which room he's in with Sonos's Digital Music System. The Sonos system creates its own mesh wireless network of ZonePlayers; each ZonePlayer can play tracks from your digital music library individually, or you can combine zones to send different audio to different parts of the house. (A Party Mode plays the same thing everywhere.) The ZonePlayer 100 ($499 each) includes its own 50-Watt-per-channel amplifier; add speakers and you've got a full-blown stereo system. The diminutive ZonePlayer 80 ($349 each) eschews the amplifier in favor of small size and digital outputs—perfect for connecting to an existing stereo system. You can mix and match ZonePlayers to equip each possible listening room, and then use the LCD- and iPod-like-scroll-wheel-equipped Sonos Controller ($399) to coordinate them all.—DAN FRAKES