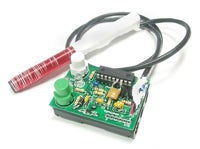 Forget keys, PINs, even biometrics. You want the future? Get a chip embedded in your arm. I mean, how is anybody going to steal that ? Wait, what? Pretty easily? Crap.
Turns out cloning a VeriChip implantable RFID chip is actually not too difficult. Best of all, you don't even have to get a chip surgically inserted into your own body. Jonathan Westhues provides full instructions on his website. The cost of stealing an identity? Under $20.
Unfortunately, as Westhues points out, the utility of the device is fairly limited at the moment, given that VeriChips have not yet been widely disseminated.
As of this writing, you can use your cloner to:
enter a secure government facility in Mexico


buy yourself free drinks at the Baja Beach Club


break in to a security company in Ohio
[via Engadget ]