Apple CEO Steve Jobs said a forthcoming update for iTunes would include a custom ringtone maker that will allow users to put ringtones on their iPhone, addressing what many users felt was a glaring omission from the mobile device.
The ringtone creation tool is part of iTunes 7.4, slated for release Wednesday night.
To make a ringtone with iTunes 7.4, you choose from the eligible songs marked with a bell icon in your iTunes Library. When users click on the bell icon, a ringtone maker pops up in iTunes that shows a waveform of the song. A draggable interface lets users select the 30-second clip of the song; users also can adjust fade ins and fade outs or loop the file. Pressing the Buy button creates the ringtone.
Once created, ringtones go into their own folder on iTunes. They can be synced with an iPhone from a new ringtones tab in the iTunes interface.
Ringtones cost $1.98—99 cents for the ringtone plus the cost of the iTunes download. If you're making a ringtone out of a song you've already bought from iTunes, the cost is 99 cents—Apple doesn't charge you for the same download twice.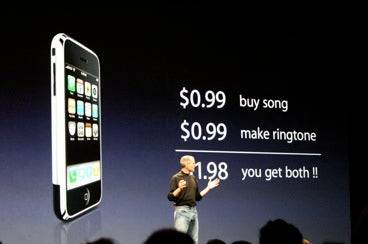 <
Half-a-million songs in the iTunes catalog will offer a ringtone option initially, Jobs said. "We think this will increase over time," he added.
Prior to iTunes 7.4, the iPhone let users assign one of 25 included sounds to incoming calls or specific callers; however, users could not select any songs in their music library as a ringtone. The inability to customize ringtones in this way was among the most frequently cited missing features in the iPhone's initial release.
Several third-party developers offered their own customizable ringtone hacks, including iFuntastic and iRingtoner. Last week, Ambrosia Software released its own ringtone effort, iToner, which offered to create install custom ringtones without hacking the iPhone; with iToner, Ambrosia said, custom ringtones would continue to work with furture iPhone software updates.
Update: Added more information on pricing and how the custom ringtone maker works.
Updated at 5:50 p.m. Eastern to include more information on iTunes 7.4 and background on the iPhone's ringtone features.
This story, "Apple announces custom ringtone maker for iPhone" was originally published by PCWorld.