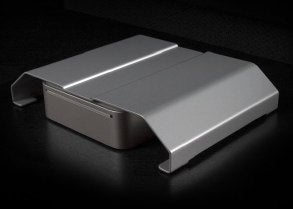 Macessity on Friday introduced two new stands for Apple's Mac mini. The M4-Mini and M-Mini will be available on April 28, 2008 for $59.99 and $44.99 respectively.
Both stands share a common design — they are made of 0.1085-inch thick steel, powder-coated in an aluminum color. The feet are leveled with non-skid rubber pads, as well.
The difference is that the M4-Mini incorporates a four-port self-powered USB 2.0 hub into its side, so you can plug peripherals into the stand instead of the Mac mini. The stands both measure 13.8 x 9 x 2.3 inches.