It's clear, you're an iPhone enthusiast. No, it's not the slightly smushed-in left-ear that indicates you spend hour after hour on the phone, the Apple sticker that adorns your forehead, or the unconscious typing motions you make with your thumbs. Rather, it's the two-layer bulge in your front pocket—created by your original iPhone and your new iPhone 3G.
Yet is it really necessary to have two iPhones—particularly when the original no longer works as a phone because you've passed along its activation to the shiny new 3G?
Perhaps.
To find out, let's examine some of the things you can do with an old, inactivated iPhone.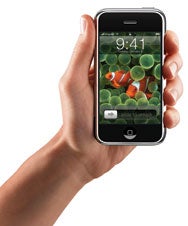 Pass it along AT&T would love for your nearest and dearest to purchase their own iPhone 3G as well. But, barring that, the company is more than happy to lock them into a new two-year contract for your old iPhone. You'll learn the ins and out of handing off your iPhone to another in this PDF document from AT&T.
Before you give your iPhone to someone else, whether for free or for a fee (see below), you should wipe the data from it. If your old iPhone isn't running the latest iPhone software, plug your iPhone into your computer, select it in iTunes' Source list, and in the Summary tab click the Check for Update button. Choose to download and install the latest software.
After you've installed the software take iPhone in hand and tap Settings -> General -> Reset and tap Erase All Content and Settings. Under the 1.x iPhone software, invoking this setting erased the iPhone's obvious data, but not everything. Under the 2.0 software, you get a much more thorough wipe. Note that wiping your iPhone's data this way can take an hour or two.
Sell it You can pass along your iPhone and make a tidy sum at the same time. Check eBay and Craigslist and you'll find that original 8GB iPhones are going for between $350 and $450. Examine those listings carefully and you'll see that these phones are unlocked by one method or another.
Unlocking an iPhone breaks your license agreement with Apple and AT&T but this hasn't deterred people from using utilities such as PwnageTool to do the job. Once unlocked, the iPhone can be used with any GSM carrier—in this country or overseas. The danger of unlocking is that a future update to the iPhone's software could render the phone non-functional.
A few companies have recently appeared that offer to purchase old iPhones for "as much as" $200. As you might imagine, they then turn around and sell that phone for far more than they paid for it. I contacted the marketing representative for NextWorth, one company that resells used iPhones, and was told that the company does not unlock these phones before selling them but simply wipes the data. NextWorth sells used iPhones both domestically and overseas.
If you're unwilling to sell it yourself, you might want to investigate one of these outfits. But you should do so with the full knowledge that you're losing a couple of hundred dollars by not doing it yourself.
Keep it When AT&T kills your old iPhone's activation you lose the ability to make calls, text message, and use AT&T's EDGE network for an Internet connection. However, that still leaves you with an extremely functional device—essentially an iPod touch that also sports a microphone, speaker, and digital camera. You can continue to use the iTunes Wi-Fi Music Store and the App Store (over Wi-Fi), the iPod functionality, Maps, Mail, Safari, YouTube, Photos, Calendar, Stocks, Weather, Clock, Calculator, and Notes. Add Apple's free Remote application from the App Store and you've got the coolest remote control in Mac-dom.
With the PwnageTool you can choose to jailbreak the phone (you don't have to unlock it in the process), which gives you access to applications developed outside the App Store environment. For example, you'll find utilities for customizing the iPhone's interface and for accessing the inner workings of your iPhone.
It's hard to imagine a more functional non-functional gadget—one that maintains its original value and, even when deprived of its phoney prowess, provides a wealth of practicality and power.
[Story updated at 11:30AM Pacific time to clarify that unlocked iPhones work only on GSM networks.]
[Senior editor Christopher Breen is the author of the upcoming iPhone Pocket Guide, third edition (2008, Peachpit Press).]