The iPhone's camera is great for capturing the little moments of your daily life, but its small screen can feel cramped when you're editing or showing off images. The iPad, with its big, vibrant screen, is fantastic for viewing and editing photos, but it lacks the iPhone's built-in camera. By adding the Apple Camera Connection Kit to the mix, you can combine the powers of these two Apple devices by seamlessly moving your photos from your iPhone to the iPad.
Once you connect the two devices by plugging the iPhone's sync cable into the Camera Connection Kit's USB dongle, the iPad will recognize your iPhone just like it would any other camera or memory card, displaying thumbnails in a Camera tab in the Photos app. Tap the images you want to transfer over to the iPad and tap the Import button in the top right corner of the iPad. Then select Import All or Import Selected.
Now you can take advantage of the iPad's photo editing and uploading apps. This workflow can be especially helpful when you're traveling and want to view, edit, and post images quickly while away from your main computer.
Edit your photos
There are a number of popular iPhone photo-editing apps that have been released for the iPad. These apps will give you plenty of ways to edit, tweak, and stylize your photos directly on the iPad. (Tips on how to do common iPhone image edits can be found here.)
CameraBag
TiltShift Generator
Photogene
Share Your Photos
Once you've edited your photo, you probably want to share it. Two of the most popular places to share photos are Flickr and Facebook, and there are a number of options for the iPad. The iPad also makes an excellent final destination for your gallery.
Flickr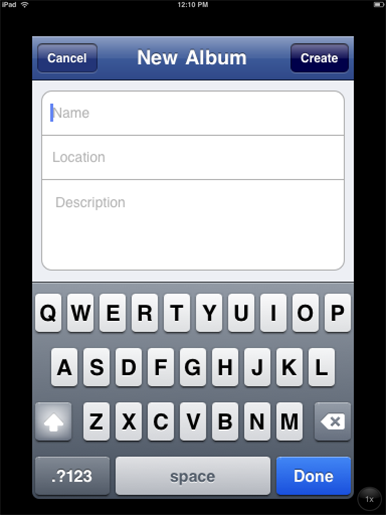 Facebook
Facebook is the most popular photo-sharing site in the world, and like Flickr, the official app is still your best bet for uploading photos to the service. Unfortunately, there isn't an iPad version of the Facebook app yet, but the double-pixeled version of the iPhone app will work fine.
There are a number dedicated apps for Facebook uploading (both iPhone and iPad versions), but the official app gives you much more flexibility. It allows you to post directly to an existing album, or create a new one from within the app. If you want to upload photos while on vacation, for example, you'll appreciate being able to create a new album on the fly.
The iPad itself
[Macworld Contributor Beau Colburn lives in Boston and posts iPhone photos on his site Snap different.]
Note: When you purchase something after clicking links in our articles, we may earn a small commission. Read our affiliate link policy for more details.