capsule review
Vroom Case for iPhone 4
At a Glance
Case-Mate Verizon iPhone 4 Vroom Case

Case-Mate iPhone 4 Vroom Case (for GSM-based iPhones)
iPhone 4 owners with an eye toward the automotive may appreciate the look and feel of Case-mate's Vroom case for Apple's smartphone. The black silicone case features a tire tread-style pattern on its back. But if you're looking for more secure protection for your iPhone 4, you may want to give some other case a ride.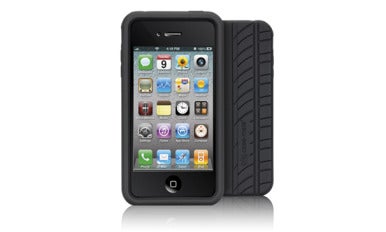 The Vroom case wraps around your iPhone 4, with a ridge of silicone hugging the front screen and preventing the phone's display from coming into contact with any surfaces. (Case-mate also supplies a protective film with instructions on how to apply it to your iPhone's screen.) An opening on the bottom allows access to the dock-connector port and speakers, while a similar slit on the side lets you operate the ring/silent switch. There's an opening at the top for the headphone jack; it's a rather tight fit with the earbuds Apple supplies, so some third-party headphones may be in for a tight squeeze. The rear-facing camera gets its own opening as well.
The sleep/wake button at the top and the volume controls on the side are covered by the Vroom, though you can operated them via raised coverings on the case. In the case of the volume buttons, the raised grooves are somewhat hard to spot—you may find yourself fumbling to adjust the volume on a phone encased within the Vroom.
The tire tread pattern is certainly distinctive, but I'm not sure it has a practical use. On its Website, Case-mate says the pattern "absorbs shocks and impacts," though I don't see that it's particularly more shock-absorbant than a run-of-the mill silicone wrap. The tread pattern certainly doesn't make the phone any easier to grip.
More troubling, though, is how loosely the Vroom seems to fit around the iPhone 4. On the model I tested, the bottom of the case slipped off the phone rather easily; I could see how this might prove to be an annoyance whenever inserting a Vroom-covered phone into a pocket. My case also had a loose thread of silicone dangling over the left speaker; I was able to pull it off without any problem, but it didn't make me feel any better about the Vroom.
To accommodate the slight differences in iPhone 4 models, Case-Mate offers Vroom cases for both the Verizon and AT&T models of the smartphone. (That said, I slipped one model over both types of iPhone 4, and it easily fit either version.) At $15, it's a rather inexpensive way to provide your smartphone with some simple, distinctive-looking protection. But a distinctive look is about all you should expect from this case—the similarly designed Treadz from iFrogz provides more protection and a better grip, even if that case features a less-than-perfect fit for your iPhone.
[Philip Michaels is executive editor of Macworld.com.]
At a Glance
Case-Mate Verizon iPhone 4 Vroom Case

Case-Mate iPhone 4 Vroom Case (for GSM-based iPhones)
Shop Tech Products at Amazon