capsule review
Olympus Pen E-P3 camera gets a performance boost
Olympus has been on the fast track with its Pen mirrorless interchangeable lens cameras since June 2009, when the E-P1 was introduced. Now in its third generation, the 12 megapixel E-P3 easily slides into the flagship position of the Olympus Micro Four Thirds line, which includes the E-PL3 and the E-PM1. There were only subtle differences between the first two models—the E-P1 and the E-P2—but the E-P3 ($900 with 14-42mm lens) marks a more pronounced step forward. Some improvements, like a new Live MOS sensor are under the hood while others, like the 3-inch OLED semi-touch screen are more visible. Additional updates include speedier performance, full HD video, built-in flash, and a maximum native ISO of 12,800. These are all welcome improvements that make this camera even more appealing to DSLR shooters who want a small but capable second camera and consumers who want better image quality and flexibility without the bulk of a DSLR.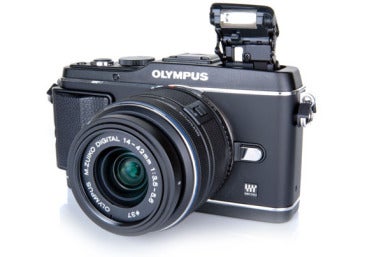 Design and notable features
Retaining much of the attractive retro style of its predecessors, the E-P3 comes in black, silver, or white with either a 14-42mm MSC (movie and still compatible) lens or a 17mm lens. Its well-built all metal, compact body measures 4.80 by 2.72 by 1.35 inches and weighs about 13 ounces with the battery and memory card installed—compact but not quite pocketable. Olympus includes a screw-on removable grip with the E-P3 for a better handhold; a larger grip can be purchased separately.
The E-P3 is the only Pen with a built-in flash so its accessory port is more readily available for add-ons such as an electronic viewfinder, Bluetooth Pen Pal for wirelessly transmitting images to your smartphone (Android, Blackberry, but not iPhone) or to another Pen Pal equipped camera. Additional options include an external microphone and a very cool and useful macro arm light. Compatible with Micro Four Thirds lenses from Olympus, Panasonic, and third party manufacturers, standard Four Thirds lenses can also be accommodated with an adapter.
New features include a "red" video button for one-push movie recording and a 3-inch, 614,000 dot OLED (Organic Light Emitting Diode) touch sensitive monitor. All functions are available via hard buttons, dials, and menus but the LCD works well to select a focus point, trigger the shutter, and several other tasks. Olympus has extended the area covered by the focus points—almost to the edge of the frame—providing photographers a wealth of focus options. And the size of the focus brackets can be expanded as well, giving photographers more flexibility. The screen is usable for composing under most lighting conditions although bright sunlight makes the on-screen quick menu difficult to use for adjusting parameters like ISO and White Balance.
A full set of external controls include two customizable function buttons, a mode dial, direct movie button, display magnification, info and menu buttons, as well as a 4-way controller with access to flash, single/sequential/self-timer, manual focus points, and exposure compensation. The Olympus menu system is similar across Pen cameras and can be confusing. Read the manual or explore on your own—there are some well-hidden gems, including two menus that need to be activated from the setup menu.
Features and performance
In addition to manual and semimanual exposure modes, the E-P3 offers a wide range of options, including automatic and creative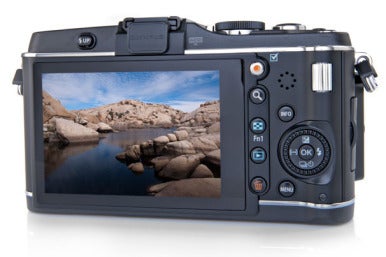 features. Although the E-P3 offers functions that will appeal to experienced users' need for control, you don't have to be an expert to use them. There are plenty of helpful tips and and an on-board Live Guide (available in iAuto mode) that uses non-photo jargon and slider bars to achieve effects such as brightness and depth-of-field (e.g., blur background). A long list of scene modes, including High Key, Low Key, and 3D MPO, make it easy to capture a shot without fussing with settings.
On the creative side, Olympus is well-known for its art filters such as Pop Art, Grainy Film, and Dramatic Tone, among others, and the E-P3 offers flexibility that was missing in previous models. Now variations are available for individual filters and users can also combine or bracket creative options.
Under-the-hood improvements are evident when shooting with the E-P3. The camera utilizes a dual-core TruePic VI image processor, dedicating one processor to the LCD and one to writing data. That means that shot-to-shot time is faster. Even though the fastest continuous burst mode is 3 frames per second, overall performance is definitely improved. Auto focus speed is now faster thanks to the E-P3's new 35-area contrast AF system. Additionally, a trio of in-camera image stabilization controls works quite well.
Full HD video can be captured in AVCHD format with several options including 1920 by 1080 (60i or 60p) or 1280 x 720 (60i or 60p). The more easily editable Motion JPEG format can capture video in 1280 by 720 or 640 by 480 (at 30fps). Manual exposure is available and Art Filters can be used to add a creative touch to video clips.
Image quality
Test images looked good. Colors, when set to the default "natural" mode, were nicely reproduced. Like other Pen cameras, you can manually tweak saturation, contrast, sharpness, and gradation to individual tastes. Shooting with the 12mm f/2.0 and the 14-42mm MSC lenses, there was some evidence of distortion from the 12mm (as expected from a 24mm-equivalent lens), but test shots were generally sharply focused and exhibited good detail. Click on any of our lab's test images to view the original files.
With the new sensor and TruPic VI, Olympus has increased the native ISO to 12,800 but it's best to keep the ISO at 800 or lower to maintain detail and keep image noise at bay. However, overall high ISO performance has been improved and ISO 1600 is usable under many circumstances, especially for small prints and Web use. If in doubt, shoot Raw or Raw+JPEG for post-processing image noise.
Video quality was pretty good with image noise and jaggies kept mostly under control. During initial testing, test videos showed an extraordinary amount of shutter roll (imagine the Tacoma Narrows Bridge before it collapsed in 1940; check out Gallopin' Gertie on YouTube). However, turning off image stabilization (it was accidentally set on panning) helped alleviate the anomaly, as did the use of a tripod. Stereo recording using the internal microphones was better than expected but for the best sound, use an external microphone.
Macworld's buying advice
Although its price ranks as one of the highest in its class, the Olympus Pen E-P3 offers a number of improvements over its predecessors, most notably performance. In fact, other than a rather paltry 3 frames-per-second burst speed, it's one of the fastest—if not the fastest—mirrorless cameras on the market to date. Improved performance alone may provide enough motivation for Pen users to upgrade and certainly gives the E-P3 an edge over the competition, particularly in combination with its well thought out feature set.
[Theano Nikitas, a full-time freelance writer and photographer, has been writing about photography for the past 19 years. Her digital imaging reviews, features, how-to articles, and images have appeared in a wide variety of publications and websites.]
Shop Tech Products at Amazon