capsule review
DocAS for iPad
At a Glance
Generic Company Place Holder DocAS - Annotate PDF, Take Notes and Reader
I've recently waged war with paper, so I've been looking at several PDF reader/annotator apps to try to reduce the seemingly never-ending number of dead trees that I eject from the printer. The latest app I've investigated is DocAS, a $5 PDF reader/annotator/note-taker by 9 Square. Unfortunately, I don't think DocAS is worth putting in my arsenal as I found it filled with bugs and quirky behaviors.
There are several ways to bring PDF documents into DocAS. You can use the standard email transfer or iTunes sync options, you can connect to FTP or WebDAV servers, or you can link up to various cloud services like Dropbox or Google Docs. You can get documents out of DocAS by exporting them to the same choice of locations. Beware if you choose an export option by mistake, though, because you're unable to dismiss the export window without either completing the action or signing out of the service. I've recently gotten spoiled by apps that provide two-way cloud synching which keep your documents in sync across your all your devices automatically and, unfortunately, DocAS's cloud-based options haven't kept pace; you're currently limited to simply importing and exporting your documents.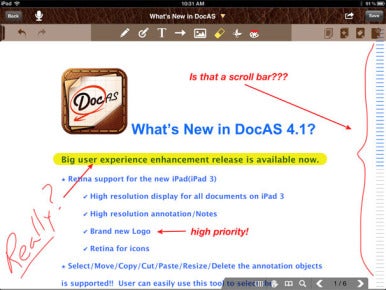 The app uses the well-worn desktop/folder/trash metaphor to help you manage your documents. You can create your own folders and (optionally) password-protect them but, in an apparent oversight, the password dialog box only works in portrait mode.
The app works in either Reading mode (where you can make no changes) or Edit mode (where you add annotations). If your main goal is to simply read a PDF, then staying safely within Reading mode will prevent you from adding annotations inadvertently. Here you can scroll the document by swiping anywhere on the screen, as we've come to expect in all iOS apps. However, while in Edit mode, the only way to scroll the document reliably is to use the non-standard-and-always-visible scroll bar on the right side of the screen. Additionally, Edit mode does not support pinch-to-zoom nor can you scroll left-to-right. Scrolling in either mode is very jerky, not the smooth scrolling experience that I've come to expect on iOS.
Edit mode provides a toolbar with several annotation tools: The pen tool lets you write and draw freehand shapes with an option to use a small magnifying window to exert finer control over your drawings. You can also add various shapes to a document, such as lines, arrows, boxes, circles, and text boxes. Also included in that toolset is a highlighter, but for some reason, the app provides no support for underline or strikethrough annotations.
The app also provides the ability to record audio notes and to search your document for words and phrases. These features seem to work fairly well, but I confess that I didn't spend much time with them due to being exhausted fighting with other bugs and oddities which are too numerous to mention.
To some readers, it may seem like my complaints are nitpicking. But as a software developer, I know that attention to detail is one thing that defines an excellent product, and the 4.3 release of DocAS needs lots of work in that regard.
So, if you're in the market for a basic PDF reader/editor for occasional use, and you're not picky about good user experience, then you might consider trying out the free lite version of DocAS. But if that version doesn't cut it for you, then hang on to your five spot because there are currently better PDF apps available for about the same price.
[Brian Beam is a software designer and partner with web development firm BOLD Internet Solutions, living somewhere near Kansas City.]
At a Glance
Generic Company Place Holder DocAS - Annotate PDF, Take Notes and Reader
Shop Tech Products at Amazon