SLIDESHOW
Highlights from Apple's iPhone 5 event
Apple announced a new iPhone, iPod, and iOS at its event on September 12th. Take a look at the pictures.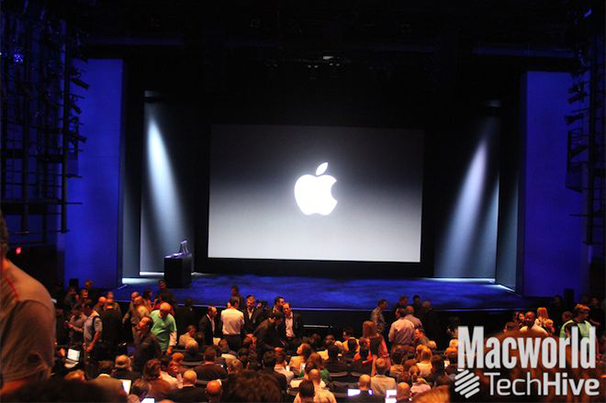 Full House
As usual, the theater at the Yerba Buena Center for the Arts is crowded with tech journalists typing furiously on their computers sending out tweets, or updating live blogs.
Apples retail stores
Kicking off the event, Tim Cook takes some time to highlight Apples retail stores, particularly one in Barcelona. He talks of the effort Apple goes to in order to create a compelling and enjoyable experience in their stores, and showed a little video about a store that was recently updated.
Some sales stats
Apple isn't afraid to brag about its sales, and with their current grasp on the mobile market, it isn't surprising. It's kind of like they're trying to hype people up before the big unveiling.
The iPhone 5
There you have it, the next iPhone, with a noticeable larger screen capable of accommodating a fifth row of icons. Apple calls it the iPhone 5, opting not to "reset" the naming scheme like it did with the iPad. The body is made entirely from glass and aluminum.
The iPhone 5 is thinner and lighter
Apple slimmed down the iPhone 5: 7.6mm thin, 18 percent thinner than the iPhone 4S. They also put it on a diet, with the iPhone 5 weighing just 112 grams, 20 percent lighter than 4S. Overall it's volume is less than the 4S as well, which is impressive considering the screen size is larger.
Sticking with the Retina display
The iPhone 5 will feature a Retina display (326 dpi), much like its predecessors the iPhone 4 and 4S, however the display size is bumped from 960-by-640 pixels to 1136-by-640 pixels, adding an additional 176 pixels to the vertical size of the screen.
A taller/wider screen
The extra vertical pixels doesn't just add another row of icons to your home screen, some of the other annoyances that come with a small screen get corrected as well, like being able to see a five day week when you view your calendar in landscape. Older apps will be displayed centered in the screen, with black bars on either side filling the empty space.
Integrated touch
Apple needed to make the phone thinner, so by incorporating the touch sensors right into the screen, they cut down on screen thickness by 30 percent and supposedly it helps to reduce glare in the sunlight. The screen also features 44 percent more color saturation and a full sRGB color specification, which Apple claims is the most accurate display in the industry.
The iPhone finally gets LTE
LTE has been around for a while, but has been missing from the iPhone, till now. With a theoretical downlink speed of 100 Mbps, you'll spend a lot less time waiting around for pages to load, provided you live in a area with LTE available and you don't blow through your data.
A new processor
The iPhone 5 gets a brand new chip too, Apple's A6. Compared to the A5, it's 2x faster with normal CPU calculations, and 2x faster when it comes to graphics, making it about 2x faster overall. Like a lot of other parts, the processor is also 22 percent smaller, allowing for a thinner device and more room for other components.
Better gaming experience
If you're a hardcore mobile gamer, the increase in processor speed and screen size will only help to make the iPhone 5 capable of delivering richer and more games.
Battery life gets better
Even with a thinner design, Apple managed to improve the battery life slightly over the iPhone 4S, giving it 8 hours of 3G talk time or 3G/LTE browsing, 10 hours of Wi-Fi browsing, 10 hours of video, 40 hours of music, and 225 hours of standby time. That you get a few more hours browsing the Web and overall standby than with the 4S.
A better camera
The iPhone 5 sports an 8 megapixel sensor, 3264-by-2448 pixel captures, backside illuminated, hybrid IR filter, five-element lens, and a fast f/2.4 aperture. All that and it's 25 percent smaller to boot. The camera can also detect low light situations and automatically adjust to take a better picture.
Panorama pictures
Now you can take 28-megapixel panoramic shots, and even if there are artifacts or moving parts in the panorama, the software automatically compensates and touches up the image for you while you shoot it.
1080p HD video recording
Recording video gets a little better, with improved stabilization, the ability to detect ten faces at a time or shoot photos while you record video. The forward facing camera has always been lacking in quality, but now it's equipped with a camera capable of shooting 720p video, making you look a bit nicer over FaceTime.
Better audio input and output
Not only did they improve the speaker, making it smaller and better sounding, but added two microphones for increased accuracy with voice recognition and background noise elimination.
The new Lightning adapter
Apple ditched the 30-pin connector in favor of a much smaller version featuring just 8 pins. Apple dubbed it Lightning, which sounds like the cousin to Thunderbolt, Intel's super-fast interface featured on all the new Macs. A smaller connector means a smaller port on the device, and more free space for other components.
Lightning adapter
With the introduction of the smaller Lightning port, you'll have to get an adapter to use your new iPhone 5 with any old accessories that sport a 30-pin connector. Simple enough, the only hitch is one of these adapters will run you up $30. That's a bit expensive compared the $10 adapter for the new MagSafe chargers.
Available in black and white
The iPhone 5 will be available in two color schemes: black and slate, and white and silver. The prices also stay the same as the 4S: $199 for 16GB, $299 for 32GB, and $399 for 64GB, along with 2-year carrier contract.
iOS 6
Scott Forstall talks about iOS 6, and highlights 10 of the more than 200 new features. Maps in iOS 6 get's a redesign, you can post to Facebook or Twitter from the notification center, Safari goes full screen and incorporates iCloud tab syncing. Mail gets some new features and Passbook is introduced as a way to store all your passes, from boarding pass to movie ticket.
A new iTunes
A new version of iTunes, with a new feature called Up Next. Click an icon in the LCD panel and you can see what songs are coming up next. You can then rearrange them or just double click one to hear it. (A little bit like Party Shuffle.) It also features a simplified user interface, play media from iCloud, new media player, and the redesigned iTunes Store. Available in late October.
iTunes mini player revamped, too
The mini player for iTunes also got a redesign. There's built-in search in the mini-player, as well as Up Next, so you can easily queue up songs.
A new iPod nano
The new iPod nano is just 5.4mm thin, almost 40 percent thinner than the one it replaces. Really big, easy to use controls for volume, and play/pause without ever having to look at display.
Most colors in the rainbow
The new iPod nano also features a home button, and comes in 7 different colors. The 2.5-inch screen is big enough for viewing photos, and the built in FM tuner gives you the ability to pause the radio stream.
The new iPod touch
The updated iPod touch is now only 6.1mm thin, and features the same larger 4-inch screen of the iPhone 5. It also features Apples A5 chip, giving it a significant boost in performance boost while still getting 40 hours of music playback and 8 hours of video playback on a single charge.
A strap, for those with slippery hands
You may have noticed a little circle on the back of the iPod touch. It's a feature called iPod touch loop. Push it, and it pops up so you can attach a wrist strap to your iPod touch.
iPod touch gets colors
Taking a que from its smaller cousin, the iPod nano, the iPod touch is adopting a colorful look. While the classic black and white options are still available, the back of your iPod touch can now sport a variety of colors to suit your individual tastes.
EarPods
Apple has supposedly spent the last 3 years working on these headphones, dubbed EarPods, which are supposed to fit better and offer higher quality sound than the old Apple headphones. You can buy them as a stand alone accessory now, or get them with the new iPhone 5, iPod touch, or iPod nano.
EarPod inline remote
The inline remote on the new headphones will also be a bit bigger, making it easier to quickly grab and use while active.
Foo Fighters
To close out the show, the Foo Fighters got on stage and played a few songs. Maybe Apple is starting a new tradition of hiring live bands to close out its announcements. We can only hope I guess.
Next Up: Check out these related slideshows
Today's Best Tech Deals
Picked by Macworld's Editors