At a glance
Expert's Rating
Pros
Super small, thumb drive form factor
Far faster than the average thumb drive
Integrated Type-C and Type-A connectors
Cons
Pricier than the average thumb drive
Our Verdict
Though not cheap, the OWC Envoy Pro Mini's true SSD speed in a thumb drive form factor can be a real time-saver. It also sports both Type-A and Type-C connectors, obviating the need for an adapter. Sweet.
Price When Reviewed
$179
The problem with most thumb drives is that they're not particularly fast. Usually, about 120MBps if you're lucky. Enter OWC's latest Envoy Pro FX–the Mini. It's the size of a thumb drive, but as fast as larger USB SSDs. OWC describes the drive as USB 3.2 Gen 2. That means it's the 10Gbps flavor, and it sports the internals to take advantage of the bandwidth.
Design and features
When we say that the Envoy Pro FX Mini is a thumb drive, we mean it's only a little over 3 inches long, by 0.4 inches thick, by 0.7 inches wide. Add about half an inch to the length when the Type-A connector is exposed. A mite long for the type, but still… Thumb drive.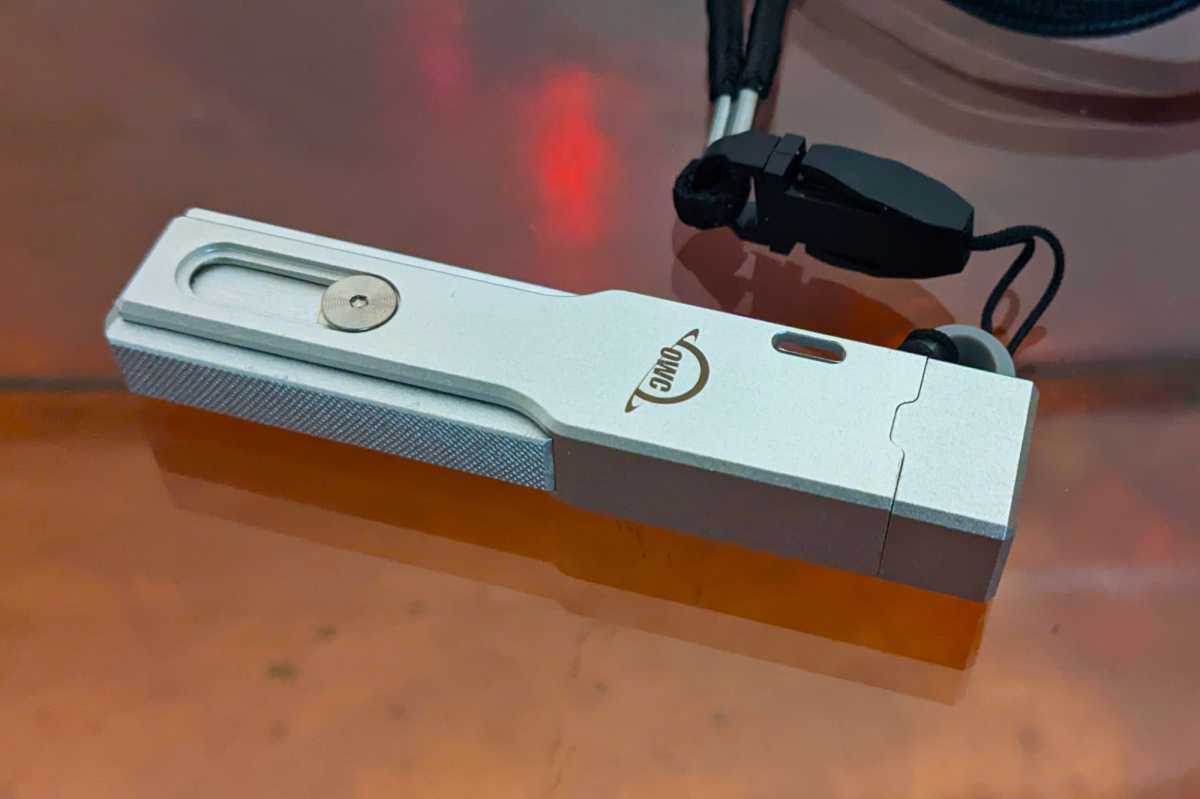 The most convenient aspect of the Envoy Pro FX Mini is that it sports both Type-C and Type-A connectors. The captive end cap pops off to reveal the Type-C connector, and a slide out and rotate operation on the other end reveals the Type-A port. No adapter or adapter cable to misplace or lose. Nice.
There's also a lanyard with an attachment point if you want to carry the drive around your neck, or swing it wildly about as a weapon. (Kidding). All in all, a clever, highly functional design.
The Envoy Pro FX Mini is available in three capacities: 250GB for $79, 500GB for $109, and 1TB for $179. Yes, that's a bit pricey, but paying the extra will feed your need for speed. See the performance section below. The USB to PCIe bridge chip is a Phison U17.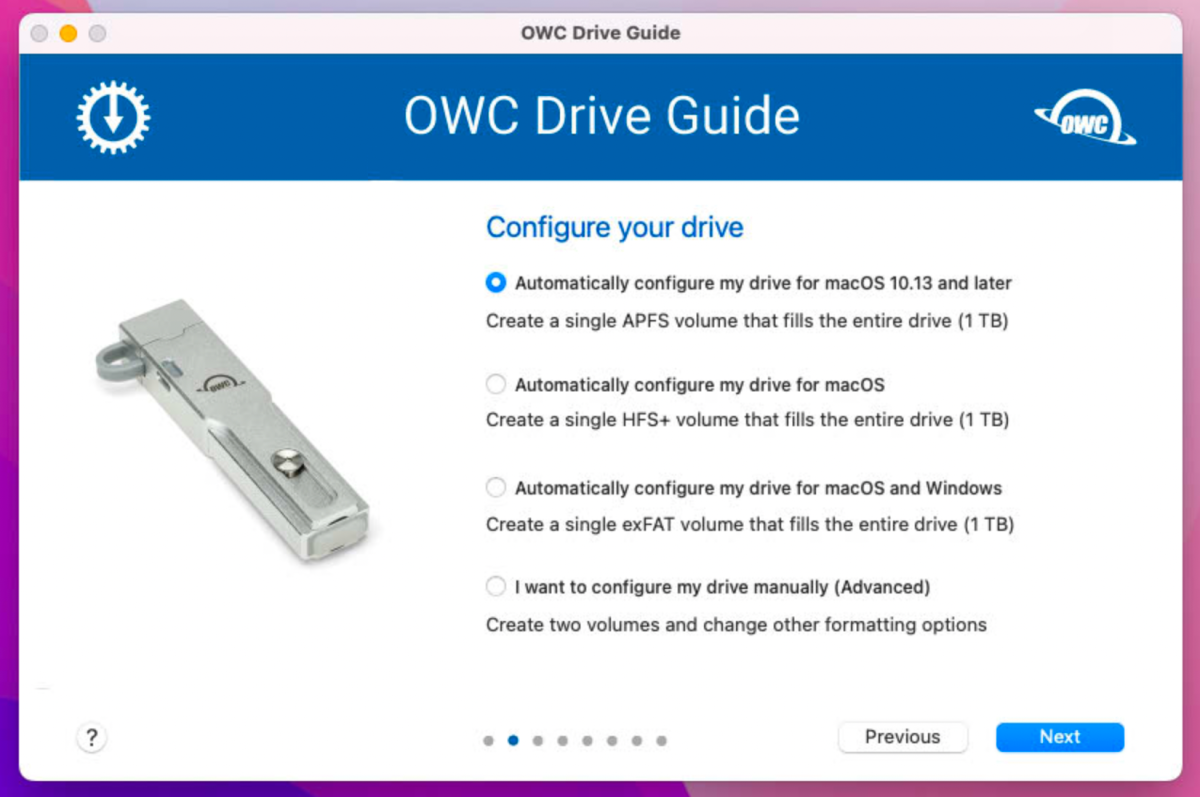 OWC provides setup software to help you determine how to partition the drive. You may of course do this on your own, but it's a nice touch for those not used to such things. OWC also provides a free year of Acronis Cyber Protect Home Office if that's something you're interested in. I'm guessing the target audience of office professionals likely will be.
Performance
While the Mini never reached 1GBps on the Mac Studio I tested it on, it did reach well over 500MBps which is very 10Gbps USB SSD-like on macOS. On the other hand, the Mini easily exceeded 600MBps on the PCWorld test bed with its ASMedia 20Gbps USB add-on card.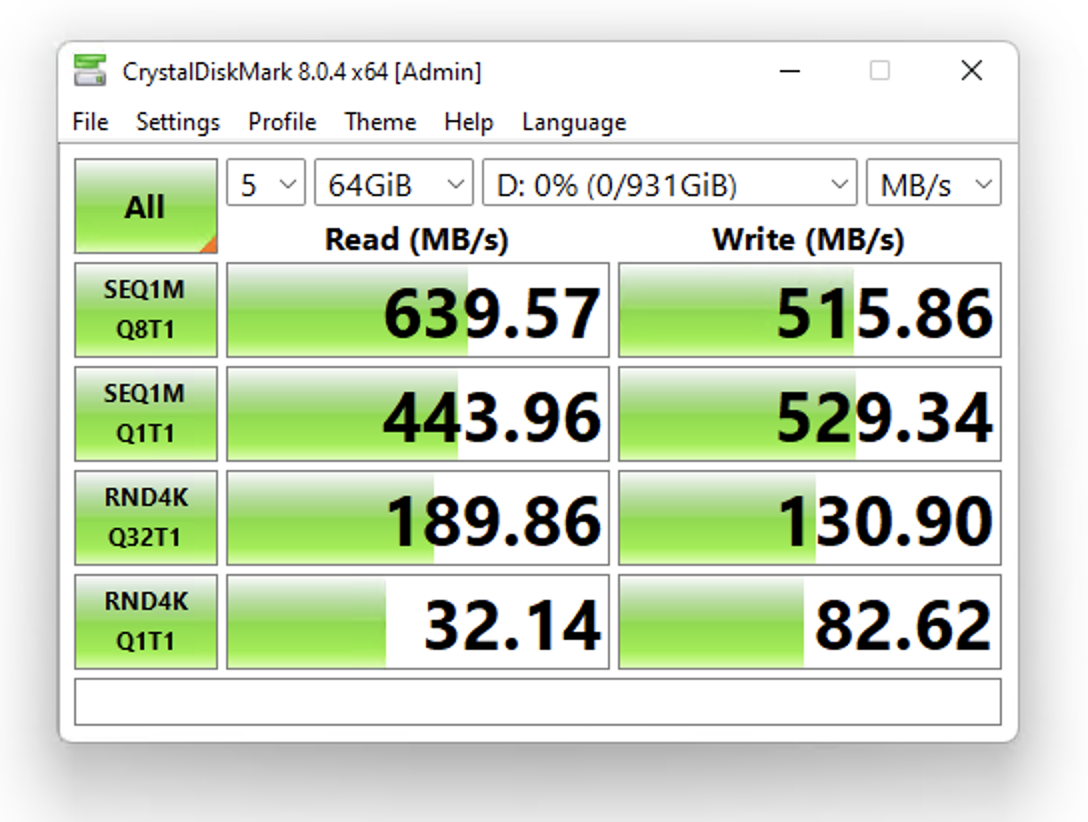 Some might ask, why not design the Mini to use far faster Thunderbolt. For one thing, the power draw and heat we see from larger external Thunderbolt SSDs and even Thunderbolt cables is likely an issue. In fact, I've personally backed off Thunderbolt storage in favor of USB largely because of power and heat issues. 10Gbps is fast enough for all but the most heavy-duty applications.
Additionally, USB is a nearly universal storage transport technology, supported by just about every computer, device, or operating system. Especially if you format it to FAT/exFAT.
Great speed in a small form factor
The OWC Envoy Pro FX Mini is a great storage device–compact, fast, and with nearly universal connectivity. A great product for those that have the need (and the coin).