At a glance
Expert's Rating
Pros
Good performance boost over its predecessor
HDMI upgrade expands external display options
Equipped with Wi-Fi 6E and Bluetooth 5.3
Cons
1080p camera without Center Stage
Some will deem the notch unsightly
Touch Bar fans will be disappointed
No ethernet port
Our Verdict
The M2 Pro MacBook Pro is a successful follow-up to the M1 Pro model. If you're still using an Intel-based MacBook Pro, it's time to upgrade. Heck, the HDMI 2.1, Wi-fi 6E, and Bluetooth 5.3 upgrades may tempt M1 Pro MacBook Pro owners to invest.
Price When Reviewed
$2,499 | $2,699 | $3,499
Best Prices Today: Apple 16-inch MacBook Pro (M2 Pro, 2023)
In the fall of 2021, Apple's 14- and 16-inch MacBook Pros made a grand entrance into the Mac lineup, and made an instant impact, combining processing prowess with a sophisticated redesign. If you were aching for a new high-end MacBook Pro, the 2021 release offered soothing relief.
But maybe you decided to wait a little longer. Maybe you thought it would be wise to let a generation of Apple silicon pass so the company can work out the kinks and app developers can catch up with native software. Or maybe you just weren't convinced this whole thing was really going to work, despite Apple's past success with silicon transitions.
Whatever the reason, let me tell you, for most people, there isn't a reason to wait any longer. The transition has been smooth for the most part, tons of native software from third-party developers are available, and the M-series SoC is here to stay.
Actually, you benefit from waiting, because the new M2 Pro/Max offers a nice performance boost over the previous M1 Pro and M1 Max machines. On top of that, you get a much-needed upgrade for HDMI and futureproofing with Wi-Fi 6E and Bluetooth 5.3–three features that might even be enough for current M1 Pro or M1 Max MacBook Pro owners to upgrade.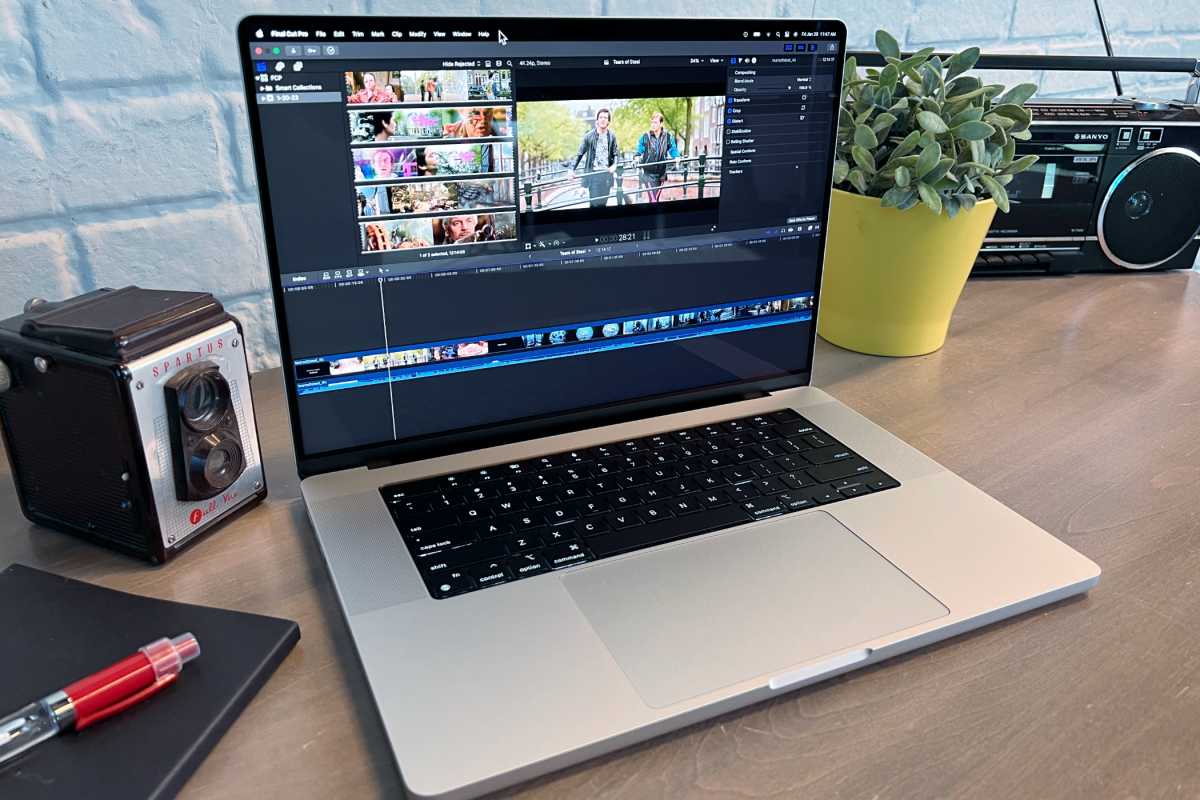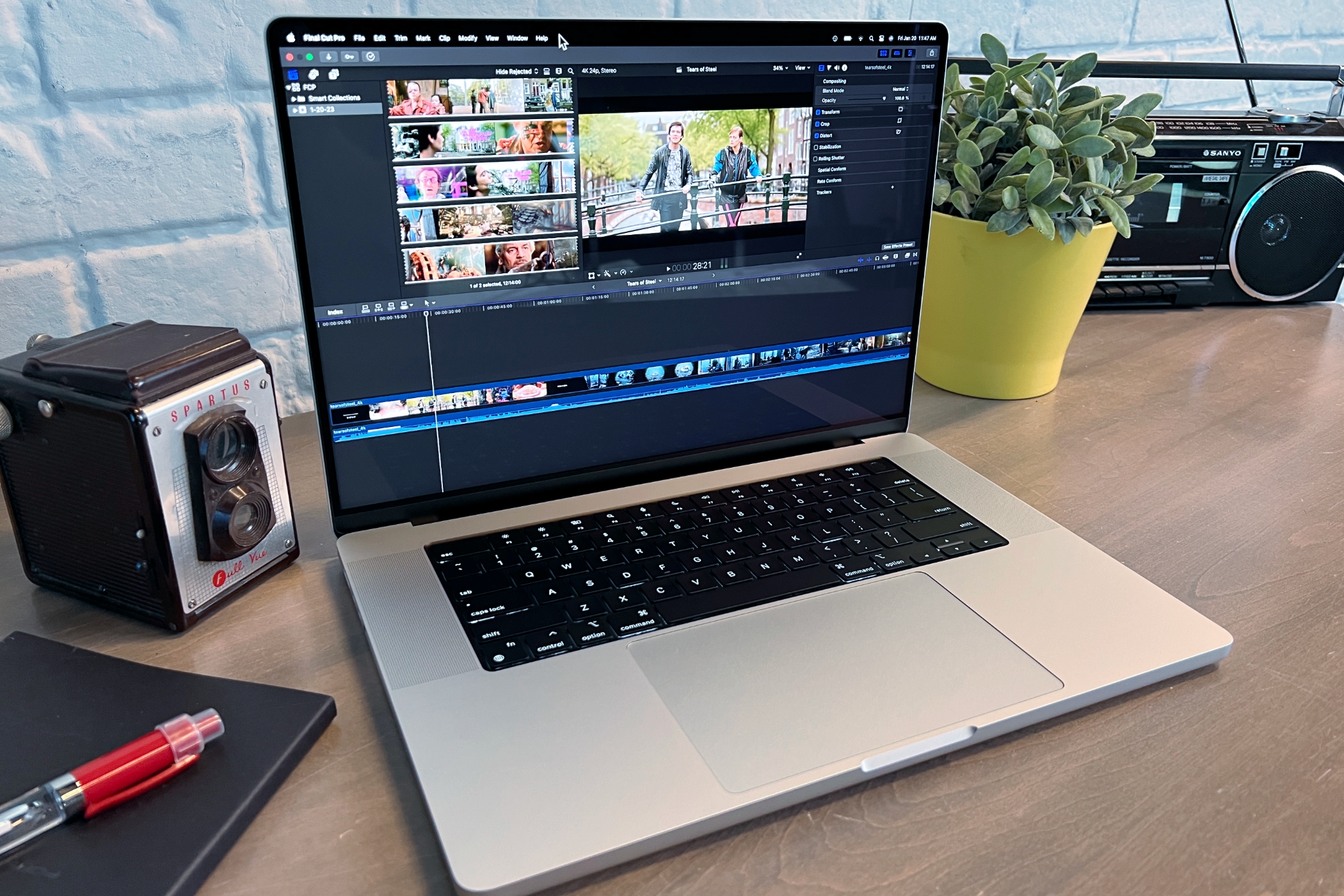 Foundry
This review takes a look at the new 16-inch MacBook Pro. Here's the lowdown of the specifications of our review unit:
M2 Pro CPU with 12-core CPU (8 performance cores and 4 efficiency cores) and 19-core GPU
32GB of unified memory
200GB/s memory bandwidth
16-core Neural Engine
2TB SSD
This model takes the $2,499 standard configuration and upgrades the memory from 16GB to 32GB (a $400 upgrade) and the SSD from 512GB to 2TB (another $400). That brings the total price of our review unit to $3,499.
14-inch and 16-inch MacBook Pro: Brief overview
Apple offers the MacBook Pro with the M2 Pro and M2 Max in different CPU, GPU, and memory setups, and it can get confusing to sort out what's included with each chip at each standard configuration. Here's an overview of what you need to know:
For its lowest-priced ($1,999) 14-inch configuration, Apple offers a scaled-down version of the M2 Pro with 6 performance cores and 4 efficiency cores, and a 16-core GPU.
The M2 Pro with 12 CPU cores, 19 GPU cores, and 16GB of unified memory is offered in the mid-tier ($2,499) 14-inch MacBook Pro, and the low-end ($2,499) and mid-tier ($2,699) 16-inch MacBook Pro.
Both the high-end 14- ($3,099) and 16-inch ($3,499) MacBook Pro have the M2 Max, but the 14-inch laptop's chip has a 30-core GPU, while the 16-inch laptop has a 38-core GPU.
Each configuration can be customized to upgrade the GPU, memory, and SSD.
The M2 Pro in our review unit has a 12-core CPU, which is divided into 8 performance cores and 4 efficiency cores. In his overview of the M2 Pro and Max, Macworld's Jason Cross points out that M2 Pro and M2 Max appear to be scaled-up versions of the M2 used in the new Mac mini, MacBook Air, and 13-inch MacBook Pro–these new chips don't use new manufacturing processes, GPUs, or anything else. The chip that the M2 Pro replaces, the M1 Pro, had 10 CPU cores; it had two fewer efficiency cores.
M2 Pro: Performance
These new laptops are all about the new M2 Pro and M2 Max processors, so the focus of this review is mostly on the benchmark performance of the M2 Pro in our review unit. The M2 Pro's architecture is based on the M2, but Apple makes enhancements to boost performance.
Our benchmarks compare the M2 Pro's performance to the M1 Pro and M1 Max, as well as the M2. For some tests, we were also able to include an older Intel-based 16-inch MacBook Pro.
Apple proclaims a 20 percent improvement for the M2 Pro over the M1 Pro, and our Geekbench 5 Multi CPU benchmark result hits that square on the nose. Apple also said that the M2 Pro is twice as fast as the M2, but we didn't see that in Geekbench. In Geekbench's Single CPU benchmark, the M2 Pro had a similar score as the M2, which isn't surprising. This test involves a single CPU core, and since the M2 Pro and M2 basically have the same type of individual cores, the results will be the same.
The 20 percent improvement appears again in the Cinebench R23 Multi Core CPU tests. Cinebench, which performs 3D modeling, is the kind of benchmark where chips with more CPU cores, the better. This benchmark is a better indicator of performance for the intended use of the M2 Pro MacBook Pro: graphics pros who put heavy demands upon the CPU.
We used Handbrake to encode the Tears of Steel video from 4K to a 1080p H.265 file. When doing the encoding completely in software using the H.265 (x265) video encoder, the M2 Pro showed a 37 percent speed improvement over the M1 Pro. With Handbrake's H.265 (VideoToolBox) encoder, the app takes advantage of available hardware acceleration, so when VideoToolBox was used, the M2 Pro had a 20 percent improvement.
With the M2, Apple introduced enhancements to the media engine in the CPU to improve audio and video encoding and decoding. The M2 Pro performed our iMovie 4K video export at Best (ProRes) quality in half the time it took the M2, but compared to the M1 Pro, the results were the same. This task involves writing to the SSD, which has an effect on the improvement between the two Pro chips. When exporting the same video at High quality (not ProRes), the performance was practically the same between the M2, M1 Pro, and M2 Pro.
Before doing the iMovie exports, we measured the amount of time it took to perform a stabilize shaky video function. The M2 MacBook Pro demonstrated a noticeable improvement of 28 percent over the M1 Pro.
The 20 percent improvement continues in the Blackmagic Disk Test write benchmark for the SSD. Interestingly, the 2TB SSD in our review unit posted a read score that was 7 percent slower than the 1TB SSD in the 14-inch M1 Pro MacBook Pro that we tested–that's small enough to be barely noticeable. The M2 Pro's SSD more than doubled the performance of the M2 13-inch MacBook Pro, which we tested with a 1TB SSD.
We also ran the AmorphousDiskMark benchmark and the M2 Pro and M1 Pro posted similar read results of 6.71GBps and 6.77GBps, respectively, while the M1 posted a read rating of 2.4GBps. In another SSD benchmark tool, Stibium, the M2 Pro's read rating was 7.89 GBps, while the M1 Pro posted 7.05GBps, and the M1's read was 2.06GBps.
M2 Pro: Graphics performance
The M2 Pro MacBook Pro has some serious GPU power. (If you need more, you can get more with the M2 Max.) We're used to seeing cores in even number sets, so to see the M2 Pro has a 19-core GPU which is odd (literally)–20 GPU cores would make it exactly double that found in the M2.
Rise of the Tomb Raider and Civilization VI are older games written for Intel and not optimized for Apple's Metal graphics API, but these games still see a significant boost with the M2 Pro. At each game's higher resolution settings, Tomb Raider and Civilization VI both saw jumps in framerate of 27 and 30 percent, respectively. Tomb Raider on the M2 Pro doubled its framerate from the M2.
We can also see in this set of tests that the M2 Pro's 19-core GPU creates more separation between it and the 8GB AMD Radeon Pro 5500M GPU in the 16-inch MacBook Pro with an Intel 2.4GHz Core i9 8-core CPU from 2019. Granted, that AMD GPU is three years old and obsolete, but the margin the M2 Pro created is significant.
Geekbench 5's Compute benchmark tests GPU performance using OpenCL or Metal APIs. In both of these tests, the M2 Pro and its 19-core GPU were 20 percent faster than the M1 Pro and its 16-core GPU. Considering that going from 16 cores to 19 cores works out to about 19 percent more core power, the 20 percent boost falls right in line.
I ran several other graphics benchmarks in order to compare the performance between the M2 Pro and M1 Pro. These tests came out as expected, with the M2 Pro blazing past the M1 Pro, usually by about 20 percent, but sometimes higher. Here's a list of the tests.
16-inch MacBook Pro M2 Pro: Battery and charging
Apple claims a 22-hour battery life with "Apple TV app movie playback" for the M2 MacBook Pro, which is an hour longer than the M1 model it replaces. To test this claim on the 100-watt-hour lithium-polymer battery, I played a full-screen video on a continuous loop until the battery ran out–which happened 27 hours later. (Our test is done with the display at 150 nits, which is dimmer than the "8 clicks from bottom" brightness Apple sets its video playback test.) If you're going to be doing more strenuous work on the MacBook Pro than watching video–compiling code, rendering graphics, creating files, and so on, so you'll probably need to plug in before you reach the 22nd hour. But still, the battery life is long enough to last a day no matter what you're doing.
Apple includes a 140-watt USB-C power adapter with the 16-inch model, while the 14-inch model has a 96-watt adapter (you get a 67-watt adapter if you buy the $1,999 14-inch model). When you use the 140-watt adapter with the 16-inch MacBook Pro, Apple says that fast charging kicks in and fills the battery up to 50 percent in 30 minutes. When I drained the MacBook Pro's battery to test its life, I found that fast charging works just as Apple says it would–it got to 50 percent in just under 30 minutes.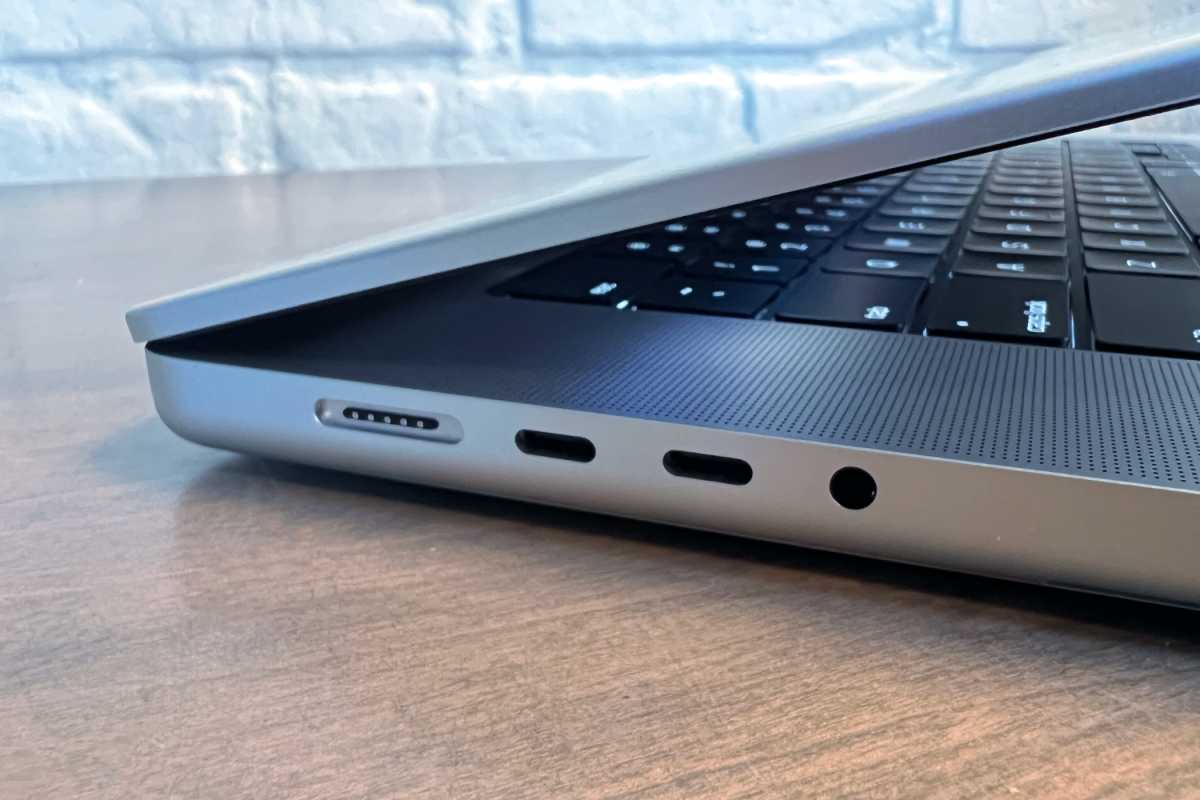 Foundry
Apple did make one minor change with the MagSafe cable: the Space Gray model comes with the Space Gray cable that was introduced with the MacBook Air. The previous model's cable came in silver, regardless of what color laptop you specified.
16-inch MacBook Pro: Everything else
When Apple introduced the Apple silicon MacBook Pro in 2021, it not only ushered in the M-series chips to Apple's high-end laptop, but the company also unveiled a major redesign with a new display, keyboard configuration, and upgraded FaceTime camera.
Suffice it to say, that was a lot of new stuff that Apple brought us two years ago, so it's not surprising to find out that Apple didn't change much this time around. The design and keyboard tend to stick around for several generations, and Apple will upgrade displays when new technologies become more viable at an affordable scale, which means it takes a few years.
Fortunately, Apple did an excellent job with these features, which I covered in great detail in my review of the 14-inch MacBook Pro and summarized below.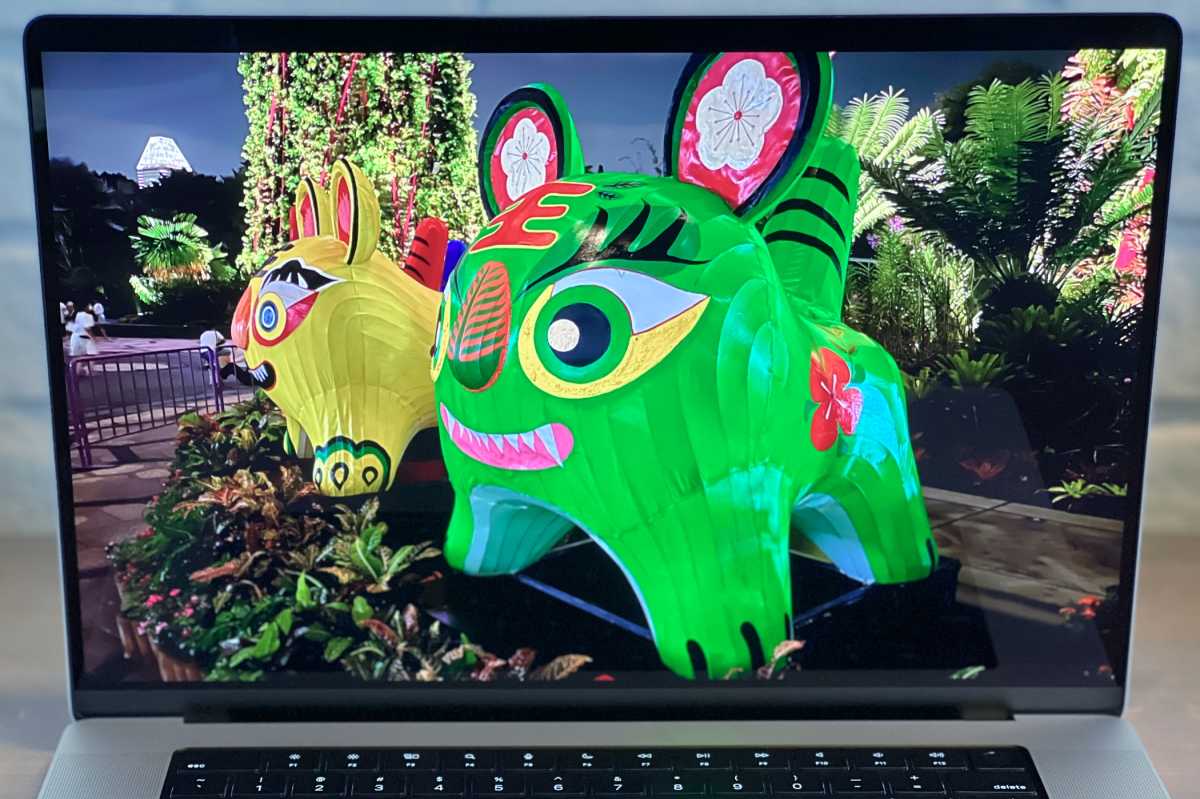 Foundry
Design: The case is made of recycled aluminum, and it feels great in your hands. It has the look and feel of a luxury product.
Display: The Liquid Retina XDR (mini-LED) display is bright, provides excellent detail, and supports ProMotion, which adjusts the refresh rate based on what's on the screen. It's the best display Apple has used on a laptop to date.
The display, however, still has a notch, a module at the center top of the display that houses the FaceTime camera. I've never been bothered by it and it doesn't infringe on the workspace below it. While the iPhone 14 Pro uses its Dynamic Island interface with its display notch, the MacBook Pro does not. Maybe someday Apple will update macOS with a Mac version of Dynamic Island, but in the meantime, you can find utilities that can hide or highlight the notch.
FaceTime camera: Since we were talking about the notch…this is the one exception to Apple's excellent job that I mentioned earlier. The 1080p FaceTime camera is the most disappointing part of what is considered Apple's premier laptop for professionals. Its image quality is sorely lacking compared to third-party cameras that are available. If you have an iPhone 8 or XR or later, use Continuity Camera instead.
Keyboard: It's the same as with the 2021 model, with full-sized Function keys instead of the Touch Bar. If the Touch Bar is a make-or-break feature for you, your only choice is to go with the 13-inch MacBook Pro with an M2 chip.
16-inch MacBook Pro: HDMI gets an upgrade
The new 14- and 16-inch MacBook Pro has the same ports as before: 3 Thunderbolt 4/USB-C ports, a MagSafe 3 port, a headphone jack, an SDXC card slot, and an HDMI port. However, Apple did upgrade the HDMI port from supporting version 2.0 of the spec to version 2.1.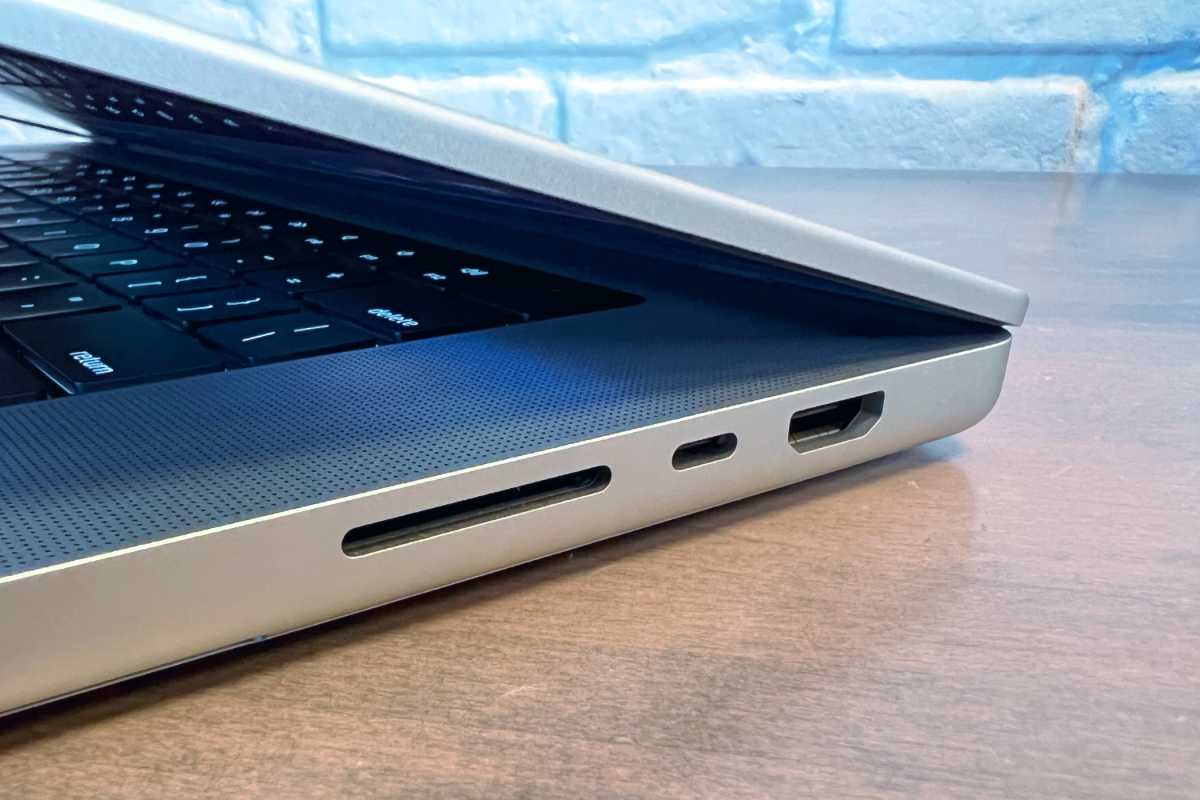 Foundry
That little HDMI upgrade is a big deal because it allows more flexibility as to the kind of external display you can use. With HDMI 2.0, you could connect one display with up to 4K resolution at 60Hz and that's it. With the new HDMI 2.1 port on an M2 Pro MacBook Pro, you can connect:
One display either at 8K resolution at 60Hz, or at 4K resolution at 240Hz
One display at up to 4K resolution at 144Hz, and another display connected via Thunderbolt at up to 6K resolution at 60Hz
Since the MacBook Pro is used by content professionals, this new external display support is a key feature. Apple likely lost some potential MacBook customers due to subpar HDMI support. This upgrade could get those customers back.
Should you buy a 16-inch MacBook Pro?
The original introduction of the M1 Pro/Max MacBook Pro over two years ago brought with it a ton of excitement. It wasn't just a new model. With a new chip, new design, and new features, it was also a new vision for the product line.
Compared to that release, the unveiling of the M2 Pro upgrade is low-key–some might even say mundane. Maybe that's unfair since the 2021 edition was so good and Apple didn't really need to change much. But there are still valuable updates in addition to the new chip, such as HDMI 2.1, Wi-Fi 6E, and Bluetooth 5.3 that make the new 16-inch Pro an upgrade-worthy release.
In short, the M2 MacBook Pro is a successful follow-up to the M1 model. If you're still using an Intel-based laptop and have the money to invest in a new MacBook Pro, there's only one good reason why you shouldn't upgrade: you have important software that won't run natively on Apple silicon. And if that's the case, you need to figure out what to do about it, because Apple silicon is here to stay. The sooner you can join the revolution, the better.
If you already invested in an M1 Pro or M1 Max MacBook Pro, you can probably wait for the M3 or M4 model to arrive, unless that 20 percent performance boost is absolutely what you need. While the HDMI upgrade is important, you've probably already adjusted to make your display setup work. And you won't feel the need for Wi-Fi and Bluetooth upgrades for a while. But if you have a few thousand bucks saved and have been waiting for this generation to arrive, your money will absolutely be well spent.
For more help deciding which Mac to buy read our Best MacBook advice and our comparison of all the MacBook Pro models. And for the best price be sure to check out our Best MacBook Pro deals round up.