Apple finally updated the Mac mini, with the new high-end M2 Pro version replacing an absolutely ancient Intel model.
It fills an important gap in Apple's Mac desktop lineup. The M1 Mac mini was cheap and got even cheaper with its M2 upgrade and the Mac Studio is powerful but expensive, starting at $1,999. Then there's the good iMac for $1,499, which is really just an M1 built into a colorful 24-inch display.
So if you want a desktop Mac, you were forced to go low-end or high-end. With the M2 Pro Mac mini, there's finally something in-between. It starts at $1,299 for a cut-back version of the M2 Pro with a 10-core CPU and 16-core GPU. Upgrade to the full M2 Pro with a 12-core CPU and a 19-core GPU, and add a little RAM or storage, and you find yourself spending as much as the $1,999 entry-level Mac Studio.
So who should buy the upgraded M2 Pro Mac mini and who should just get the entry-level Mac Studio? After using both for the past week, the answer isn't very clear.
Apple Mac mini (M2 Pro, 2023)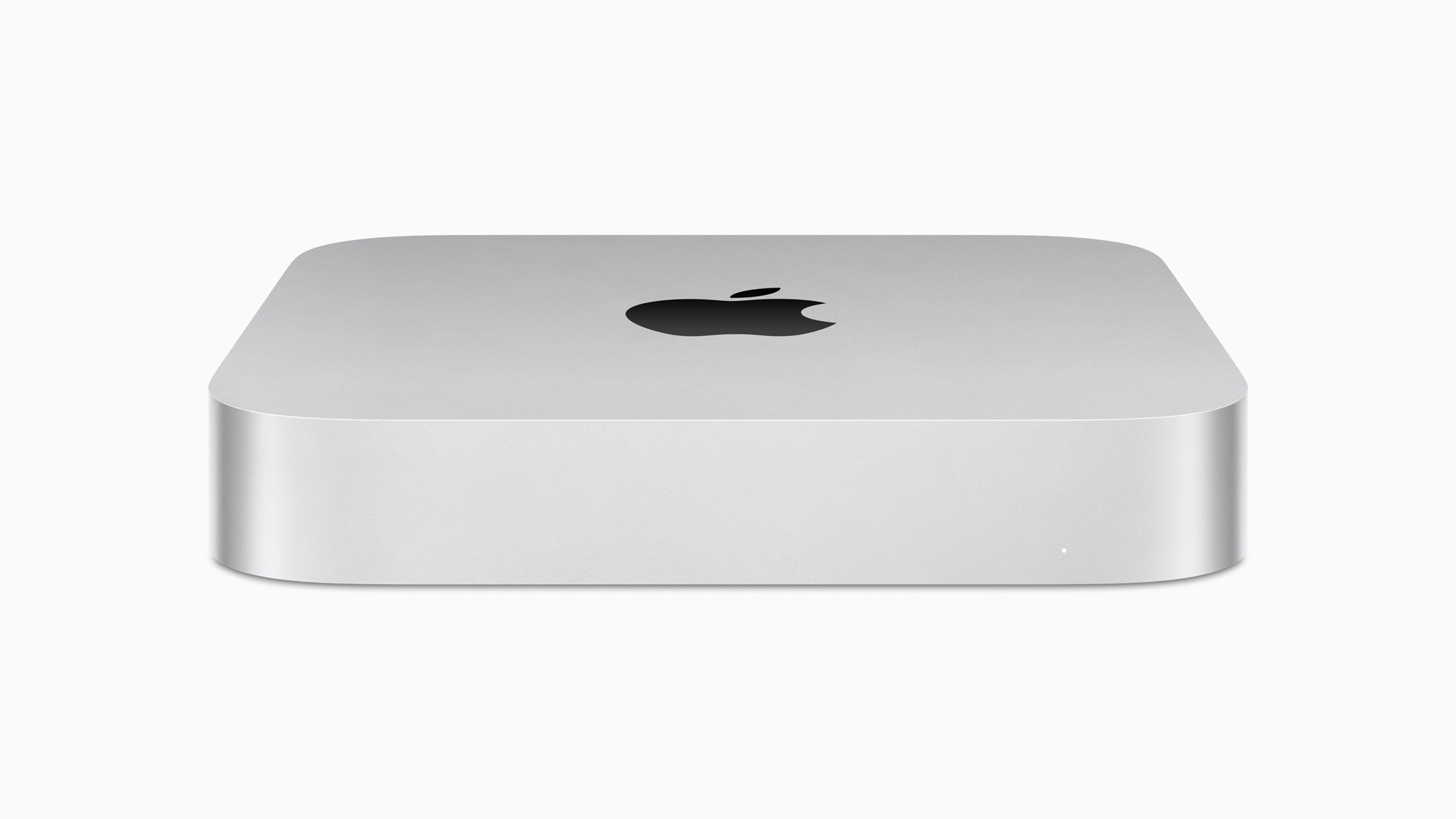 Price When Reviewed:
$1,299
The $1,599 Mac mini with a full M2 Pro chip often delivers CPU benchmark scores about 15 to 20 percent higher than the M1 Max, thanks to two additional high-efficiency CPU cores and higher clock speeds. But the $1,299 Mac mini has an M2 Pro with the same 10 cores as the M1 Max Mac Studio.
Unless you run the kind of tasks that hammer on the CPU for minutes at a time while you stare at a progress bar, you're unlikely to notice the difference. Both machines have such fast storage and memory that everyday tasks–email, web browsing, productivity work, photo editing, even light consumer-grade video editing–feel similarly fast and responsive.
The M1 Max in the base-model Mac Studio comes with 32GB of RAM, while the M2 Pro starts with 16GB. Frankly, 16GB is fine for most things, but if you need to run a lot of applications at once or really big content creation workloads, the extra RAM will make a difference. And if you plan on keeping it for five years or so, the extra RAM is nice to have.
When comparing the GPU in the M2 Pro to the M1 Max, it gets complicated. The M1 Max in the base model Mac Studio has 24 cores, with 32 cores available for an extra $200. The M2 Pro has 16 cores, with 19 cores for an extra $300. The Mac Studio will usually outperform the Mac mini here since it's got 50 percent more cores and double the memory bandwidth.
In other words, for everyday browsing and such you're not likely to notice much difference with either machine. For sustained intensive CPU operations, the M2 Pro Mac mini can outperform the Mac Studio slightly, but even then only if you spend $300 on a CPU upgrade. There aren't a lot of tasks whose bottleneck is the Neural Engine, but it's considerably faster in the M2 Pro, at least on paper.
At the end of the day, I'd take even the entry-level M1 Max with 24 CPU cores and 32GB of RAM over the full-strength M2 Pro, but it's close.
It's not just the processor
But there's more to these machines than the difference in processor power. The Mac Studio is obviously bigger–it's about 2.5 Mac minis stacked on top of one another. But both machines have the same footprint. They're just tiny by modern desktop computer standards and nearly silent.
Design-wise, I prefer the Mac Studio. The extra height doesn't bother me…in fact, it makes a great monitor stand for the Studio Display. But it's the two USB-C ports and SDXC card slot on the front that make me love the Mac Studio. I used them regularly, and I immediately missed having them on the Mac mini.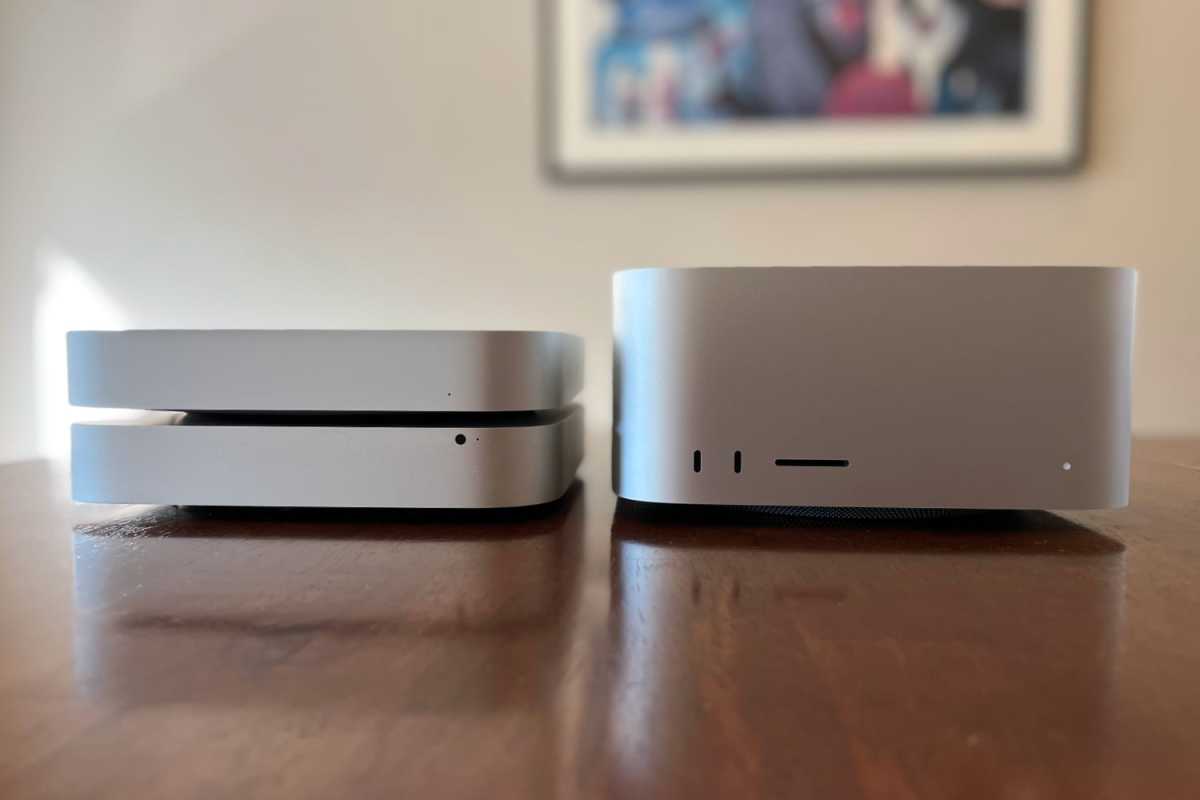 Roman Loyola/IDG
The Mac mini has Wi-FI 6E, which might matter if you've got a Wi-Fi 6E router or plan to buy one soon, though the Wi-Fi 6 on the Mac Studio is by no means slow. The mini also has HDMI 2.1, a serious game-changer if you want to hook your Mac up to an 8K monitor or a 4K monitor at greater than 60Hz.
While the HDMI 2.0 port is a little bothersome on such an expensive computer, it's the front ports that make me lean toward the Mac Studio. You might eventually notice the performance boost of Wi-Fi 6E or on rare occasions need an HDMI 2.1 port, but you'll use those front USB-C and SDXC slots almost every day.
Mac Studio (M1 Max, 2022)
Price When Reviewed:
$1,999
Apple's pricing is the problem
If you need to spend no more than $1,500, the base model Mac mini with a storage upgrade to 1TB isn't bad. It's a bit overpriced, but it's still far enough below the Mac Studio price to be worth it.
But the more you upgrade the Mac mini to match the Mac Studio, the worse the matchup gets. While the Mac Studio's upgraded 32-core GPU costs $200, you'll need to add $300 for the full M2 Pro. Add $400 to jump to 32GB of RAM to match the Studio and you're at $1,999. Consider the fact that you'll need to spend $100 to upgrade the Mac mini's Gigabit Ethernet port to the 10Gb Ethernet port that's standard on the Mac Studio and the Mac mini technically costs more. Oh, and don't forget those front-facing USB-C ports and SDXC card slot.
So, which would you rather have for $1,999: an M2 Pro with 32GB of RAM and a 512GB SSD, Wi-Fi 6E and HDMI 2, or an M1 Max with 32GB of RAM and a 512GB SSD, and front-facing USB-C ports and an SDXC card slot? The Mac mini with M2 Pro should really start at $1,099 like the Intel model it displaced, and of course, Apple's long-standing ridiculous prices on upgraded RAM and storage are to blame here, too.
And then there's the next generation of the Mac Studio. We haven't heard much about an upcoming M2 Max M2 Ultra-based Mac Studio, but the M1 version is almost a year old, and with the M2 Max now available in the MacBook Pro, we're only waiting on an M2 Ultra. Assuming the Mac Studio updates this spring with the Mac mini's HDMI 2.1 and Wi-FI 6E upgrades, and Apple doesn't increase the price, there will be no reason whatsoever to recommend an upgraded M2 Pro Mac mini at all.
But for now, if you're looking for a Mac desktop a bit more powerful than the regular M2 model, grit your teeth and grab the $1,299 Mac mini, possibly with a 1TB storage upgrade if you can swing the $200. But if you consider upgrading anything else—the processor or the RAM—I think most users would be happier and get more for their money, with the $1,999 Mac Studio.