During last year's WWDC keynote, Apple spent a surprising amount of time talking up a set of features focused on the idea of collaboration. The company attempted to tie together a few disparate ideas, such as working together on documents in apps like Pages, Keynote, and Numbers with pre-existing communication features in Messages and FaceTime.
The clear message was that Apple was taking a shot at collaborative office environments like Microsoft Teams and Google Docs. But given those longstanding alternatives with, if not devoted userbases, then at least entrenched user bases, there's a question of who exactly these features are for?
That said, as someone who works in a small environment populated entirely by those in Apple's ecosystem, it seems like I'd be the ideal candidate for such features. But in comparison to what other companies offer, Apple's foray feels a bit slapdash and duct-taped together, and my experiences using it has been far from smooth.
File away
Recently I was collaborating with my colleague Jason Snell on looks at Apple's latest Macs. (You can check out my review of the M2 Pro Mac mini.) Jason shared a draft of his MacBook Pro review with me via Dropbox, a workflow we've used many times in the past. Meanwhile, I attempted to share my own draft review, written in BBEdit, from where it was living in iCloud Drive.
This proved to be a mistake. Not only did the collaboration feature not work right–I repeatedly hit a Copy Link button in the Finder that put absolutely nothing on my clipboard–but it ended up disrupting my own copy of the review, which suddenly stopped syncing reliably between my MacBook Air and the Mac mini test machine. Instead, I had to go through and use BBEdit's built-in file comparison feature to laboriously apply changes on a paragraph-by-paragraph basis and make sure I had the most current text from the copies on both machines. This happened multiple times until I went back and un-shared the document with Jason, at which point it suddenly snapped back into sync on my Macs.
My impression is that syncing between multiple people and syncing between one person's different devices don't play well together at present. And yet this is something that third parties like Dropbox have been able to handle for some years, and web-based solutions like Google Docs don't have to worry about at all. Relying on these features for serious collaboration is certainly a tough sell when they struggle with this basic functionality.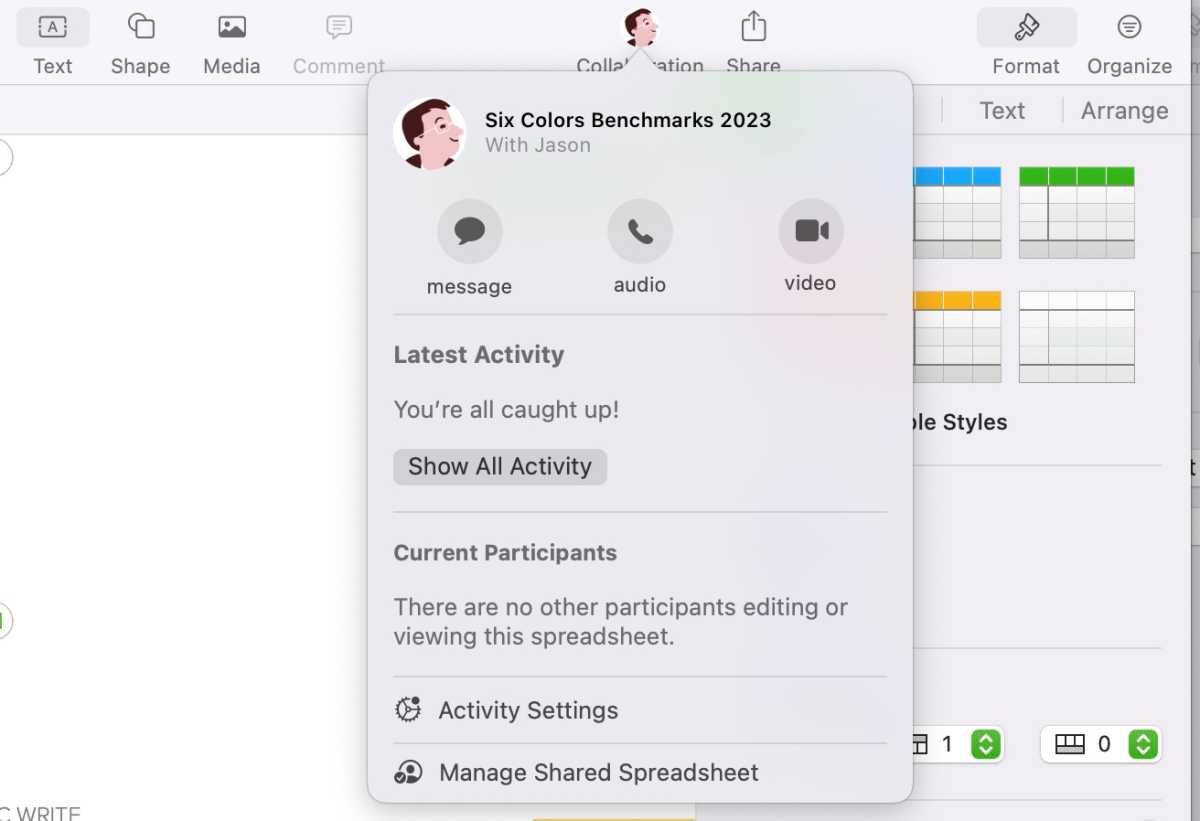 Dan Moren
Freeform may cost you
One of the major marquee collaboration features from last year's keynote didn't end up shipping until near the end of 2022. Freeform is a new app that launched with macOS Ventura 13.1 and iOS/iPadOS 16.2. It's intended to be a shared whiteboard where you can enter text and create diagrams, write notes with Apple Pencil, and even embed files.
But Freeform also has a lot of rough edges that make it not quite ready for everyday usage. Until recently, there was a bug that made it so that content entered via Apple Pencil might disappear when on other platforms. (That was supposedly patched in this past week's iOS 16.3 and macOS 13.2 updates.) Meanwhile, the Mac version of the app, which I was at one point using to share a Freeform board with myself on my iPad and another user on their iPad, ended up crashing every couple minutes during use.
One of my biggest frustrations with Freeform is the aforementioned file-embedding feature, which I found underwhelming. For example, in one board I wanted to try to put an editable table in the document, in the same way that Pages lets you embed a mini spreadsheet, but Freeform can only add a link to (or full copy of) a spreadsheet, which shows a thumbnail and isn't editable within Freeform itself. Similarly, trying to embed a PDF just put in a thumbnail and a link to the file, rather than letting users view and markup PDFs right in the board.
It feels as though Freeform has promise, but its current iteration is a long way from stable, and it's hard to imagine anybody using it for serious collaboration efforts.
The Notes you don't play
This isn't to say that all of Apple's attempts at collaboration are bad. In fact, there are a couple of features that I've been quite pleased with. For example, while Jason and I were working together on our Mac reviews, we shared a Numbers spreadsheet of benchmark data so we could both fill in the appropriate numbers. That ended up working very well, and I didn't run into any significant issues. (Although I was constantly prompted in my iMessage conversation with him to see the latest changes in our document, which I found a bit annoying.)
To my mind, however, the place where collaboration on Apple's platforms has really been successful is in the Notes app. I know! That surprises me as much as anyone, but over the last several years, the humble app that was once defined by its skeuomorphic yellow-lined paper background and Marker Felt font has become a powerhouse of Apple's lineup. Recently, it even got the ability to show, live, where other users' cursors are while they're editing a shared note.
I use shared notes with my wife to keep track of lots of household and childcare-related activities, and I also use it with my co-hosts at The Rebound podcast to keep show notes and share title suggestions during our recording sessions. To me, that's the perfect use of collaboration, because it's a quick and easy gap that doesn't require us to download a separate app. If I want to co-write a whole document, I'd probably use Google Documents, but if I just want to share a scratchpad with some friends, Notes is where it's at. It's something that Freeform, and the rest of Apple's collaboration features, could probably stand to learn from.