Now that the Mac mini is available with an M2 Pro, Apple is making the case that it's a great gaming computer. As the Mac mini site states, you can "jump into graphics-intensive AAA games like No Man's Sky and Resident Evil Village with fluid frame rates and high fidelity—all enabled by the incredible GPU performance of M2 or M2 Pro."
And with really good native support for Xbox and PlayStation controllers in the latest version of macOS, yes, you can certainly have a good time gaming on a Mac that costs less than $2,000. But after kicking the tires for a while and comparing them against PC offerings, it's clear that Apple has a very long way to go.
In a recent interview with TechCrunch, Apple executives admitted that getting the Mac up to speed "will take some time." Apple Silicon is fantastic, but the holistic gaming experience on a Mac is as frustrating as ever. If Apple is going to woo gamers, it has a lot of work ahead of it.
Performance is decent, but the price is not
Firing up Resident Evil Village on our Mac mini—our $1,800 configuration has the full M2 Pro chip with 16GB of RAM and a 1TB SSD—and it's clear the chip can handle modern AAA games. With the game's Prioritize Graphics preset at a 1080p resolution, performance varies from around 70fps to over 120fps, depending on the location and action. Turn on the new MetalFX Upscaling feature in Quality mode and performance jumps about 30 percent or so with no real discernible loss in quality. You can even crank it up to 4K resolution and play at 40-60fps in Prioritize Graphics mode.
That's perfectly respectable performance, especially for a computer as tiny and silent as a Mac mini. But it gets crushed by a comparably-priced Windows gaming PC. A prebuilt gaming PC like the one I frequently play on, with a Ryzen 9 5900X and GeForce 3070 Ti, currently retails for about $1,850 a Best Buy. And it absolutely destroys the Mac mini in game performance.
Resident Evil Village at the same settings runs at three times the framerate. The same strenuous outdoor courtyard that hovers in the mid-70s on the Mac mini runs over 220fps on the PC. At 4K resolution with upscaling enabled, I got well over 120fps, not 40-60fps. Hell, the PC runs at 1440p resolution with ray tracing enabled at 160fps here. Ray tracing isn't even available on the Mac.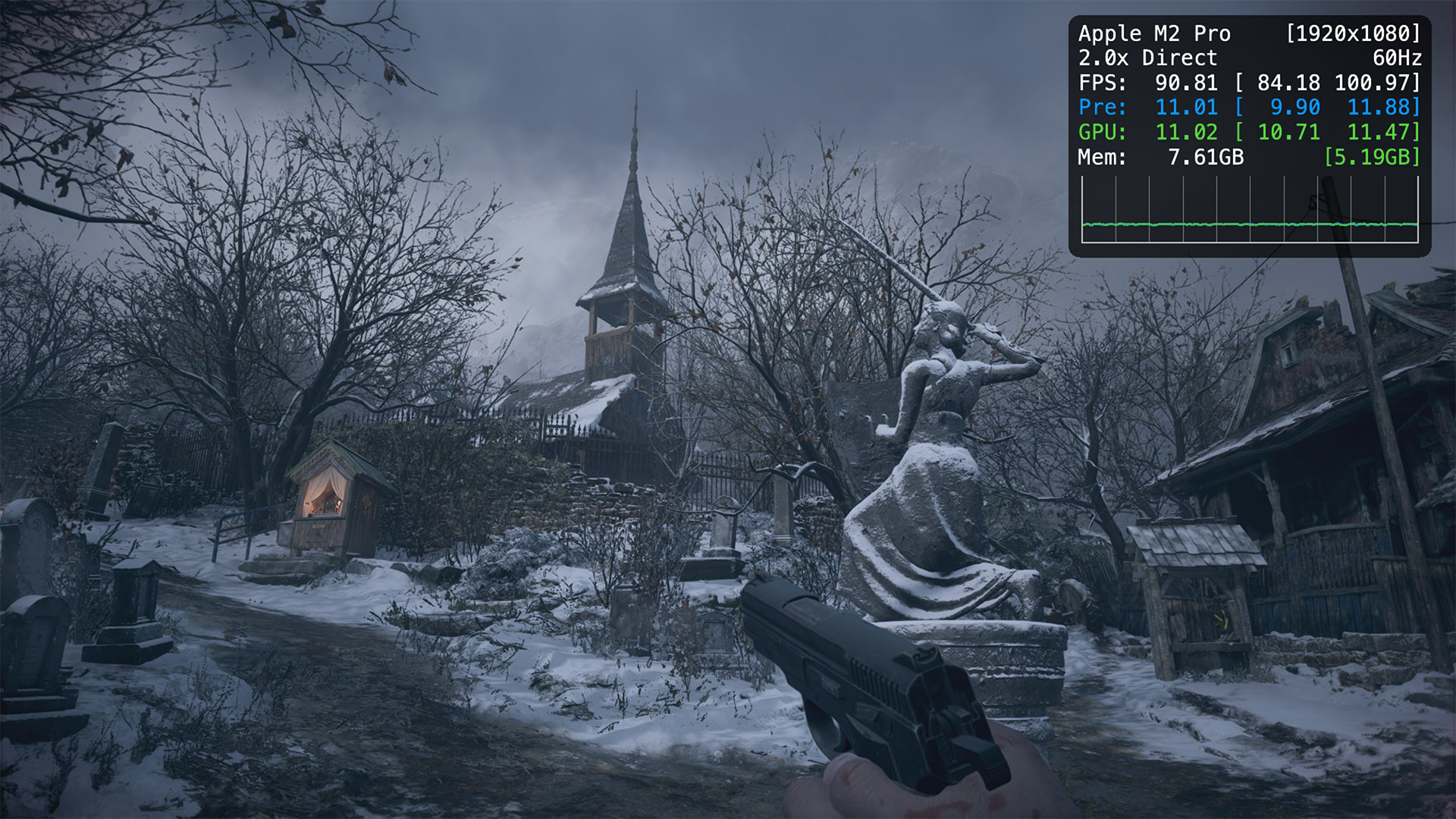 It's hard to find modern games to benchmark because the pickings are so slim for the Mac. For fun, I ran our Rise of the Tomb Raider benchmark on the Windows PC. At 1920×1200 with the High preset, the Mac clocks in at 118fps. The PC doubled it at 234fps!
Of course, these computers are only comparable in their price. The Mac mini is a fraction of the size and essentially silent, while the gaming PC is big and full of fans. But performance is an utmost concern for gamers. Games have to look great and run smoothly, now and in the future. And the fact is, when it comes to playing games, you can get at least twice the performance out of a PC for the same price, or equal the Mac mini's performance at a fraction of the cost. Sure, the PC will be bigger and more power-hungry, but also upgradeable (another primary concern of gamers).
Put bluntly: the M2 Pro's gaming performance is fine but it's nothing to boast about.
Where are the games?
Even if the Mac mini didn't deliver half (or less) of the gaming performance at this price, it would be a poor choice because the games just aren't there.
The big "AAA game experiences for the Mac" section that Apple promotes on its Mac mini page proudly features No Man's Sky, a PC and console game released more than six years ago… and it's still not out yet on the Mac! Apple's got it on their Mac mini hype page and it's still "coming in 2023."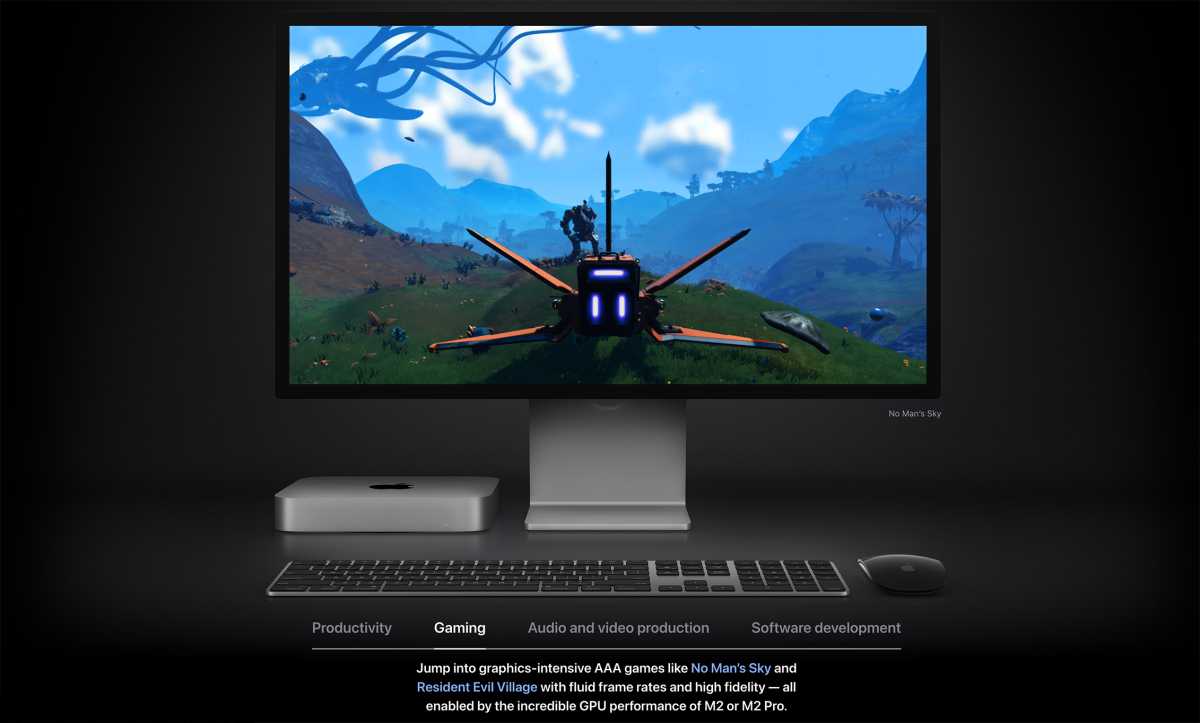 Apple
Mac gamers used to be able to count on the latest Blizzard titles, but Overwatch never shipped on the Mac, Overwatch 2 has no Mac release in the works, and neither does Diablo IV. A look at the Steam top sellers page is grim indeed. Only two of the top 15 games have Mac versions, and they're both over 10 years old.
Foundry
The fact of the matter is that the Mac is in no better place with the biggest game releases than it has been for the last decade: One or two new big games make it to the Mac (where they look and run worse than their Windows counterpart), a few other big releases make it to the Mac a year later, and 90 percent of the games you want to play never get to the Mac at all.
A roadmap for Mac gaming
If Apple actually wants to make the Mac a gaming platform worth paying attention to, it's going to have to take some drastic steps. Trying to build a little hype once a year around a new chip and "that one big-name game we have" isn't going to cut it.
It's probably too much to ask for Apple to produce a Mac with good gaming performance that doesn't cost a fortune. Windows PCs are going to enjoy a huge price-to-performance advantage for a long time. But Apple could at least do something about the software situation.
The company has shown its willingness to embrace outside gaming devices by supporting Xbox and Playstation controllers natively in macOS (and iOS, iPadOS, and tvOS), leaving behind years of awful MFi program controllers. Imagine what the same willingness to get along could mean in the software world.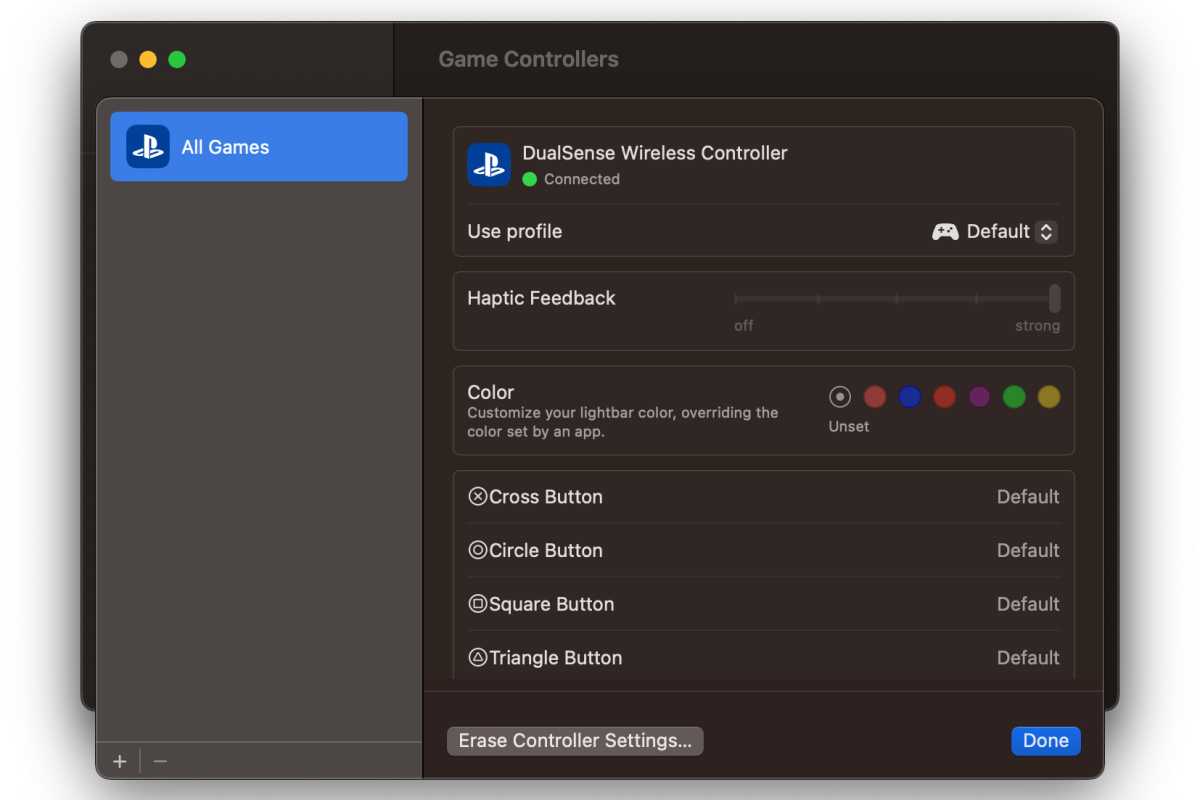 Foundry
Valve's Steam Deck is a hit with gamers even though it runs a Linux-based OS, and Linux is just as far behind in game support as macOS. How is it successful? Because Valve and its partners made a software compatibility layer called Proton. It takes Windows games and translates everything to run on Linux.
It's even open source—just imagine what the Apple engineers responsible for Rosetta could do if they set their sights on making Proton work on a Mac! Apple should definitely do this, and work with Valve to offer the same sort of compatibility list in Steam. This is likely a six-month software project that could instantly make hundreds of top PC games available, now and in the future.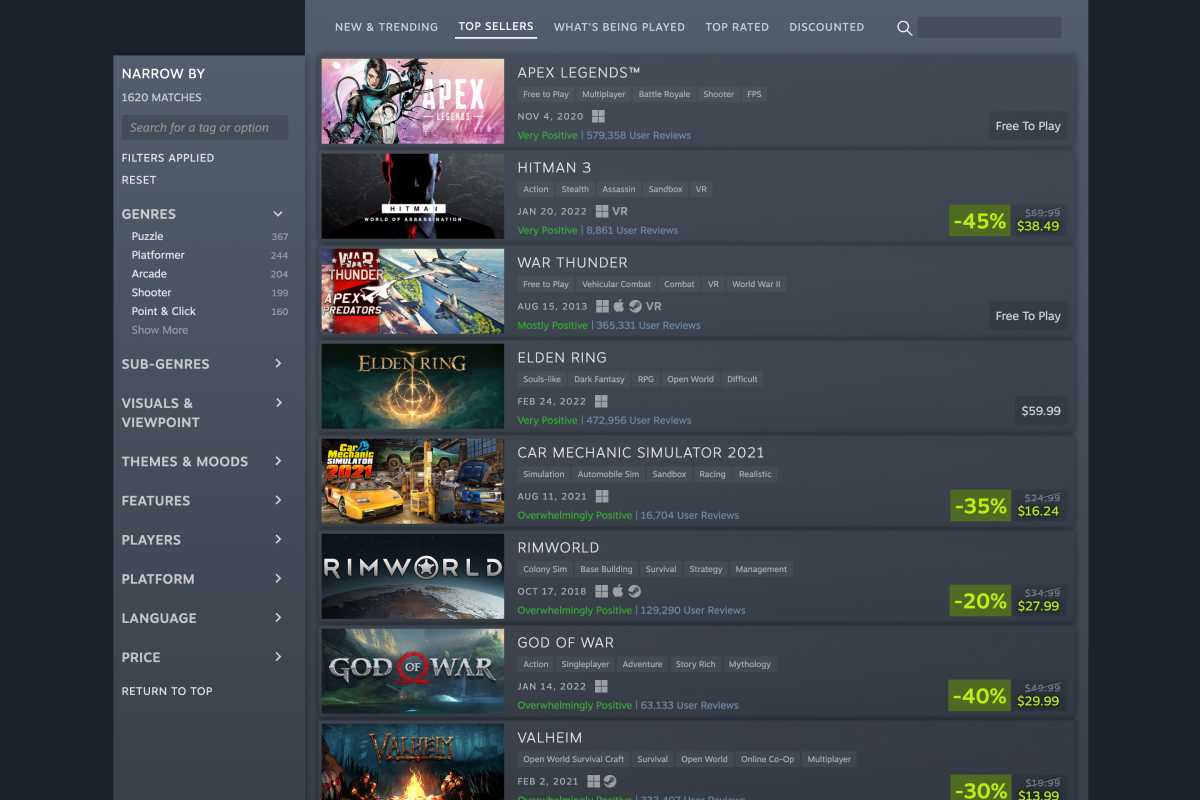 Foundry
But that's not enough. Apple can't keep forcing everyone who makes native Mac apps to use their Metal graphics API. Nobody wants to do that for a platform as small (for gaming) as the Mac. Supporting the more widely-utilized (by game developers) Vulkan API for Apple silicon would go a long way toward showing game developers that Apple is willing to meet them halfway.
Finally, there's the blunt instrument that always works: cash. Apple is sitting on a massive pile of gold like a dragon, with over $150B in cash and cash equivalents. It would have an enormous impact to spend just one percent of that idle cash on payments to publishers to make Mac-native versions of their big games, available day-and-date with the Windows versions.
That's $1.5 billion in "make a Mac version too" bribes, enough to fully fund dozens of Mac versions of top upcoming games per year. Game development is a years-long process, so this method wouldn't have an immediate impact. The Proton for Mac initiative could make a massive difference in the short term, with pay-to-play versions taking over after a couple of years.
Whatever Apple decides to do, it's clear that its current path has not delivered. The Mac as a gaming platform is in just as bad of a place now as it has been for the last decade.