I've spent a lot of time reviewing online music services for PC World this year. Until a few months ago, most of that time was spent waiting for Apple to bring its ITunes Music Store to the Windows world. That's only a slight exaggeration of the role that ITunes played in defining digital music this year.
For this first installment of my monthly music column, I thought I'd take a deeper look at this media player/music store behemoth. In the two months since ITunes hit Windows, it's come to represent everything about digital music to me–its exhilarating potential, as well as the maddening awkwardness of this early period in its development.
Give This a Listen
Just to set the stage here, I should tell you that I'm a Windows guy, and I don't think I should have to apologize for that. I look at Apple products with an open mind, but often my opinion boils down to something like this: "Sweet! Now just stop trying to cordon me off into an Apple-only universe, or cut the cost delta between your products and the rest of the world's by half, and we're in business." All of that's just a long-winded way of telling you how impressed I am that ITunes has slowly but surely become my default music player.
It looks great. That can't be stressed enough, because it's not a trivial consideration in a world where Musicmatch sticks with that boring blue-on-blue skin. ITunes is fast and responsive. It has lots of nifty little features like audible fast-forward and reverse. You know how your home CD player speeds up the song while you fast-forward though a track? Most media player apps don't do that; ITunes does.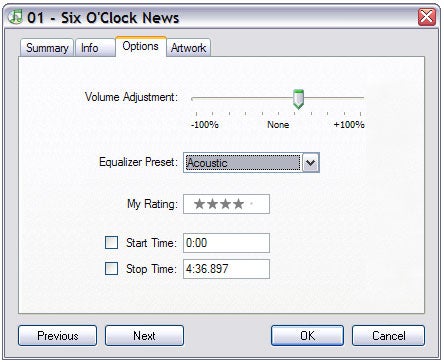 If you want to tweak a song or two, you'll be pleased: ITunes gives you an amazing level of control. Right-click any track and choose Get Info, then select the Options tab. There you can change volume levels, apply equalizer settings, or choose to skip over long introductions or conclusions on a per-track basis. Neat.
That's all great stuff; and it's nothing new to Mac ITunes users. The little details Apple gets right make you wonder what other companies are thinking. I mean, how can Musicmatch and Napster mess up when alphabetizing bands that begin with the? I shouldn't have to remember if it's "The Pixies" or just "Pixies" to find my music. I'm reasonably sure that anyone with two weeks of programming background could fix that problem in an hour or so. ITunes gets it right from the get-go.
Sour Notes
Of course, this attention to detail makes Apple's mistakes (and there are some significant ones) all the more glaring. For example, Apple doesn't patch ITunes; it releases whole new versions. So every time the programmers feel like tweaking their software, I get to download another 20MB file. That's just silly. Plus, though the three-column music library browser has started to grow on me, I still think it's unforgivable that it doesn't let you collapse songs into albums and albums into artists.
Apart from that, I love the ITunes media player, and I want the music store that comes with it to work for me. But more and more, I'm finding that as slick as the ITunes Music Store is, it has a long way to go.
My first indication that there'd be trouble came when I tried to get ITunes Music Store tracks from my work PC to my home machine. I figured that since I used the same account, and the site has a record of my purchase, I could just download the tracks again at home. Nope. Though you can keep ITunes Music Store tracks on up to three computers, you can download them only once.
And as our resident Mac Skeptic found out, you can't use an IPod to transfer songs, either. So, here are your options for transferring a downloaded track from one computer to another:
Hook both computers up to the same network, activate file sharing, and transfer the file.
Burn the track to a CD as either an AAC file or as part of a music CD.
Put the file onto some kind of non-IPod storage device.
E-mail the file to yourself.
Once you've done that, you can activate the song on the new PC and play it normally.
Apple's got more suggestions for how to get songs onto a new PC.
If you don't mind paying for a track twice, you can pay again to download a track you've already bought onto a different PC. Perversely, you're in for a surprise when you try to play the song: ITunes ignores the fact that you've just bought the song again and asks you if you'd like to authorize it on this machine. After you authorize the new computer, you can play the track. Buying a song again doesn't let you download it to an additional three computers, either–you've now used two of your three slots. This, by the way, is one area where Napster gets it right. It's one of the few music stores where you can sync purchased tracks to another PC by downloading them again.
Given that, and the fact that ITunes Music Store tracks won't play on my non-IPod portable player, I know I should look elsewhere for my paid music downloads.
A Lesson Learned–Sort Of
Still, I've learned at least one thing from the ITunes experience: Instant gratification is a powerful draw. Sure, it's pretty simple to fire up Napster or Musicmatch every time I want to purchase a track, but ITunes is right there in my media player.
I can't help myself. I know I'm being burned every time I buy a track from ITunes. I know I'll have to burn and re-rip each track to get it onto my Nomad Zen. I know (because I've already done it) that I'll just end up buying the CD of any album I really like so I can play it in full quality on my stereo system. And yet, like that awful Christina Aguilera song I overheard this morning, the ITunes Music Store seems to be stuck in my head. I'll see a new track or two that I'd like, think "Well, it's just 99 cents" and buy it.
Quick Hits
EMusic Changes Service: A moment of silence for EMusic, a pioneering paid download service that offered unlimited downloads of high-quality, digital-rights-management-free MP3s from an eclectic collection of indie bands and artists. November 8 marked the end of the site's unlimited downloads offering. This was the way digital music stores should have been.
MTV Music Store: If you follow digital music, you've probably heard about this already. Just as the ITunes for Windows review went to press, MTV announced its plans to jump into the online music business sometime next year. Rumor has it the company will shift its original store towards reality programming in the third quarter, shortly before it launches the MTV Music Store 2.
Coca-Cola Too: Also on tap for next year, a digital music store from Coca-Cola. No, I don't know what to think about this, either.
In Heavy Rotation
Hot New Artist: Kathleen Edwards is my pick for new artist of the year. Canadian readers can pay to download her stunning cover of AC/DC's "Money Talks" on Puretracks. The rest of us will have to hunt down a copy of Live from the Bowery Ballroom at a local indie record store or order one online at TowerRecords.com.
Check This Out: Also stuck in my head is Aimee Mann's "Nightmare Girl," a track off the recently released special edition of her Lost in Space album. Surprisingly, it's not available from any download service yet.