New online music stores and media players continue to pop up faster than high-school garage bands in the summer. This month, new versions of two player heavyweights–RealPlayer and Winamp–were released. Both are useful updates, and, if you're using either player, should be required downloads.
First, let's spend a little time under the hood of Nullsoft's recently released Winamp 5 player. Later in the column, I'll discuss RealNetworks' RealPlayer 10 and the RealPlayer Music Store that launched with it, which look like they have some particularly interesting future prospects.
Something Old, Something New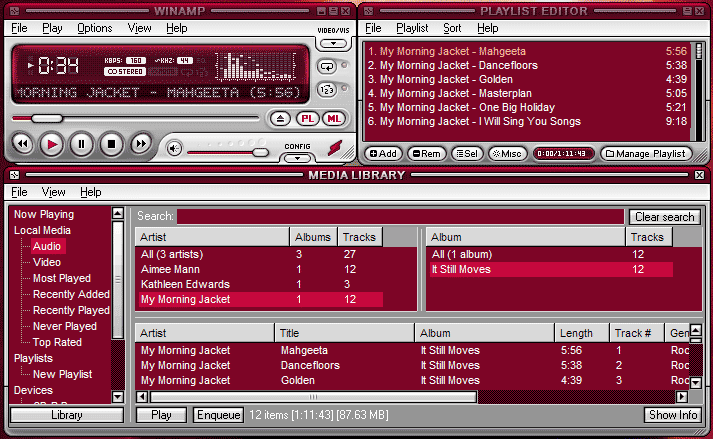 The brand-new release of Winamp–one of the players that pushed MP3 to the forefront in the early days of compressed digital tunes–combines some of the best bits of Winamp 2 and the controversial Winamp 3 release.
I've had a lot of fun with Winamp 5. It feels like the old Winamp, and that's not a bad thing. It's quick, compact, and easy to use. But like a great record that grows on you as you listen to it, Winamp 5 has lots of hidden complexity. For one thing, it's just about the most configurable application I've ever met. Every variable you can imagine is tweakable, with enough options to satisfy my inner control freak. Default color scheme doesn't match your desktop? No problem. If one of the 44 included color schemes isn't a fit, you're probably using some kind of plaid desktop background that you should change anyway. Support for downloadable visualizations and skins–both hallmarks of the early Winamp releases–give you even more options.
But it's the other little ways you can get under the hood that make Winamp a truly useful media player. Preference pages give you nearly unlimited control over the organization of your music library–everything down to whether you want a dash separating the track number and title in the file names of newly ripped MP3s. Smart or rules-based playlists are handled through the music library as well. You can set up simple or complex rules to create customized views of your music library that perform the same function.
As far as the basics, CD ripping is quick and ultra-configurable in the $15 pro version. Video playback, while not super smooth, is handled adequately. And managing playlists works fine. All in all, Winamp 5 is a pretty nice release. It probably won't kick Apple ITunes out of its spot as my default media player; but it may very well become my favorite app for ripping CDs.
Real, Real, Real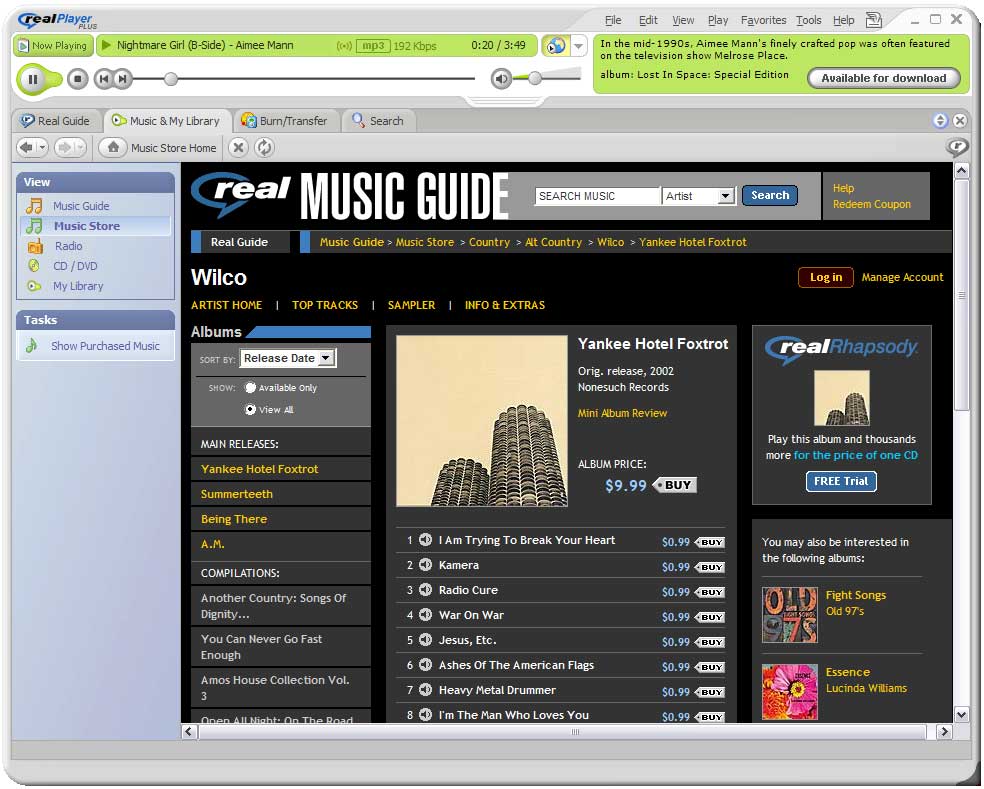 The biggest recent digital music news–apart from Apple's deal to produce Hewlett-Packard-branded IPods–was RealNetworks' new RealPlayer 10 and its associated RealPlayer Music Store. I've spent a few hours with the new store and media player, and the news is pretty good so far.
Back in the September 2003 issue of PC World, I gave high praise to RealNetworks' Rhapsody subscription service. The RealPlayer Music Store has a lot in common with Rhapsody. Both services show you an artist's entire discography even if they can't sell you most of the albums in it–a helpful touch. The new store's 192-kilobits-per-second AAC files are also the highest-quality paid downloads I've heard. Unfortunately, the new service doesn't support many portable players yet (only the Nomad Zen Xtra and several Palm PDA models work at the moment), so most users will have to burn CDs and re-rip tracks to take them on the road.
As for its media player, RealNetworks has a promised a kinder and gentler approach to (ahem) product promotion than the company has provided in the past. Apparently, you can turn off all promotional messages, except for a box that pops up when there's a critical update to the player. I seem to remember hearing that one before, so I'll have to wait and see.
That said, RealPlayer 10 impressed me with its ability to play any audio or video file under the sun, including tracks purchased from the ITunes Music Store. If you have ITunes and QuickTime 6 installed on your computer, RealPlayer 10 can use ITunes to check that you're authorized to play a track, then play it through the RealPlayer interface. Finally, one media player that can play all my downloaded music, whether it's from ITunes, Napster, or the RealPlayer Music Store. Neat.
Quick Hits
IPod Transfer Tools: As many of you pointed out in response to my last column, you can use an IPod to transfer songs and ITunes Music Store tracks. Just copy the songs to the IPod using its portable hard drive function. Of course, that workaround puts two copies of the track on your player, at least temporarily. Third-party apps like IPodRip for the Mac OS and EphPod for Windows provide a more elegant solution by letting you copy songs directly from the IPod's media library.
Dubious Downloads: I've received a few letters about "services" like EasyMusicDownload and MP3 DownloadHQ.com recently. Many people have come across fairly legitimate-looking Web sites offering unlimited access to hundreds of thousands of legal downloadable files and songs for something like $20 per year.
Sounds like a great offer, right? Wrong. A quick look at the terms of service on any of these dubious sites can tell you exactly what they're doing. Essentially, they're selling you a copy of Kazaa or some other free peer-to-peer file sharing software. EasyMusicDownload's terms, for example, spell out that it's only selling you a recommendation of free software; it doesn't run the network that the software accesses; and it makes no guarantees about content availability. There's also a section where you agree not to upload any content that "infringes any third party's intellectual property" to the peer-to-peer network. Translated, this means that you would not legally own any music downloaded from EMD.
The bottom line is, don't sign up for a music service you haven't heard of without carefully reading its terms of service. And you know what to do with any offer that seems too good to be true.
In Heavy Rotation
New From My Morning Jacket: It took me a while to get around to the latest album from My Morning Jacket, but from the moment I heard Jim James's ultra-reverbed vocals floating above track one of It Still Moves, I knew the album was a keeper. I still think The Tennessee Fire is a better disc (though you can't find it on any of the online stores), but it's great to hear these guys again.
Spoon's Road Tunes: The holidays–more specifically, a couple of long car trips I took during the holidays–reminded me of exactly how great an album Spoon's A Series of Sneaks is. Rarely do I find an album with 15 tracks that are all listenable, but that's just what this Austin-based indie rock band delivered back in 1998.