What Apple did for video editing with IMovie, it's now doing for music composing and arrangement with GarageBand, part of the ILife suite of multimedia applications that comes free with every new Macintosh. It's also available shrink-wrapped to any OS X 10.2 user for $49.
IMovie provides a simple interface, detailed tutorials, and plenty of appealing transitions and effects, which together make the process of trimming down digital video footage not just less daunting but actually fun.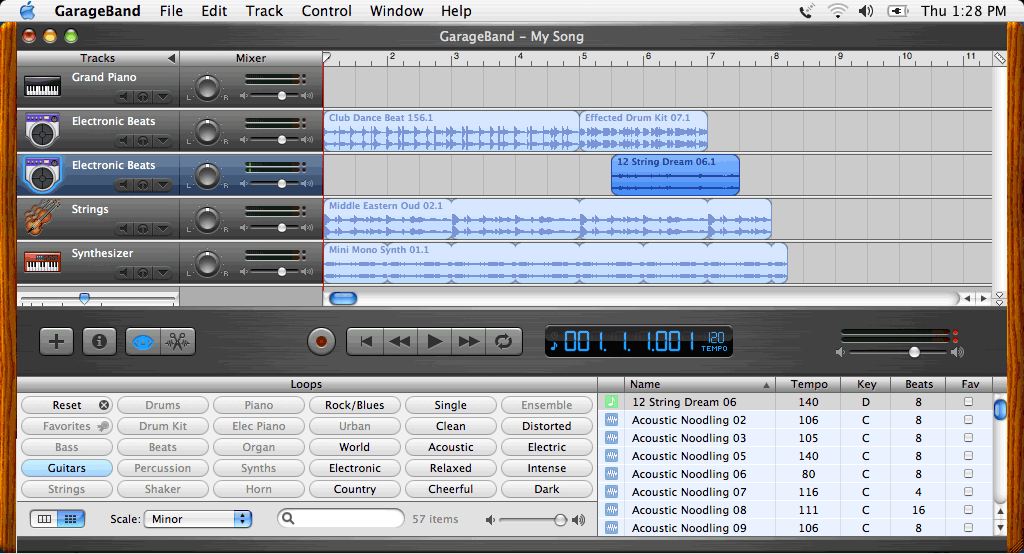 In GarageBand, controls that look like those on your stereo and a load of prerecorded instrument tracks let even nonmusicians feel like they could create a song.
I can't even play "Chopsticks" or reliably sing on key, so I was curious about what I could (or would want to) do with GarageBand. Whereas IMovie and the other apps in the ILife suite have a pretty broad audience, there are plenty of Mac users like me who have never touched a musical instrument or looked at a sheet of music.
To use GarageBand, you drag and drop files onto a multitrack window with a time line. You can modify the tempo, stretch or compress the length of the music clip, and modify its volume and pitch. In addition to using prerecorded clips, you can record your own, using a MIDI keyboard, microphone, or GarageBand's own software keyboard. Once you've recorded your clips, you can modify them to your heart's content.
Usability Testing
I tried GarageBand on two other nonmusicians to see how they liked it.
Emily is a 14-year-old high-school student who likes listening to a wide variety of popular music. Together we went through the steps of creating a song from the music loops that come with the program. Emily's a PC user, so she was unfamiliar with the Mac desktop and was thrown by a few of GarageBand's more cryptic icons, like the eye that stands for "browse the loop library." But after a couple of false starts, Emily quickly understood the time-line concept and grasped that the multiple tracks represent layers of sound that play simultaneously.
Emily had fun combining sounds and modifying them, though we didn't delve into the more advanced features. She told me she would definitely spend more time experimenting with GarageBand if given the chance, and thought it would be fun to create music to share with her friends. Though it was a pleasant experience, it didn't fire Emily with ambition to learn to play music; having all the prerecorded clips to combine was enough.
My adult subject, my roommate Jane, is a longtime Mac user with no musical training or inclinations. She found the interface difficult to understand without some instruction. But after learning the basic "choose loops and stack them in the tracks window" routine, Jane also enjoyed browsing loops and mixing and matching.
For me, using GarageBand is very much like fooling around with my grandparents' old Hammond organ: "Look what happens when I flip the Samba switch!" On the organ I was just making noise (and annoying the adults) but cracking myself up. It's pretty much the same with GarageBand–it's terribly amusing, but randomly combining electronic music clips doesn't make me any more of a musician than mashing on the Hammond's keys did. As friendly as the GarageBand tutorial is, it's not meant to teach you music theory, nor will you learn to read music with this program, no matter how much you noodle around.
Original Works Only
My biggest disappointment with GarageBand is that you cannot use it to rearrange or sample from your MP3 files. And GarageBand outputs to uncompressed AIFF files only, though you can use ITunes to convert your files to MP3 or AAC if you want. But what I want most from a program like this is the ability to remix someone else's songs–maybe to create clean versions for my favorite young rap fan, or maybe to create a parody to amuse my friends.
I can understand why Apple would want to stay away from the copyright pitfalls surrounding sampling, but adapting existing works has a long and honorable history in the arts. Besides, if I want to record my own lyrics over a song I like–and distribute it only to my family or friends–why shouldn't I?