Many years ago, I worked as a photographer in London. But although I was paid to take photographs, I seemed to spend more of my time organizing them–creating lists of what I had photographed, when I photographed it, and whom I'd photographed it for. The more photos I took, the bigger my piles of paper and negatives got, and the more difficult it was to find anything.
Of course, this was before I started taking photographs using a digital camera, and before I realized that computers could make the organizational aspect of the job easier.
Recently, I've been using Adobe's $50 Photoshop Album 2 to organize the digital photos I take. And it has been an impressively simple process.
After I take pictures, I just launch Photoshop Album, plug in my digital camera, hit a few buttons, and the software imports the pictures into my image catalog. It also preserves the data that the camera creates to accompany each photo, such as the time and date it was taken, plus the camera settings used.
All Sorts of Sorts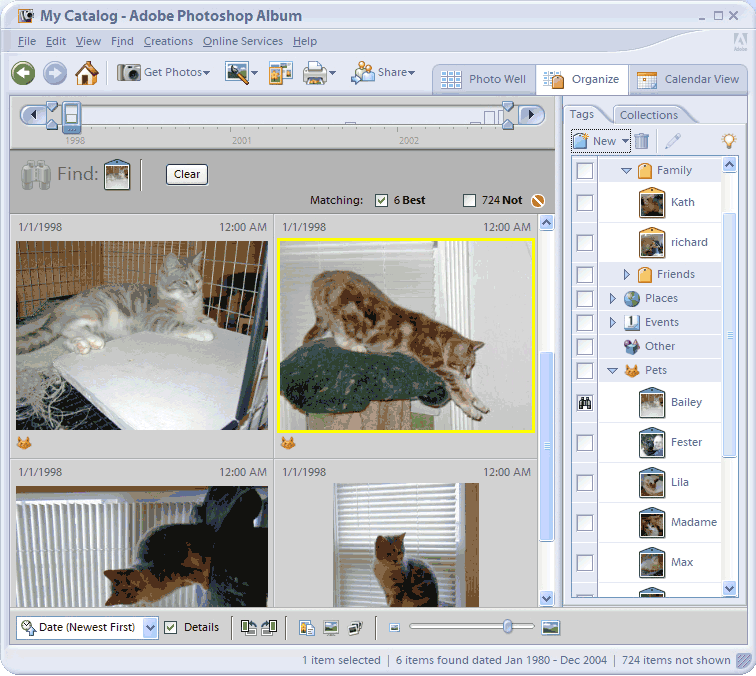 It's easy to categorize photos by creating tags and attaching them to the image files. For instance, I have one set of tags for friends and another for pets. Assigning categories is just a question of dragging and dropping a tag onto an image; you can put the same tag onto several photos by selecting them all and dropping the tag onto one of them. It's also possible to attach several tags to one image, a useful feature for photos that contain several subjects.
You can then use these tags to sort your photos. For instance, if I'm looking for photos of our cat Bailey, I just click on the Bailey tag and Photoshop Album displays the photos with that tag. However, one major omission is that you can't do searches for photos with multiple tags. This can be rather irritating: If I'm looking for a snapshot I took of our cats Bailey and Guapo snoozing on the couch, I have to wade through all of the pictures that include either Bailey or Guapo. I can't restrict the search to those that are tagged for both cats.
Editor's Note: Since this column was published, I've discovered that some of the sorting problems I was having were due to a configuration problem. I can now successfully search for images with multiple tags; so in the example above, the program now comes back with just the images that contain Bailey and Guapo. However, I still find the way the program deals with these searches a little clumsy: It provides exact or close matches (depending on how the files are tagged), but it isn't always obvious which matches you're looking at.
There are plenty of other ways to sort photos, though. You can sort them by a specific date or date range. There's a nice calendar view that shows all of the photos taken on a particular date. You can also output images in a number of ways: You can create a PDF photo album, print or e-mail your photos, or burn them to DVD or Video CD. You can also create a basic Web photo gallery; but you can't much tweak the design of this gallery within the program, and you can't transfer the gallery into a Web design program, which seems like a curious omission.
The display of images in the catalog is very quick: Even with several thousand photos in my catalog, I can quickly scroll through the list and zoom in on a particular image for a closer look. The program can also quickly back up all of the images in the catalog onto CD or DVD–a wise precaution.
Categorizing in Bulk
It would be nice if the program used some sort of image recognition to identify and then tag people and objects in photos: This could help streamline the task of categorizing a lot of photos (say you've just returned from a long trip or finished a serious session of kitten photography). Some tools help–such as the ability to label all of the photos in a particular folder with a chosen tag–but it's still a time-consuming process.
And while the tagging process is fairly simple, it isn't all that flexible. While I want to add lots of information to my image files, I don't want to create a tag for each and every person, location, and event. That's pointless in certain situations: for example, if I'm only going to take someone's photo once or it's my only visit to a location. And while you can add captions to photos, and you can search on captions, this approach is not as flexible as the keyword database systems that professional portfolio management systems use.
Although Photoshop Album 2's tagging and sorting process is fine for everyday photography, it isn't robust enough to handle a very large project, like converting to digital form and managing the many thousands of photos that I took during my professional career and would dearly love to organize.