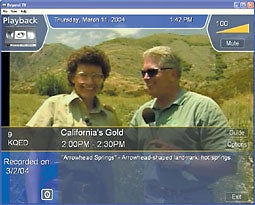 SnapStream's software has long been tops in turning a PC into a device for digitally recording television, and Beyond TV 3–the latest update of the SnapStream package formerly known as Personal Video Station–continues that streak, although it still feels a bit rough around the edges.
I tested a shipping version of the $80 software and Hauppauge's PCI-based WinTV PRV-250 tuner card with remote control (part of a $200 bundle from SnapStream). After I finished installing the card, software, and drivers, I was quickly watching television shows using Hauppauge's very basic WinTV2000 software.
Installing Beyond TV 3 itself didn't go as smoothly, owing first to a driver problem and then to my lack of a DirectX 9-compatible graphics card (a requirement left out of my setup guide). The DX9 requirement is significant, as few older graphics cards support the technology.
After addressing these issues, I loaded the software, and found the interface–navigated via mouse, keyboard, or remote–quick and easy to learn. Recording shows using the program guide and search tools was one-click simple, and accessing more-advanced playback and recording features was equally straightforward (though I was unable to retain those changes due to the lack of a save button).
New to the software are SmartSkip, which attempts to identify commercials on recorded programs for easier bypassing, and ShowSqueeze, which lets you compress recordings further for archiving or for transfer to a handheld.
The bottom line? If you want to record television programming on your PC, Beyond TV 3 is your package. Otherwise, a stand-alone digital video recorder like TiVo is probably a better bet.
SnapStream Beyond TV 3
Turns your PC into a decent, not great, digital video recorder. Price when reviewed: $80 (CD or download) Current prices (if available)