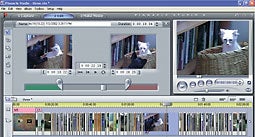 An update of Pinnacle Systems' popular Studio video editing software is out, with mixed results. On the plus side is improved background rendering: Using Pinnacle Studio Version 9, you can now continue working on an edit without having to wait until the last one renders completely. However, I found a shipping copy of version 9 to be buggy.
Other updates include a basic surround-sound editor and the ability to edit wide-screen video. The program's interface is now scaled to run at 1024 by 768 resolution, compared with Studio 8's maximum of 800 by 600. Moviemaking in this program, which is aimed at beginning and intermediate users, still is divided into three phases: video capture, editing, and writing to DVD or videotape.
Version 9 also provides a selection of new video and audio effects, as well as automatic color correction, which does a reasonably good job of improving video shot under bad lighting conditions. The SmartMovie feature will automatically edit video in a number of styles to fit with a song track.
But as nice as these features are, they don't make up for the quirks. The dialog boxes (such as those for opening video and audio files) always default to the drive where Studio 9 is installed. This is annoying if you store your data elsewhere, as you have to go into another dialog box to get to your files.
I also encountered intermittent crashes when creating videos, several leading to lost edits. The problems seemed to crop up mostly when video was being rendered in the background. (Before I completed this review, Pinnacle issued one patch, which didn't clear up my bugs; it is working on a second.) Studio 9 was rather slow, too: On my test PC (with a gigabyte of RAM), it sometimes took several seconds to update the screen when editing long videos composed of a large number of files. Before you buy, wait until Pinnacle fixes the bugs.
Pinnacle Systems Pinnacle Studio Version 9
Bugs and quirks drag down easy-to-use video editing software. List: $99 Current prices (if available)