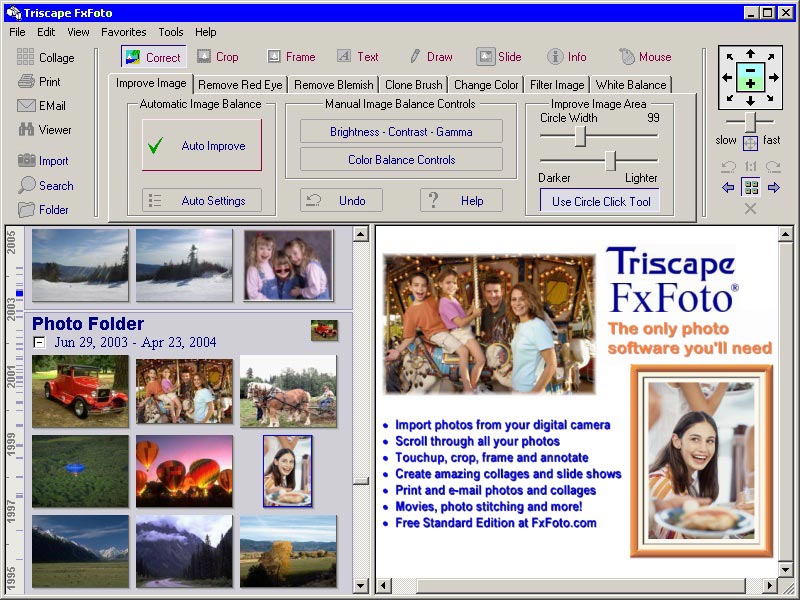 NEW YORK — Many programs promise to help organize and edit your massive collection of digital photographs, but Triscape's FxFoto 2 has an unexpected twist: The Standard Edition of the software is available as a free download.
The new entry was announced this week and demonstrated here at the Showstoppers event at CeBIT America. The program is available now for download here as well as from FxFoto.
What's the Catch?
FxFoto's competitors in photo editing and management include the better-known Adobe Photoshop Album, Apple IPhoto, Jasc Paint Shop Album, Microsoft Digital Image Library, and Picasa from Picasa. Why give away a product that's similar in purpose to applications that sell for $30 to $50? Triscape representatives say that they hope users will upgrade to one of two fee-based versions of FxFoto, and they say that the company intentionally avoided stinting too much on the free version's features.
"We figured that if people are happy with what they get, they're more likely to pay," explains Triscape's Steven Simonoff.
FxFoto Standard does include nag messages encouraging you to upgrade, but unlike many free versions of commercial products, it doesn't have embedded banner ads, tag-along spyware programs, or a trial period after which it becomes unusable. And users who don't pay up get most of the basic image management and tweaking tools that fee-based products offer.
Features and Options
For instance, you can use a scrolling window, a timeline view, and keyword and annotation features to organize photos. Among the editing tools is a one-click image enhancer; but if you prefer, you can adjust brightness, contrast, gamma, and color balance individually. Other tools let you erase red-eye and blemishes, crop images, clone one part of an image into another, and add text, graphics, and picture frames.
"We tried to match the ease-of-use of Picasa, but with a lot more functionality," Simonoff says.
As for the fee-based versions of the product, the $30 FxFoto Deluxe Collage Edition adds such features as tools to create animated photo collages (which require a free proprietary viewer to display). You can also stitch photos into panoramas and save slide shows for e-mailing or burning to CD-ROM. The free version lets you create slide shows, too, but you can't save them.
For $40, the Pro Media Edition includes all of the $30 edition's features, plus tools for turning photos into MPEG-format video files and Web sites.
According to Simonoff, many of FXFoto's users are digital photography newbies, and a surprisingly large percentage of them are senior citizens. But he also reports that more-serious photographers use the program–including "advanced users who aren't totally in love with the Adobe stuff."