If you feel you're outgrowing Apple ITunes, or you want to further tweak the tracks you've created in Apple GarageBand, Roxio's Toast With Jam 6 might intrigue you.
The core of this suite is Toast 6 Titanium, a CD and DVD burning app that has easy-to-use yet highly configurable tools. The full Toast With Jam 6 suite costs $170, and includes Roxio's Jam and CD Spin Doctor 2, BIAS's Peak Express 4, and more. Toast 6 Titanium is available with CD Spin Doctor 2 for $80. Both suites also include Déjà Vu, a utility that lets you schedule customized backups.
Since I find Apple's burning tools difficult to customize, I definitely appreciate Toast's simple and flexible interface. But it's the extras included in Toast With Jam 6 that make the more expensive suite fun to play with.
CD Spin Doctor 2, included in both suites, lets you create digital audio files from cassette tapes or vinyl records. I still love my cassette of Kate Bush's Hounds of Love, but it's not available to download, so CD Spin Doctor was the first utility I wanted to try.
Spin Doctoring
Since my IBook lacks a microphone port, I spent $35 on Griffin Technology's IMic, which plugs into a USB port and provides microphone and speaker jacks for both notebooks and desktop computers. (For the latest prices, you can check our Product Finder.)
Griffin claims that the IMic, which is essentially an external sound card, provides better results than using an internal card with a microphone jack because it eliminates the system noise that you'd otherwise hear. I didn't notice much of a difference on my IBook, but the IMic definitely reduced the system noise when I used it with my PC.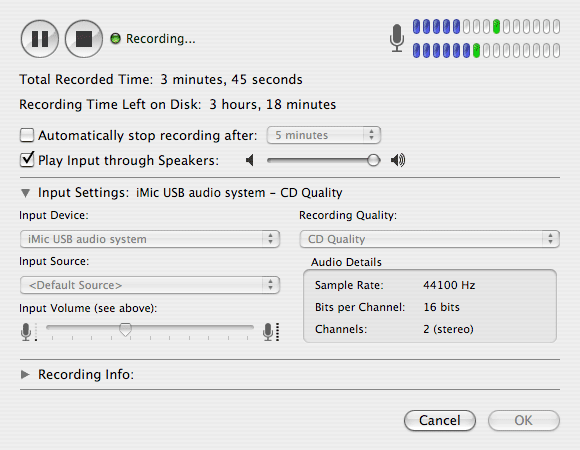 To get going, you have to run a line from a tape player or receiver to your computer's microphone jack–in my case, the IMic. Once I figured out the correct switch-and-plug arrangement for the IMic (the installation directions are clear, but it's a bit tricky), I was ready to start up with CD Spin Doctor. I specified the quality of the recording (I chose CD quality, or 44.1 kHz), the volume at which to record, and whether to play the audio through the speakers while recording. One annoyance is that while all the other settings were preserved from session to session, CD Spin Doctor didn't remember that I wanted to play the file through the speakers.
Recording audio from an analog source using CD Spin Doctor isn't as fast as ripping a CD; files are recorded as the source plays, so it can take 30 to 40 minutes to record a cassette or record side. I chose to record each song as an individual file, but you can record an entire side of an album in one file, then let CD Spin Doctor break it up into individual tracks.
This kind of conversion takes plenty of disk space: My recorded files were saved in the uncompressed Mac OS AIFF format, so they were very big: A 5-minute song resulted in a 50MB file. Since I intended to save the files on my hard drive, not immediately burn them to a CD, I wanted to compress them by converting them to MP3 format. But first I needed to clean them up a bit.
Fine-Tuning Your Tracks
CD Spin Doctor lets you do some filtering, to reduce hiss and crackling and increase the sound's brightness, for example. Though the results were pretty effective, these filters are applied to the file as a whole, not to specific portions.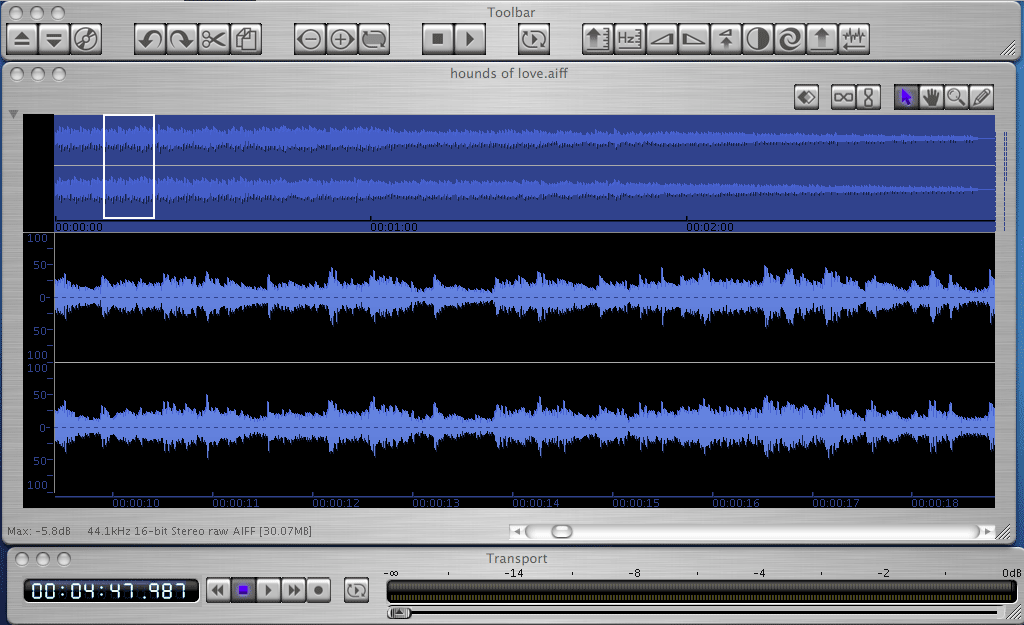 If you really want to fine-tune your tracks or put your own stamp on them, you can use BIAS's Peak Express 4 (included in Toast With Jam 6) to do it. I used Peak Express 4 mainly to trim the blank spots off the beginning and end of my tracks, but it has many other capabilities: You can control how music fades in or out, mix in other samples, or adjust volume at any point in the track.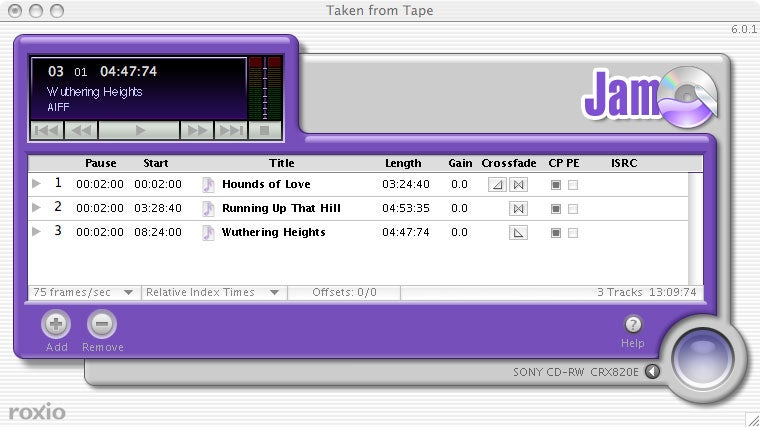 Roxio's Jam, a professional-level CD mastering program, lets you arrange your tracks exactly the way you want them, and create cross fades. If you want to get really creative with mix CDs, this is the utility to use. It also creates audio DVDs and uses Dolby Digital technology to compress DVD video sound.
Since I'm not an audio perfectionist, and I don't burn DVDs, I wouldn't pay the extra $90 for Jam. If you want professional-sounding audio discs and DVDs–and you have the know-how to create them–you may find Jam valuable. But I foresee using Toast 6 Titanium with CD Spin Doctor to spend many happy hours converting my old tapes to digital format, then banishing the cassettes to the garage for future generations to discover and laugh at.