High-powered video editing tools once restricted to well-funded filmmakers are now available to anybody with an adequate PC and some cash to spend. The latest versions of two such programs–Adobe's Premiere Pro 1.5 and Sony's Vegas 5, both $699–offer a slew of new features designed to streamline the editing process. But don't be fooled: These apps are not intended for beginners creating a simple home movie.
In addition to commanding hefty price tags, the extensive feature sets in Premiere and Vegas impose a cost in complexity. Both applications are powerful but remarkably intricate beasts that take some time–and patience–to learn.
Of the shipping versions I tested, Premiere felt a little less cluttered than Vegas, but both programs put an awful lot of buttons on your screen at once. As you start to learn your way around the apps, however, each becomes easier to use.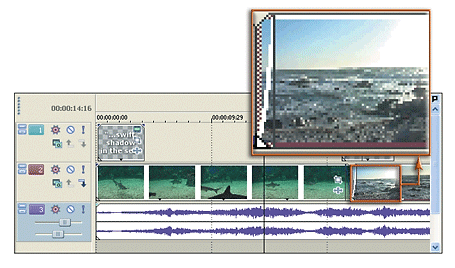 The two packages approach editing in the same way: You import video, identify the clips you want to use, add titles and effects, and then output the results to tape or DVD. Both also use a timeline to represent the video's sequence, and you can apply transitions or effects on the timeline.
In each application you can customize the experience by altering the look and feel of the interface–hiding tools that you don't need and saving your preferred layouts. You can even switch quickly between layouts. This lets you, say, create one layout for editing audio and another one for editing video, and then switch between them as required.
More Capabilities
The look and feel of the Windows XP-only Premiere has not changed much from previous versions, but the program's assortment of new features–once learned–can simplify the process of working with video. For instance, you can now collect all of the files you've created for one project and copy them to a new location in a few mouse clicks (useful for making regular backups of big projects). Similarly, you can save the settings on a video effect as a favorite and quickly apply them from a menu–a simple idea that saves a lot of time.
Premiere's color-correction feature, which lets you fix video that suffers from bad coloration caused (for example) by poor lighting, has also been greatly improved. Although it can't work miracles, the color-correction filter did let me rescue several video clips I'd previously deemed unusable. A new Color Match filter can equalize the colors in two video clips, useful for correcting the odd colors camcorders often record in different lighting situations.
Vegas, which runs on XP or Windows 2000, has many new features of its own, including a set of powerful 3D compositing tools. These enable you to lay video clips on top of each other and move them in three dimensions to create the sort of fancy effects television news broadcasts use. I found these tools relatively easy to master: With a feature called key framing–where you define the start and finish positions of a movement and the computer calculates the steps in between–I quickly produced a complicated-looking sequence in which several video clips rotated in 3D.
Both Premiere and Vegas have improved on their predecessors' unexceptional ability to provide real-time previews of edits and effects (though previews can still be rather rough and jerky if you apply too many effects or filters at once). The beauty of improved previews is that you can tweak your edits as much as necessary before performing the final rendering, which can take some time depending on the power of your PC and the desired effects. For example, one particularly complex 5-minute sequence that I created took nearly an hour to render on my 2.8-GHz Pentium 4 system with 1GB of memory.
Audio is another area where the two packages supply a huge array of tools. Though Vegas offers more integrated audio features than Premiere does, they feel more awkward to work with. Both applications can create 5.1-channel surround-sound audio.
Likewise, Premiere and Vegas can both burn video to DVD, but neither can create customized menus or other high-end DVD features. To accomplish that, you'll need additional software.
Adobe and Sony each offer combination bundles with apps that provide more DVD authoring functionality. Adobe's $999 Video Collection Standard includes Premiere Pro, the audio editing program Audition, the DVD authoring application Encore DVD, and the video effects program After Effects. Sony's $999 Vegas+DVD Production Suite includes Vegas 5 plus the DVD authoring program Video Architect 2; however, it lacks additional audio and effects applications.
Both stand-alone video editing programs are incredibly powerful, and as a result both have a relatively severe learning curve. Despite the smorgasbord of features that each offers the serious video editor, I liked Premiere Pro 1.5 better, largely because it's slightly easier to learn and use. Combine that with Adobe's sweet deal on the Video Collection Standard package–$999 for pretty much every type of video editing application an aspiring filmmaker could ever want–and you have a bargain that's hard to pass up.
Adobe Premiere Pro 1.5
Massive array of features takes time to learn; but once mastered, it's a powerful tool. List: $699 Current Price (if available)
Sony Media Software Vegas 5
Fine selection of editing tools remains slightly awkward to use. List: $699 Current Price (if available)