In my last column, I looked at the various ways that you can get your old videos onto DVD. But there is more to doing the job properly than just grabbing the video and slapping it onto a DVD: If you want it to look professional and be easy to navigate, you'll need to add a menu.
If you've watched a commercial movie on DVD, then you know what I'm talking about. DVD menus are the screens where you choose to play the movie, check out so-called bonus material such as trailers or interviews with the director and stars, or skip to particular points in the film. In fact, many studios consider menus to be a hugely important part of the DVD and spend a lot of time and money producing ones that echo the look, feel, and sound of the film.
Fortunately, we amateur home-movie makers don't have to spend anything like the time or money that the pros do to get nice-looking menus that make watching our movies easier. In fact, the software for creating DVDs can also create the menus–although the extent to which you can customize the menus varies.
The first thing to think about is how you want to break up your movie. Specifically, menus provide an easy way to go directly to a particular point in the video, called a chapter. It's similar to the way each chapter in a book focuses on a particular set of events–and this is a good way to think about organizing your menu.
Say, for instance, that you are editing a video of a recent vacation. You might want to create one chapter for the first day, another for the second, and so on. Alternatively, you could break the video down by subject: one chapter for your trip to the beach and another for the theme park.
Automatic Menus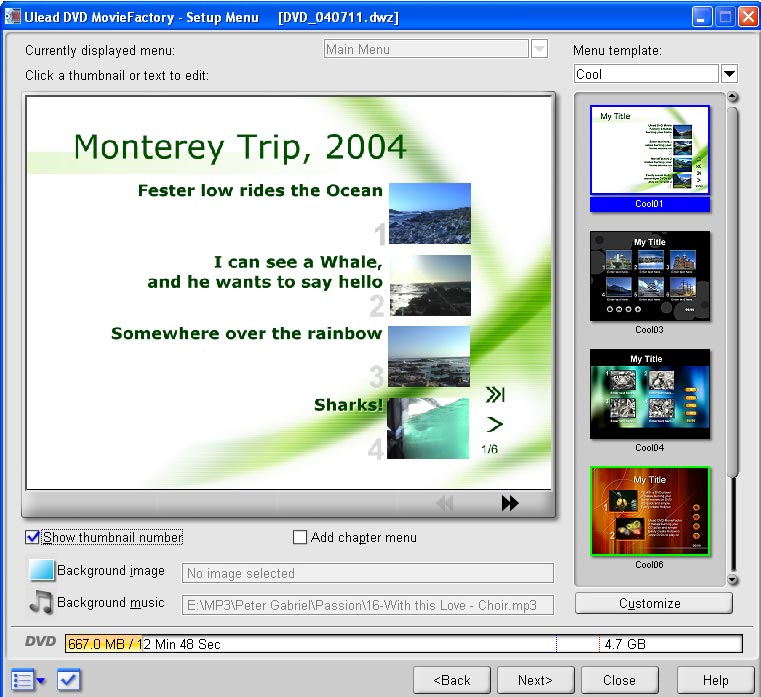 Many of the DVD authoring programs I've tried (such as Ulead DVD MovieFactory) can automatically create menus based on a theme you choose. After you create the menu, most of these programs allow you to tweak it manually, adding your own images, background music, and so on.
But one thing to watch out for with automatic menu creation tools is the number of chapters they generate. For example, I wanted to create a DVD from the footage I shot on a recent vacation, so I imported the video from my digital camcorder into DVD MovieFactory and directed the application to automatically create menu entries. It created 22 chapters, way too many for my 15 minutes of video.
The program did this because I had it use scene detection to generate the chapters: Every time the program detected a pause in the recording (because I had stopped the camcorder), it interpreted it as a new scene, and hence a new chapter in the video. In the end, I re-imported the video without using scene detection, then manually went through it and decided where I wanted the chapter points to be. This wasn't difficult: I just scrolled through the video and clicked a button in the Add/Edit Chapters tool when I wanted to start a new chapter. The program then automatically created the menu using my chosen chapter points.
Had I wanted to, I could have customized the menu further by changing the background image and choosing different positions for the menu items, for example. But the preset background was fine, so I simply added some music from a CD. I then burned the project to DVD.
It really was that painless: A few minutes of effort produced a menu that makes my video look more professional and will help me find a particular scene when I watch it again in a few years.
Videos to Watch: The 48 Hour Film Project
If you've ever complained that there isn't enough time to complete your video, you'll sympathize with the participants in the 48 Hour Film Project. This event occurs annually in cities all over the world. The idea is simple: Teams enter to write, shoot, edit, and finish a video in 48 hours. Just to make it interesting, they are assigned a genre like espionage or horror. And all of the teams have to include a prop, a character, and a phrase that they don't know about in advance. For instance, in the recent London event, the filmmakers had to include a ladder, a character named Dr. Sam Weston, and the phrase "That's the last time I lend you my cricket bat."
Once the videos are submitted, a jury of film experts picks the best ones, which go on to an international competition. The results of the London project are available for viewing online.
Not surprisingly, some of the projects are a bit rough around the edges; but others show real flair. I was impressed with Face Value, a mockumentary on an awful American Idol-esque pop group, and The Meeting, a thriller about what happens when spies retire. Both of these films show that with a little thought, a digital video camera, and a lot of caffeine, you can create a funny, well-produced film in just two days.