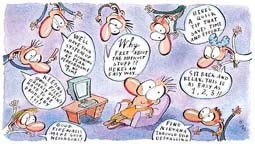 The common wisdom is that PCs, like your finances, require a lot of time-hogging good habits. That lengthy list of "shoulds" might make you weary enough to want to lie down. In sympathy, we've simplified six PC tasks, skipping all the complications and taking all the shortcuts. We also chose the recommended products for their no-hassle quotient.
There are many ways to approach any task, and these guides aren't definitive–just the best way to get the job done.
Organize and Fix Up Your Photos in a Flash
Time to complete: 5 minutes to install, 10 minutes to organize
Required product: Jasc Paint Shop Photo Album 5, $49, www.jascsoftware.com
There's a better way to store your digital photos than dumping them onto your hard drive. With a little effort and the right program, your pictures can be cleaned up, oriented right side up, and meaningfully named.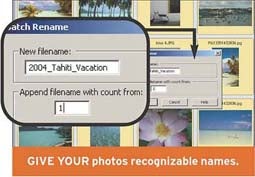 Connect your camera to your PC and launch Photo Album 5. In the pop-up window, choose Organize.
On the toolbar menu, click Camera, Get All Images. Rename the folder to something descriptive, such as 2004 Tahiti Vacation.
If some of the images aren't oriented correctly, you can rotate them all simultaneously. Hold down the Ctrl key and select the photos that you want to rotate. Then right-click a highlighted photo, select Rotate, and choose Left or Right.
Before you edit your photos, we recommend making copies of your images. Certain operations (such as the Quick Fix) cannot be undone, so it's good to keep a copy in case you don't like the results of your edit.
Want to perk up a few dull shots? With a single click, the Quick Fix tool adjusts a photo's brightness, contrast, and color balance. To modify several photos at once, select the images, click Batch on the toolbar, and choose Quick Fix.
If you want to e-mail photos or post them to the Web, reduce their size for quicker uploads. Select the images to resize, click Batch on the toolbar, and select Resize.
Loaded straight from your camera, your images have cryptic file names (like "IMG_0001"). If you rename them, they'll be easier to locate later. To rename them all at once, select the photos, click Batch on the toolbar, and choose Rename. A Batch Rename window pops up. In the 'New filename' field, type your desired title–for example, 2004_Tahiti_Vacation.
Grace Aquino
Make Backups in the Background
Time to complete: 10 minutes to install, 5 minutes to set up
Required products: Iomega HDD 160GB USB 2.0 External Desktop Hard Drive with Iomega Automatic Backup software, $190, www.iomega.com; Windows 2000 or XP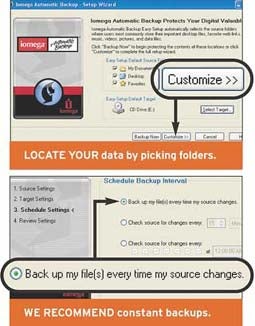 Yes, backing up all your data is critical, but you probably never do it because getting started seems too hard. This method is dead simple to set up and ensures that you always have an up-to-date version of your data.
Set up your backup media. We recommend an external hard drive because all you have to do is plug it in, and Iomega's models come with the company's Automatic Backup software.
In Windows Explorer, select Tools, Folder Options. Click the View tab. Select Show hidden files and folders. Click OK.
Install Iomega Automatic Backup. After the installation completes, it will bring you to the program's Setup Wizard.
On the wizard's first page, look at the selections listed under Easy Setup Default Source Folders. If you keep files in the My Documents, Desktop, and Favorites folders, leave all the check boxes selected. Next, click the Select Target button. Select the hard drive you just installed, then click OK and Customize.
On the next page, locate the rest of your data by completing the following steps for each of the folders listed below: Click the Add Folder button, select a folder, and click OK. Here are the folders:

Shared Documents
C:Documents and Settingsyour_nameApplication Data
C:Documents and Settingsyour_nameLocal SettingsApplication Data

Using the same procedure, select any other folders that you want backed up. When you've finished, click Next.
Complete the setup using the wizard. We recommend that you stick with the program's defaults, which will automatically back up your documents every time that a change occurs.
Lincoln Spector
Tidy Up Your Files and Folders
Time to complete: 5 minutes to set up
Required product: Microsoft Windows XP, $200, www.microsoft.com
It's easy to just let Windows save every file where it wants to–in My Documents–but you can end up with a cluttered, unwieldy folder, and My Documents can be time-consuming to navigate to. You may instead want to store your files on another, larger hard drive, copy them to another location, or compress them in a jiffy. A couple of tricks will let you quickly and easily set up your filing system your way and keep it organized.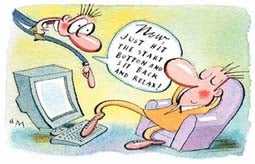 To change the location of My Documents, choose Start, right-click My Documents, and select Properties.
Click Move, and browse to the new location you want for My Documents. Click Make New Folder if necessary (the folder will still appear as My Documents in the Start menu and Explorer). Click OK.

Make the Send To menu your friend by putting the programs and folders you use most often into it: First, navigate to the Send To folder itself. Each user account has its own folder at n:Documents and Settingsyour_nameSendTo, where n: is the drive Windows is installed on and your_name is the log-on name of the user. Use My Computer or Explorer to open this folder.
Create a shortcut to the folder you want to send documents to: Choose File, New, Shortcut (or right-click an open area of the Explorer window and choose New, Shortcut), and then browse to the program or folder you would like to add to the Send To menu. This works for applications as well: If you always open text documents in WordPad, for example, put a shortcut to WordPad in your Send To folder. Or make a shortcut to a network drive so that you can back up files and folders with two clicks.
Use the Send To command to compress large files (such as photos or audio or video clips) for storage or e-mailing. In Explorer or any File, Open dialog box (including when you choose Insert, File in Outlook), right-click the giant file (or group of files), and then choose Send To, Compressed (zipped) Folder. Note: If saving disk space is your main concern, you should delete the original file once the compression process has completed.
Scott Spanbauer
Save Paper by Combining Print Jobs
Time to complete: 5 minutes to install, less than 5 minutes to set up
Required product: FinePrint Software FinePrint 5, $50, www.fineprint.com
Want to do something nice for the environment and your office-supplies budget? FinePrint lets you shrink multiple pages, make double-sided prints, and even combine print jobs. Here's how to merge two documents into one printout.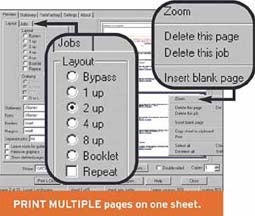 Install FinePrint, then set it as the default printer in the Settings, Printers menu so it will open whenever you print. To do so, right-click FinePrint and choose Select as Default Printer.
For your first document, choose File, Print. When the FinePrint dialog box appears, click the Preview tab. Click the Layout subtab to choose how many pages to print on one sheet and to preview your job.
Don't click the Print button or close the dialog box. Return to the application you were using and open the second document. Invoke the Print command again to add this document to FinePrint's preview window.
Right-click the preview window to inspect your print job or to remove or insert pages. Choose your printer from the drop-down menu, and click Print & Close or Print to finish.
Rebecca Freed
Install and Train a Firewall
Time to complete: 10 minutes to download and install, 10 minutes to train
Required product: Zone Labs ZoneAlarm 5, free, www.zonelabs.com
ZoneAlarm is about the easiest-to-use firewall we can think of, but you still have to do some fine-tuning to minimize confusing alerts. To save time, you can use ZoneAlarm's Control Center to manage programs' Internet access.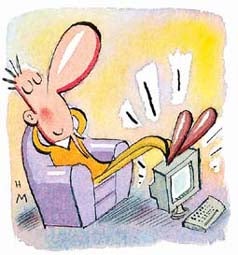 Download and launch the ZoneAlarm installer. Accept the default settings when ZoneAlarm asks you to configure Web surfing access. (If you think your computer is infected with a worm, virus, or browser hijacker, choose No to manually control which programs have Internet access until you've cleaned up the problem.) Click Next to continue, and reboot when prompted.
Read through the brief ZoneAlarm tutorial that runs automatically and explains how to respond to ZoneAlarm alerts. ZoneAlarm will begin to display dialog boxes asking you to grant or block access to programs running on your PC that try to use the network or Internet connection.
When a dialog box pops up, look at the name of the program attempting to access the network. If you recognize it as legitimate, check the Remember this setting option, and then click Allow. If you're not sure about the program, click More info to view a description on the Zone Labs Web site. If you remain unsure whether the program is legitimate, click Deny.

To review and change the permissions you've given programs, double-click the ZoneAlarm icon in your system tray to bring up ZoneAlarm's Control Center. In the menu bar on the left side of the screen, click Program Control. Next, click the Programs tab at the top right of the main window. In this view you can specify exactly what each program is allowed to do–on the Internet and on trusted networks such as your office or home network. Choosing 'Allow' for often-used programs will minimize the number of pop-up alerts you see.
Scott Spanbauer
Create a Web Site in Minutes
Time to complete: 10 minutes for installation, 15 minutes to create and upload content
Required products: Blogger, free, www.blogger.com; Picasa Hello, free, www.hello.com
Everyone dreams of having their own Web site, but learning HTML and tweaking code can be a big time sink. The words and pictures you want to share with the world are what really matter, and a Weblog (or blog) gives you a basic Web presence almost instantly. Even better, the services we've chosen to help you do it are free.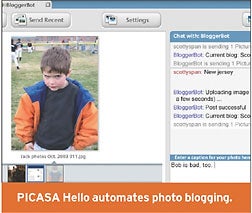 Browse to the Blogger Web site, click the Create Your Blog Now link, and follow the prompts to establish an account (be sure to jot down your user name and password), a blog title, and a blog address.
Select a blog template that suits your design sensibilities, and click the arrow at the bottom of the screen.
Click the Start Posting link, and then enter a title and message in the Posting sheet. When you're satisfied with your post, click the Publish Post link. To see how your published blog looks, click the View Blog tab.
The Posting, Settings, and Template tabs let you control just about every aspect of your blog, including deleting entries (or entire blogs) and allowing others to add posts and comments. If you want to edit or delete an existing post, click Posting, then Edit Posts. To choose a different design template for your blog, select the Template tab, and then click Pick new.
Download and install Picasa's free Hello instant messaging utility. Again, make a note of your Hello user name and password. Launch Hello, and then log in.
Click Send Pictures, and then browse to and select the photo that you want to post to your blog. When you're prompted, choose BloggerBot as the photo recipient, and click Send. Next, enter a photo caption and click Publish. That's it.
One note: The first time you send a photo using Hello, Blogger will also prompt you to log in with your Blogger user name and password.
Scott Spanbauer
Grace Aquino is senior associate editor, Rebecca Freed is senior editor, and Scott Spanbauer and Lincoln Spector are contributing editors for PC World.