Avid digital photographers are passionate about more than just cameras. They crave powerful tools to organize, edit, and share their pictures. Luckily, today's consumer photo software is more sophisticated than ever, and about $100 gets you a formidable arsenal.
We looked at four recently updated software packages for intermediate to advanced hobbyists (none support CMYK color for professional printing)–Adobe Photoshop Elements, Jasc Paint Shop Pro and Photo Album, Microsoft Digital Image Suite, and Ulead PhotoImpact. Then we picked the best utilities and plug-ins that do specific tasks better than the big guns.
Throughout, we've pinpointed new features and hidden tools that can help take your digital photography to a higher level.
See the box below for links to the various parts of this article.
All-Purpose Editing Packages
Adobe Photoshop Elements 3
Adobe Photoshop Elements' new organizing tools
Jasc Paint Shop Pro 9 / Paint Shop Photo Album 5 Deluxe Edition
Jasc Paint Shop Photo Album's decorative layout templates
Microsoft Digital Image Suite 10
Microsoft Digital Image Suite's panoramic stitching
Ulead PhotoImpact 10
ULead PhotoImpact's High Dynamic Range exposure editing
Specialized Imaging Tools
Organize
Edit
Share Digitally
Share in Print
Perfect Pictures With Plug-ins
Bottom Line
Photo Editors Have Different Strong Points (chart)
All-Purpose Editing Packages
Adobe Photoshop Elements 3
$100
We tested a beta version of Photoshop Elements 3. The most well-rounded of the four major applicaton packages, it's our Best Buy. We liked its many pro-level Photoshop CS tools and its robust new Photo Browser, which incorporates much of Adobe's Photoshop Album product.
Organizing
Photoshop Elements 2's old File Browser could catalog pictures on the hard drive and on other mounted media. But the new Photo Browser (modeled after Photoshop Album) can also catalog photos from offline media as well, these showing low-resolution thumbnails of images with little CD icons.
To find photos fast, you can search the Photo Browser by text-based metadata, by keyword, by user-defined star ratings, or by visual data. The Find by Color Similarity With Selected Photo(s) command, for example, lets you choose up to four source photos and search for other photos that share the same subject or predominant color scheme. To group similar pictures, we used the outstanding new Stack command, which proved particularly useful at stacking different edited versions (collectively called a Version Set) of the same photo. We could then call up the stack view and see thumbnail previews of all of the photos for quick side-by-side comparison.
Editing
Photoshop Elements gives you much of the power of the industry-standard Photoshop CS program but with a more consumer-friendly interface consisting of two image-editing environments: Quick Fix, for one-touch adjustments; and Standard Edit, with more-sophisticated tools borrowed from Photoshop CS. A button toggles between the two modes, allowing you to make basic edits speedily in Quick Fix and then do your fine-tuning in Standard Edit.
Two great tools that are new to Photoshop Elements 3 are the Healing Brush and a simplified version called the Spot Healing Brush. They effectively eradicate spots and blemishes by replacing them with the color and texture of the surrounding pixels for a natural-looking result. The healing brushes are easier to use than the Airbrush and Clone tools. (In Elements 3, the Airbrush is in a new location on the Brush tool's Options Bar.) Another cool tool, called Cookie Cutter, lets you crop an image to any one of a variety of custom shapes (hearts, arrows, stars, paw prints, snowflakes, and such)–perfect for creating kitschy cards or invitations.
Advanced hobbyists will appreciate the Process Multiple Files command, which lets you simultaneously rename, resize, and convert the file formats of any number of images. Plus, Photoshop Elements 3 has an outstanding light-duty adaptation of the Photoshop CameraRAW plug-in that includes a few advanced settings for functions such as sharpening, luminance smoothing, and color noise reduction. Of the four major applications here, only two–Photoshop Elements 3 and Jasc Paint Shop Pro 9–can read and adjust RAW (unprocessed) files from a digital camera.
Sharing
Photoshop Elements 3 is the best choice for making cleanly designed creations such as cards, photo album pages, and editable HTML Web photo galleries. You'll find plenty of seasonal and event themes, too. Adobe created a $150 Photoshop Elements plus Premiere Elements video editing bundle that enables you to incorporate photos and slide shows into movies burned to DVD. In addition, Adobe has teamed up with Ofoto to let you create cloth-bound printed books.
TIP
Elements' Healing Brush is more effective than the Clone Brush for removing blemishes, but its default brush size is usually too small, so don't forget to increase it. To erase a big object quickly, start with the Healing Brush in Replace mode and then smooth over the unnatural edges in Normal mode.
Adobe Photoshop Elements' new organizing tools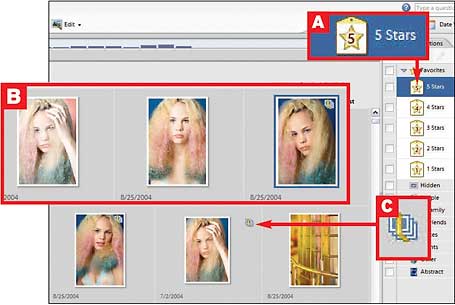 A. Rating Stars let you rank your photos so that you can quickly find your top picks later.
B. Find by Color Similarity lets you search for pictures visually.
C. The Stack command lets you group similar pictures behind one thumbnail.
Jasc Paint Shop Pro 9 / Paint Shop Photo Album 5 Deluxe Edition
/ $129 / $50
Many users swear by Paint Shop Pro 9, the most powerful of the four image editors we examined. But Paint Shop Photo Album 5 Deluxe Edition (sold separately) falls short of Photoshop Elements' Photo Browser. Corel recently acquired Jasc; however, these products' availability and features should remain unaffected.
Organizing
Paint Shop Pro 9 ships with a trial version of its image management sibling, Paint Shop Photo Album 5 Deluxe Edition. (Photo Album 5 Standard Edition comes bundled with Paint Shop Pro Studio, a beginner-level editor not reviewed here.) Photo Album 5 doesn't read RAW files–a flaw, given that Paint Shop Pro 9 does. Unlike Photoshop Elements 3 and Microsoft Digital Image Suite 10, Photo Album 5 can't search for images using visual criteria; it is limited to searching keyword, date, or certain EXIF data. Photo Album does come with horizontal and vertical panorama photo stitching that automatically flattens curves and crops images to their strongest edge; but our tests found that did a more accurate job of automatic stitching. Also, Album restricts the maximum size of the stitched image to 12MB or 2000 by 2000 pixels, for a square, 24-bit image. This is odd, since many people use panoramic stitching to produce images at resolutions higher than their cameras can support in a single picture.
Editing
Editing has always been Paint Shop Pro's core strength. The default interface is quirky, but you can design several interfaces of your own–placing tools, buttons, or palettes wherever you want–and use a command on the File menu to call them up. In the quick-fix department, Paint Shop Pro 9's One Step Photo Fix automatically adjusts such features as color balance, contrast, clarity, saturation, edge smoothness, and sharpness.
Professionals will love Paint Shop Pro's layer management, which is the most complete we've come across in any image editor (including Photoshop CS). Specialized layers include Raster, Vector, Adjustment, Mask, and Art Media. The Art Media layer is particularly cool: When we designated it as a Wet Art Media Layer (as opposed to a Dry Art Media Layer), colors that touched bled together. Paint Shop Pro's new selection of Art Media Brushes–Oil Brush, Chalk, Pastel, Crayon, Colored Pencil, Marker, Palette Knife, and Art Eraser–have the look and feel of their natural media counterparts without requiring you to construct the look using complex brush options, as is the case with Photoshop Elements.
The filters on Paint Shop Pro 9's Adjust menu can correct common digital photography problems such as noise (unsightly grains of color throughout the picture) and the optical distortions that are prevalent in consumer (and sometimes professional) digital cameras. Automatic dust and scratch removal features work without oversoftening the entire image, but the RAW editor is far less powerful than the one in Photoshop Elements.
Sharing
Paint Shop Photo Album 5 and Paint Shop Pro 9 give you about 15 ways to share photos, including via video CDs, TV slide shows, and–through a partnership with MyPublisher.com–cloth-bound books. We were impressed with Album's scrapbook album layouts. Even family-oriented themes looked professional, and the six-to-a-page layout with space for captions would be excellent for storyboards. If you want to print several photos at 4 by 6 inches, select the images you want in Photo Album 5, click the Batch button, and select the Crop to 4×6 command.
TIP
To erase a brushstroke that you made without also erasing everything that you did afterward, use Paint Shop Pro 9's History Palette, which continuously displays all of your actions on screen. Simply right-click any action in the History Palette, and then choose to undo that, and only that, particular step.
Jasc Paint Shop Photo Album's decorative layout templates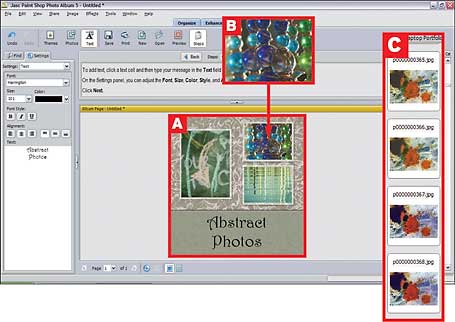 A. Paint Shop Photo Album 5's layout designs are decorative, yet professional.
B. Paint Shop Pro 9's Art Media layer lets you add cool natural-media effects to images.
C. Paint Shop Photo Album 5 gives you immediate access to open photos in the window's right-hand column.
Microsoft Digital Image Suite 10
$129
Despite lacking the versatility of Photoshop Elements' Photo Browser and the power of Paint Shop Pro's image editor, Microsoft's Digital Image Suite 10 offers strong features particularly appropriate for beginners. The interface can be quirky, though.
Organizing
Digital Image Suite 10's Digital Image Library gives users fewer searching and grouping options than does the Organizer in Photoshop Elements 3. It also lacks support for RAW images. Where the Digital Image Library does stand out, though, is in its ability to archive images, either on demand or automatically at scheduled intervals.
The Digital Image Library's Find Similar Picture command lets you search visually for areas of light and dark, as well as similar exposure, grouping the results into Most Similar, More Similar, Less Similar, and Least Similar categories. This arrangement yields more-organized search results than you can get from Photoshop Elements. In our tests, we searched for results similar to a picture of a woman in the corner of a store. The Most Similar results we obtained were of the exact scene captured in our source image. The More Similar results had the same lighting and orientation but sometimes different subjects. The Less Similar search results were of like color and brightness, while the Least Similar group was a catch-all collection.
Editing
The mini lab, Digital Image Suite 10's batch-editing feature, is excellent. It lets you apply a combination of one-click fixes to a selected group of images. While in the Digital Image Library, choose Touchup Batch Edit in Mini Lab from the Tasks menu. The Mini Lab's interface opens up to present you with levels; contrast, color, and exposure Auto Fix tools; and rotation and resizing options.
For damage control, Digital Image Suite includes some worthy Healing Brush–type tools such as the Blending Brush; however, Elements 3's Healing Brush is easier and faster to use. Digital Image Suite's Blending Brush provides you with a different interface in which you can edit only one image at a time. Smart Erase lets you erase unwanted objects (such as trash cans under palm trees) by lassoing and clicking them. With small or simple objects, this saves buckets of time. You can instantly remove wrinkles, for example, by simply dragging a selection box around them. But when you use the tool on large, complex objects, you end up with a big smudge.
Of the four applications in our roundup, Digital Image Suite 10 does the best automatic photo stitching to create vertical or horizontal panoramas. Though you can manually match up two photos, we had trouble matching up perspectives and stitching images without common borders.
A few shortcomings for advanced users: Digital Image Suite 10 can't save to Photoshop's native file format for editing layers, and its own layers format is limited. It also can't apply some commands to 16-bit-per-channel images used by professionals.
Sharing
While Digital Image Suite offers the largest selection of project templates–including forms for Calendars, Greeting Cards, and Photo Crafts (such as designing playing cards)–the designs tend toward the corny or the Hallmark saccharine (such as the pink floral theme of the baby album). One notable exception is the vast array of Business and Address Card templates, which are cleanly designed. Additionally, the suite comes with the Photo Story 2 slide-show software. This easy-to-use application lets you create a Ken Burns-style Windows Media Video (WMV) composed of still images. The software walks users step-by-step through selecting images, adding audio, and creating custom-configured panning and zooming effects.
TIP
To correct the exposure in a small region of a picture–like the shadow on someone's face in a bright outdoor photo–using Digital Image Suite's Exposure and Lighting tool is like putting out a match with a fire hose. Instead, try the little-known Dodge and Burn Brush. Choose Touchup, Other Photo Repair, Dodge and Burn Brush, and then use your mouse to precisely paint in changes to brightness and contrast.
Microsoft Digital Image Suite's panoramic stitching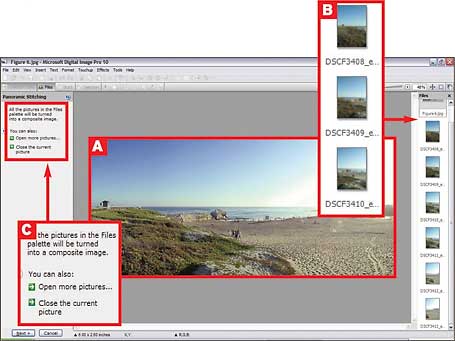 A. Digital Image Suite's automatic Panoramic Stitching is impressive.
B. Browse through thumbnails of open photos while you're editing.
C. Easy-access tutorials are great for beginners, although they take up quite a bit of screen real estate.
Ulead PhotoImpact 10
$90
PhotoImpact 10 comes with some powerful, unique photo editing features that may be worth the purchase price alone, but it suffers from lackluster sharing options and a strangely redundant organizer. This package works better as a companion program than as your main editing software.
Organizing
PhotoImpact 10 comes with three organizers: The internal browser manager works like Photoshop CS's File Browser. The bundled PhotoImpact Album 10 application resembles the old Photoshop Album, only it's less versatile. And the Photo Explorer module of PhotoImpact 10 is something in between the browser manager and Album. The three-organizer setup has overlaps, with no individual piece being outstanding.
In PhotoImpact Album 10, you can choose themed album configurations–such as General Purpose, Family Album, Photographer's Album, or Real Estate Portfolio–with predefined fields. If one of the templates works for you, you're set. If not, you'll discover that creating a customized album can be a painstaking process. A convenient command called Tile With Album automatically resizes thumbnails in a column along any side of the PhotoImpact workspace. PhotoImpact Album doesn't provide thumbnails for RAW files, but it does list them.
Editing
PhotoImpact 10's user interface takes some getting used to, but a few of its editing tools are worth the effort.
The new High Dynamic Range feature lets you easily combine photos taken at two different exposures to get an extended range of definition in both highlights and shadows. The program is intelligent enough to combine two pictures taken without a tripod and (therefore) having different proportions and framing. If you are a landscape photographer, the ease of use of this feature justifies the purchase price. PhotoImpact 10's Lens Distortion command has one of the slickest interfaces we've seen, permitting interactive correction of both lens and parallax distortion, using adjustable grid lines. The software also contains a better-than-average noise reduction filter, with sliders for making subtle fix-as-you-go tweaks.
Other notable features: The Color Cast command helps you remove color casts caused by mixed lighting or reflections. Choosing the command brings up a dialog box that lets you sample a color that should be neutral in the original photo. That color then shows up on a color wheel. Dragging that color to the wheel's center removes the color cast.
Beautify Skin is a one-click fix for subtle skin problems such as blotchiness or big pores (it won't totally erase wrinkles). The Rotate in Virtual 3D command, which rotates 2D images in virtual 3D, can perform a neat trick when you're creating composite shots. Say you want to put the subject of picture A in front of the background of picture B, but the pictures were taken from different perspectives. You can use the Rotate in Virtual 3D command to correct the perspective of the foreground subject so that it more closely matches the orientation of the background matter.
Sharing
When it comes to sharing, PhotoImpact offers little and PhotoImpact Album offers only slightly more, covering just the basics. You can export a group of pictures from PhotoImpact Album 10 to a slide show that can then be e-mailed, uploaded to a Web site, or exported to a CD; this gives you a cheap, convenient way to distribute a portfolio. You can automate the production of a Web gallery, too–but instead of the templated approach of, say, Photoshop Elements, PhotoImpact uses a wizard that takes you through layout and formatting options. People who want more control over customization than a template allows will prefer this method.
TIP
Use PhotoImpact 10's Extract Object command to select an object by knocking out the background. To control exactly how the background separates from the foreground, it is critical to choose the correct brush size. Use a thick brush to create a feathery artistic effect. Use a very thin brush to accurately erase the background from around a person. You can clean up any unsightly color fringes afterward by selecting the Defringe command from the Object menu.
Professional photographer Ken Milburn has written numerous books and articles on digital photography, including Digital Photography: Expert Techniques (O'Reilly Media).
ULead PhotoImpact's High Dynamic Range exposure editing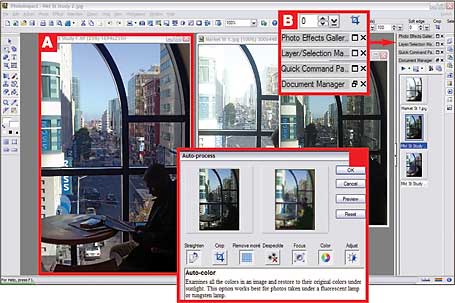 A. The High Dynamic Range feature can combine two smaller images (right) into a larger image (left) that uses their full range of brightness.
B. Command dialog boxes stack in an easy-access column.
C. The Auto-process dialog box lets you apply several adjustments at once.
The Specialists
Digital photographers, particularly those who perform specific tasks over and over again, will benefit from using single-purpose photo utilities, many of which do their thing better or faster than comparable features in the all-purpose suites. Here's a rundown of our favorites.
Organize
Name Dropper 3
$15 until January 1, 2005; $20 thereafter (free trial)
Do you have thousands of pictures with obscure, camera-generated names such as DSC_72455.jpg and IMG49490.jpg? Name Dropper lets you apply industrial-strength naming power to your photo archives. Assign names to Name Dropper's dozen configurable buttons with a quick right-click, and then browse your pictures and click the buttons to assign names. By clicking multiple buttons you can create complex names, such as "Company Picnic–Sally" and "Company Picnic–Bill." You can save even more time by preserving useful Button Templates and loading, as needed, the appropriate template for different sets of pictures.
Picasa 1.618
Free
Picasa is so effective at locating photos that Google bought it to incorporate it into its Blogger service. Picasa's timeline mode displays your images in a fluid, spinning chronological carousel. Browse the display until you find what you're looking for, and then click to open a set of pictures; or drag a timeline pointer through a histogram that shows your pictures on a scale from oldest to most recent. As you find pictures that you want to edit, print, e-mail, or share, click the Hold button to keep them in the on-screen Picture Tray; there, you can operate on all your favorite images at once.
TIP
Use Picasa to quickly find image files that you want to open in another program. Send the pictures to the Picture Tray, select them by dragging the mouse around them, right-click, and choose Locate on Disk. Picasa will open all selected photos within their respective folders on the Windows Desktop–ready for business.
Preclick 2.5
$20 for Preclick Gold, free for Silver
Preclick is another outstanding photo organizer–its PhotoBack pane displays important information about the current picture (such as date, caption, and people) beside the image, and you can instantly search your entire photo library for any keyword. Take advantage of Preclick to establish a logical workflow; when you find the pictures that you want to print, click the printer icon. The images accumulate in the printing tab, so you can later print them all at once.
Edit
Noise Ninja 2.02
$29 (free trial)
Pictures taken in low light or with a high ISO setting can end up showing a lot of digital noise–unattractive grains of color that appear throughout the picture. Noise Ninja is one of the finest noise reduction tools we've ever seen. To get the best results, use Noise Ninja in two passes: First, either load a noise profile or use the "Auto profile" button to have Noise Ninja scan your photo; on your next pass, remove the offending pixels with the "Remove noise" button. The results frequently look better than pictures that were taken at a lower ISO setting.
Image Stacker 1.03
$17 (free trial)
Long-exposure nighttime photography is beyond the reach of many digital photographers. Even if you use Noise Ninja to clean up the inevitable noise, most cameras can muster only severely limited lengths of exposure. Image Stacker lets you take series of short exposures and combine them into a shot that looks like a long exposure. It helps to know which of the program's blending modes to use. If you're trying to make light trails in a night photo, try using the Brighten command. Stack is the better bet for brightening dim objects in the scene.
Panorama Factory 3.3
$60 (free trial)
Advanced photographers should skip the big suites and try Panorama Factory, which allows users to stitch shots in QuickTime VR format–just the thing for panning and zooming around the scene as if you're in it. Panorama Factory's wizard doesn't automatically arrange pictures in the right order for you, but it does offer exposure matching in the Blending Properties tool so as to eliminate the abrupt changes in brightness that can occur between images in the panorama.
Share Digitally
SendPhotos Gold 2.03
$20 (free trial)
SendPhotos Gold takes the difficulty out of e-mailing digital images by automatically resizing, formatting, and displaying pictures in-line within an HTML message. If you want to share full-size, 6-megapixel images suitable for printing, SendPhotos Gold isn't the right tool, but it does work for casual sharing. Also, try the dozens of built-in stationery styles for decorating your picture e-mail. And if you're feeling adventurous, use Create Stationery to design your own photo layout completely from scratch.
TIP
SendPhotos Gold automatically arranges and resizes your photos to look attractive in e-mail–but most people never notice the Layout button in the toolbar. Click it and you can vary the size of your photos in the message and control whether pictures appear in multiple columns, or in other arrangements.
PhotoParade Essentials 5 Standard Edition
$30
PhotoParade Essentials lets you share pictures in a slide show on CD or via e-mail. Add pictures from your PC to a PhotoParade Gallery, and then turn the Gallery into a slide show. By right-clicking on images, you can add captions and voice narration, and perform minor image editing tasks like cropping and red-eye removal. Choose from a wide range of musical themes or add music from an MP3 or WAV file.
Hello 1.0
Free
For instant messaging fans, Hello, from the makers of Picasa, is a welcome tool. It lets you share pictures interactively with other Hello subscribers in a text-chat environment. It's a great way to talk about your pictures online. When you select an image and type in the chat window, a thumbnail appears with your text, making it easy for online friends to associate your comments with a photo. And if you open your friend's View window, you can see which of your sent images they are browsing, so you can jump in with text commentary.
Share in Print
Power Print 2.10
$34 (free trial)
Power Print delivers more options for creating prints of photos than any editing suite or drugstore. Tell Power Printer what drive letter Windows uses to refer to your digital camera, and you can select all of your pictures–while they're still in the camera–for printing at any standard size. Or drag a bunch of images to the list of print sizes on the side of the screen to print them automatically at just the size you want. Power Print also arranges them on the page in the most space-efficient way.
Digital Camera Poster Creator 2.03
$29 (free trial)
What good is having an 8-megapixel camera when the biggest print your printer can make is 8 by 10 inches? Digital Camera Poster Creatoris a low-cost alternative to buying an industrial press–it lets you make posters by tiling together sections of the picture. The final poster size is determined by the size of each tile and the number of tiles you print. Don't forget to keep an eye on the resolution and the quality status–Poster Creator not only advises you on the final dpi at various sizes, but it also makes a general assessment, such as "good quality" or "fair from a distance."
TIP
You won't get great-looking posters using Digital Camera Poster Creator unless the various tile pages line up properly when printed. To fine-tune your prints, choose Tools, Edge Calibration and print a test page. Then save a profile that indicates how close to the edge of your paper your printer can print.
Perfect Pictures With Plug-Ins
Many image editors, including Photoshop Elements, Jasc Paint Shop Pro, and Ulead PhotoImpact, work with hundreds of standard Adobe plug-in filters. When you see eye-poppingly clever digital effects in photos, they probably were made with plug-ins. Here are seven of the best.
Xenofex 2 delivers more than a dozen of the most outrageous digital effects you'll ever see. Add realistic lighting effects, populate a clear blue sky with clouds, or place your scene inside a television screen. $129
LensDoc can correct problems that your camera lens causes. If your photos suffer from barrel distortion or pin-cushioning, LensDoc can straighten the warped lines. $98
Focus Magic has just one mission in life: to sharpen your pictures. It's tuned to remove unwanted blur from your pictures without merely adding contrast to edges in your scene. This is the approach of traditional tools like Photoshop's Unsharp Mask. $45
Pxl SmartScale lets you save images at sizes much larger than their original dimensions. Thanks to some fancy mathematics, you can print pictures at otherwise off-limits sizes. $200
Puzzle Pro turns digital photos into jigsaw puzzles-on screen or for real. Puzzle Pro can save each puzzle piece as a separate file, so you can even create a table-top version of the puzzle if you want. $50
RedEyePro goes beyond the normal red-eye removal function found in most image editors. It preserves glints and reflections while removing the evil red glow. It can even remove the corresponding green-eye effect that plagues photographs of some animals. $39
AutoEye 2.0 is a more effective tool than the red-eye removal filters of all the big applications except Paint Shop Pro. It restores lost color, recaptures detail, corrects brightness, and eliminates moiré patterns. $129
Photo Editors Have Different Strong Points (chart)
Each of these four full-featured applications excels at something, but which excels at the particular features you're looking for? Here's how each package rates in six major feature categories.