Video editing applications can make desktop movie production fun and rewarding-or they can turn it into a job more aggravating than any other computing task around. I looked at shipping versions of Adobe's Premiere Elements and Pinnacle Systems' Studio Plus 9 and found that both do a great job of capturing, editing, and burning movies to disc. Premiere Elements, however, is the clear winner for advanced users and for people who want room to grow.
Adobe's Premiere Elements is a new, $100 application that closely resembles the company's $700 Premiere Pro. Premiere Elements cannot use multiple timelines or nested sequences, batch capturing, surround-sound editing, and some Premiere Pro color correction tools. But like Pro, it can accommodate up to 99 video and audio tracks within a single project file.
Pinnacle Systems' Studio Plus 9, which also costs $100, differs slightly from Pinnacle's $80 Studio 9. Most notably, the Plus version can handle two video tracks (Studio 9 manages one), so it permits picture-in-picture and chroma-keying (superimposing a portion of one video on another, the way a meteorologist does).
Capturing Feeling
Naturally, both applications capture footage from a MiniDV camcorder; in fact, Adobe cautions that Premiere Elements is meant exclusively for MiniDV footage (usually an AVI file). When I tried to import MPEG files from the Sony DCR-DVD301 camcorder (see next page), both applications slowed to an unusable pace and frequently crashed.
Like most video editing applications, Studio Plus automatically splits footage into clips based on the camcorder's embedded time code; you just drag them into the storyboard or timeline. The storyboard lets you arrange clips with ease, and you can switch back and forth between it and the timeline. Though Premiere Elements doesn't have a storyboard, it can detect scenes and send them directly to the timeline.
Studio Plus adds a SmartMovie function that requires almost no decision making: You just choose a style (for example, "soft and romantic"), enter a title and some closing credits, and hit a button. The result is a serviceable movie; and if you don't like it, you can make changes in the timeline.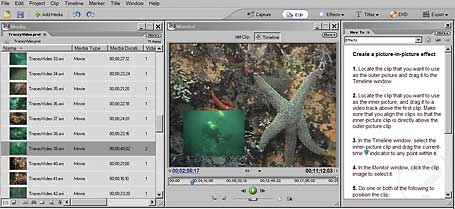 Premiere Elements ships with more than 300 video and audio effects and transitions, most of which have an incredible range of adjustability, including keyframing for applying effects over time. Studio Plus. however, ships with just 20 effects and 186 transitions; Many other effects, transitions, and additional features appear within its interface, but with padlock icons next to them-a nettlesome way of letting you know that you can't use them unless you purchase them first (effects packs run $6 to $40).
Premiere Elements has 33 DVD menu templates; the application will automatically generate DVD menu markers, or you can set them manually in the timeline quite easily. You can customize only text, however: You can't modify the backgrounds that come from the templates, and you can't apply movement or audio.
Studio Plus comes with 45 DVD menu templates, a few with audio or motion. If you drag a menu into the storyboard or timeline, the application will ask whether you want it to generate menu markers automatically. Then you have to switch to the Make Movie section of the application to set disc-burning parameters. The process is easy, but not quite as easy as with Elements. Video editing applications are notoriously finicky, and I ran into all sorts of problems with these two programs. For example, Premiere Elements labored when attempting to process DV files, until I updated my graphics card driver (thereafter it worked fine). In addition, the application refused to recognize my system's internal Pioneer DVR-108 burner. Meanwhile, for its part, Studio Plus got hung up during the rendering process on more than one occasion.
When Premiere Elements works, however, it's inspiring. The program's outstanding interface and sophisticated effects enable you to create some amazing movies.
Studio Plus is a great video editor for beginners, but it has far less power than Premiere Elements, and the intrusive reminders to buy additional components give this application an annoying trialware feel.
Alan Stafford
Adobe Premiere Elements
Price when reviewed: $100
Current prices
(if available) Incredible power for the money; good for novices as well as people who expect to upgrade later.
Pinnacle Systems Studio Plus 9
Price when reviewed: $100
Current prices
(if available).Easy to use, and packs a decent set of tools, but chronically annoying, too.