Your digital shoebox is overloaded with forgotten images from last summer, the kid's birthday, that great vacation in Hawaii, and this month, all those holiday photos will be pouring in. Don't let them linger in oblivion. Share them with others, using photo slide-show software.
The programs can turn digital photos into a great last-minute gift this holiday or become ideal tools to share the dozens of images of family and friends you're bound to be snapping over the next couple of weeks.
This cool software will allow you to share your photo-oriented creations with friends and family via the Internet or get them to loved ones without PCs on a disc with a slide show. They can then view it on their TV using a DVD player. I took a look at three programs this week, creating Christmas presents for my family.
Let's Go
I looked at Magix PhotoStory on CD and DVD 2005, $40; Photodex ProShow Gold, $70; and Ulead CD & DVD PictureShow 3 Photo Album and Slideshow Suite Deluxe, $50.
Each of these packages allows anyone with a writable DVD or CD drive to create a multimedia slide show that can be played back on a PC or on a TV using a DVD player. All of these programs also offer ways to optimize your slide show, making them small enough to easily share over the Internet.
With each package, I created impressive slide shows of my favorite photos, complete with soundtracks, animated transitions between images, and fancy 3D effects.
What makes a good slide-show package is a matter of preferences. In one camp there are people who want to keep the whole process simple–as long as the slide show looks great. Then there are those who want to have complete control over every aspect of the slide show. This requires a greater investment in time to master a larger number of features.
Magix: Almost Magic
Magix PhotoStory on CD & DVD 2005 stands out as the most customizable of the three programs I looked at. It offers myriad slide-show transitions, templates, and special effects like smoke, pan and zoom, and cross-fades. Unfortunately, with added features also comes a steep learning curve. For that reason, this software was the hardest of the three to master.
PhotoStory is a photo software package that helps you restore and edit photos to crop or remove red-eye. Then, using PhotoStory's storyboard layout, you can add not only slide-show images, but also two soundtracks (such as music and voice narration), including any text that you choose to display on slides. In its advanced timeline mode, you can see all these elements as slide-show objects. Here you arrange pictures and the narration of slides, and adjust audio levels to match precisely how you want your slide show to look and sound.
I found the menus in PhotoStory unwieldy, with features buried too deeply. PhotoStory has a Magix SlideShow Maker wizard that takes your images and automatically creates a themed slide show with canned music and predetermined special effects. The end results are great, but finding this feature buried in drop-down menus was challenging.
On the plus side, Magix does offer many narrated video tutorials to help guide you.
Burning to disc with this software was easy, with support for DVD and CD media. But you can also save slide shows in a variety of Web-friendly video file formats small enough for playback or that you could possibly e-mail, depending on how large a file your recipient's e-mail client will accept. However, I had a difficult time figuring out how to do this. After some tinkering, I discovered you need to go to File, Slideshow Export, and then select AVI, Real Media, Windows Media, or MPEG.
Once you select a format to save your slide show in, you are then presented a list of options that range from video optimized for 766-kbps connections to video designed for 28-kbps dial-up modem. In all, there are 45 options. This is great for people who know exactly what they need (you make your choice based on how your recipient connects to the Internet), but the long list will likely overwhelm others.
In the end, I was impressed that Magix allowed me to turn a 16-picture slide show and a 2-minute song into a 2MB video file of modest quality.
ProShow Goes for Gold
With Photodex ProShow Gold, I was able to create DVD and CD slide shows–for playback on DVD players–that included a lot of bells and whistles, such as sound, video clips, animated transitions between slides, panning and zooming into different aspects of a picture, and slow fading of one image to another. I was also able to turn my slide shows into MPEG video files for PC viewing, as well as create screen savers, along with a self-contained executable slide shows (for e-mailing or posting online), and auto-run CDs, which are handy for the less-computer savvy folks on your list as they automatically launch–no searching for which drive to click on.
When it comes to sharing slide shows online, Photodex ProShow Gold was by far the best of the three programs I looked at. Using a free Photodex online service, I was able to post my slide show on Photodex's Photo Sharing Web site and send e-mail invites to friends to view it. In my tests using a broadband Internet connection, Internet playback was flawless. And the software was quick and painless to use for DVD and CD playback.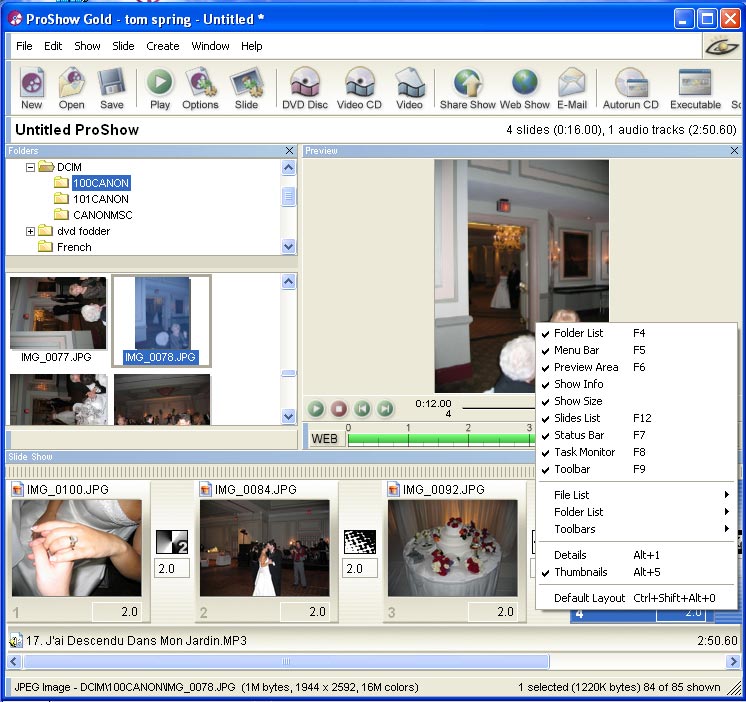 ProShow Gold relies on a storyboard approach to slide show authoring. First you drag and drop images into a long narrow storyboard window that, from left to right, shows them in the order you wish. Next, you can drag and drop a digital audio track. You're all set and ready to save your slide show to disc. But if you want to customize your slide show with personal touches, ProShow Gold allows you to choose from more than 200 transitions between each set of slides. For example, if you want to have one picture distort like rippling water until the next image slowly appears, ProShow Gold allows you to roll your cursor over a menu of effects to sample it.
Each time your cursor rolls over a different ProShow Gold transition effect, you can see a preview of how your two images will look in the slide show. I found this both a time-saver and click-saver compared to the other two software programs, which make you apply the transition before you can preview the effect,
ProShow Gold and Ulead's software (see below) both have pan and zoom effects. But with ProShow, you can identify specific spots on a photo you would like to zoom into or out of. To use this feature, I first defined an area of a photo with my mouse; ProShow then slowly panned into or zoomed out from that spot. Ulead allows panning and zooming only from the center of an image.
Other ProShow Gold features include the ability to add video files to slide shows and text to any slide. But if you want to use precanned themes to create fun borders around images and supplied soundtracks, they're not available in this software.
However, what ProShow Gold lacks in templates and canned music, it makes up for with a clean, intuitive interface that makes creating a highly customizable slide show a breeze.
Simple, Yet Powerful
If it's simplicity you're after, look no further than Ulead's CD & DVD PictureShow 3 Photo Album and Slideshow Suite Deluxe. Ulead keeps things straightforward by breaking the slide show authoring process into three steps represented by three tabs (Organize, Theme, and Burn).
The first step, Organize, is where you select and arrange the order of your images to be used. In this latest version, you can also add video clips to the slide show and link to photo editing tools to adjust brightness and remove red-eye from photos.
Next, the Theme tab allows you to customize the DVD title page with templates focusing on sports, vacation, or holidays. Themes can also be applied to images. For example, a winter theme will present all your pictures framed behind a wooden border accented with holly and red bows. An optional pan and zoom effect gives static images life by imitating the effect of a camera slowly moving across an image or zooming in or out on the picture. You can also choose from background music supplied by Ulead, or you can add your own digital music.
But with simplicity come limitations. By relying so heavily on templates, customization and flexibility suffers. Ulead was the only software package of the three I looked at that did not allow me to create unique transitions for each slide. Instead, you can choose one of 35 transitions for all pictures or you can choose from a preset combination of three transitions.
The Burn tab guided me in publishing the slide show to a DVD or CD. I had hoped for the ability to create a Web version of the slide show I had just created. Unfortunately, I couldn't. Instead, to create an Internet-friendly slide show, I had to rely on a utility called Photo Explorer, which is included in Ulead's PictureShow suite of programs. However, Photo Explorer's slide show authoring capabilities pale in comparison to those in PictureShow.
What Photo Explorer did do was to allow me to create a slide show and save it as a screen saver, a video file (MPEG, QuickTime, or AVI), or a Web slide-show file that I could e-mail. However, slide shows authored in Photo Explorer lack themes, pan and zoom features, and the ability to add a soundtrack.
My Pick
Because Ulead doesn't give me the ability to customize slide shows to my personal taste and because Magix is just too unwieldy, my pick is Photodex's ProShow Gold. But if you like the automated approach to slide-show creation, Ulead is a better match. For those who like to tinker and who have the patience, Magix will not disappoint.