Earlier this year, Apple upgraded its ILife suite of multimedia applications and upped the price from $49 to $79.
If you have a Mac–and don't already have a photo editor, digital video editor, DVD-authoring app, and digital music manager, not to mention a music-editing app–then buying ILife is a no-brainer. It's an incredible value. But most Mac users already have an earlier version of ILife, most likely last year's '04 version. (If you've bought a Mac Mini or other new Apple computer since mid-January, you either got ILife '05 with your system or are eligible to buy it for about $20, until the end of March.)
So, if you've already got the older version, is the latest and greatest worth the extra cash?
Let's look at what's new in each of the apps.
ITunes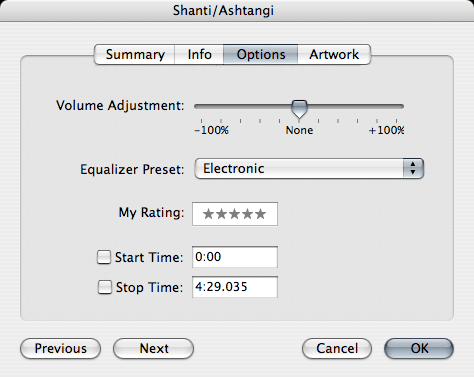 The latest version of ITunes supports transferring digital photos to IPod Photo models, but it doesn't have a whole lot of new features: It was updated to be compatible with the IPod Shuffle, and it supports the Shuffle's AutoFill function. If you bought an IPod Shuffle, you get this version of ITunes for free. So although ITunes has always had some nice features–including a handy dialog box that makes it easy to meta-tag multiple songs–the new version isn't a must-have upgrade.
GarageBand 2
Apple's consumer-level application for composing and editing music got an under-the-hood tune-up with this release. You can now record as many as eight instruments at once. You can also view your software instrument tracks as musical notation, and even edit them that way.
Most significantly for amateur musicians, this version lets you save a software instrument as a loop, which frees up processing power. Since GarageBand is so resource-intensive, this could make it a lot more usable for people who don't have a fast new Mac. If you just dabble in music making, this probably won't motivate you to kick down your cash–but if you spend a lot of time with the program, you'll probably find that the new capabilities let you be more creative and productive.
GarageBand is nicely integrated with ILife–when you're happy with your musical composition, you can export it to ITunes, where it is available to use in your IMovie videos or IPhoto slide shows. But this feature was present in the first version as well.
IMovie HD
Here's where the "wow" factor kicks in: IMovie now can edit high-definition video. True, consumer cameras for shooting HD video are still in short supply, but it's pretty cool to be able to work with this content if you have it.
This isn't the first time Apple has made an emerging technology available to and usable by consumers, and I think that's admirable. For example, the company was first to incorporate 802.11g Wi-Fi in its products. And this month Apple joined an industry consortium promoting the Blu-ray Disc format, a high-capacity form of DVD. Apple doesn't talk about future product plans, but this hints at what type of optical drives to look for in future Mac systems.
Sooner rather than later, HD video hardware will be widely available; it will drop in price; and IMovie HD users will be ready. Of course, those HD shooters will be buying lots of high-capacity storage devices to hold their footage, as well. IMovie can also import and edit MPEG-4 files.
The new version of IMovie has a few more goodies up its sleeve. Apple included more transitions and effects, and it added more options for panning and zooming with still photos (the "Ken Burns effect").
If you've got digital video footage that you don't have time to craft into a movie, IMovie's new Magic Movie feature can do all the work for you. You choose a few settings, such as a title, the music you want in the sound track, and what type of transitions to use; then Magic Movie imports the video from your camcorder and does all the editing. It can even export the movie to IDVD so you can burn it right away. Apple isn't the first software maker to offer automatic movie editing: Windows-based programs like Muvee AutoProducer do the same thing.
Are the improvements to IMovie worth upgrading for? I'd say it's a borderline call. The wow factor of HD editing aside, the improvements are nice, but probably aren't worth the price on their own.
IDVD 5
Hand in hand with IMovie, IDVD now also supports high-definition video; it also supports wide-screen formats. And when you want to archive unedited video footage, you can use IDVD to import it from your camera and burn it to a DVD with one click. You can also save your video in any DVD format supported by your optical drive, including +RW and -RW; in addition, you can save the content on your DVD to your hard drive as a disk image.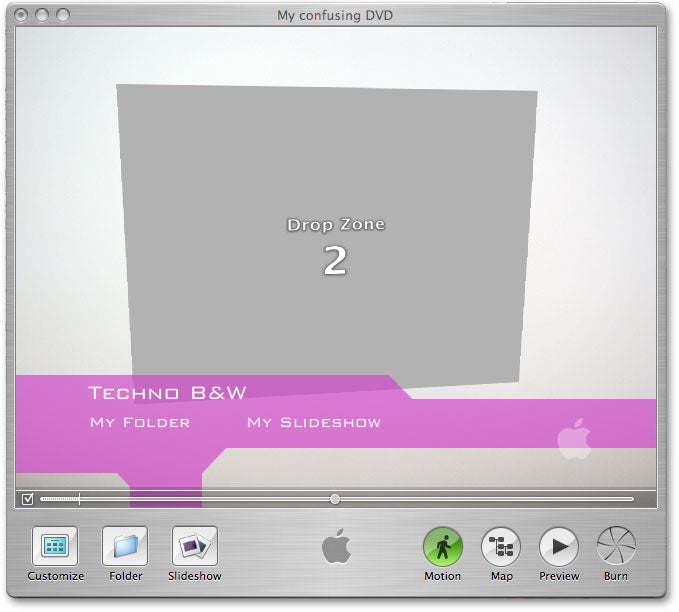 Keeping its graphic artists busy, Apple has added a bunch of new themes that are attractive and fun. But I still haven't gotten the hang of DVD creation, and the way IDVD opens a project–with its animated background running and music playing–left me confused about what to do next. The multiple controls for adding and editing content don't help either. Experienced DVD creators probably will like IDVD's new capability to drag and drop photos and video into navigation menus, however.
If you're seriously into distributing your movies on disc, you probably won't think twice about spending $79 to get the new features in IDVD 5.
IPhoto 5
IPhoto has a lot of new features. I haven't liked earlier versions because I found the editing tools too rudimentary, and the navigation scheme didn't fit the way I think. While I still have some quibbles, version 5 is more flexible and usable.
Among IPhoto's exporting features, its slide shows are more customizable: You can choose transitions and duration for each photo. There are new book templates that users can modify. And now you can get a photo book made for less than $30: There are three softcover options ranging from $4 to $20. Those prices are much more reasonable than before, which is likely to generate more sales.
The editing view now has a "drawer" at the top of the screen that lets you browse through your images and easily switch among them for editing. In earlier versions, you had only Previous and Next buttons for opening different images within the editing window. The interface is cleaner, with fewer and more relevant options in the toolbar.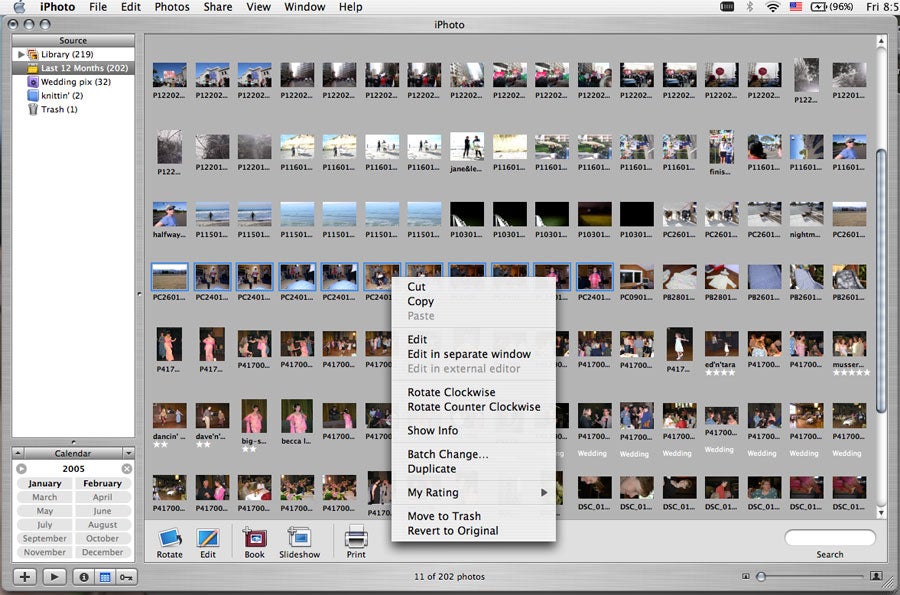 Significantly, Apple has added new ways to sort and view your images. From the Organizer view, you can filter your photos by month or by keyword, or use a calendar view. I still think that editing metadata for photos should be easier, though. You can't just click on the name of a file in the Organizer and rename it: You have to find the Batch Change command, either in the Photos menu or by Ctrl-clicking. There is a keyword toolbar that lets you assign keywords or sort by them–but it's not click-and-type simple to modify or add keywords, and you can't just drag the keyword label onto your images. Instead, you select a batch of images, then drag them onto the keyword button in the lower left corner of the window. To me, that's counterintuitive.
But version 5's photo editing tools are really what changed IPhoto from being an application I actively avoided to one I don't mind using. In addition to the one-touch Enhance tool, which automatically adjusts exposure and color balance, this version has tools for adjusting gamma levels, straightening crooked images, and tweaking color saturation and temperature. IPhoto also now imports and edits RAW-format digital photos.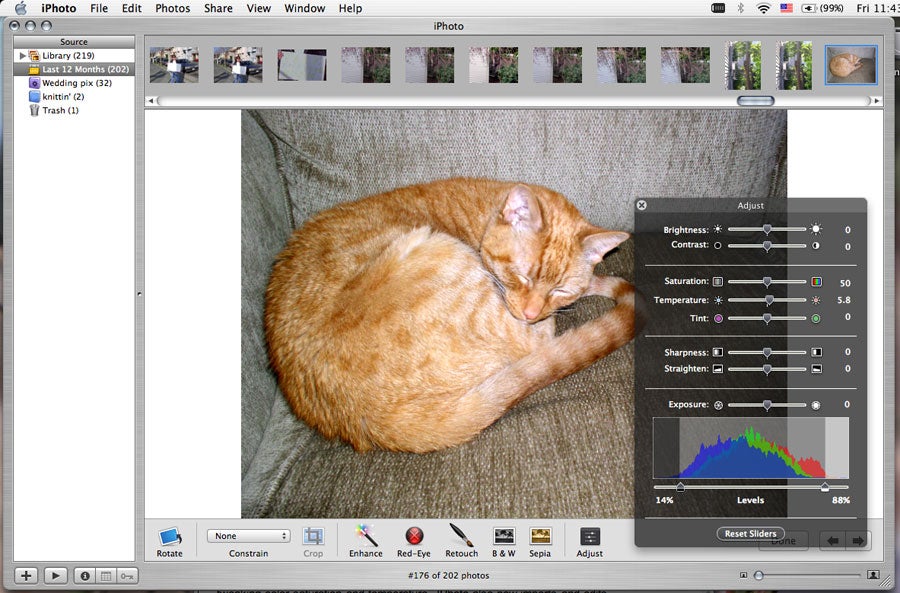 The red-eye tool and the one-touch Enhance are still pretty blunt instruments–you can't fine-tune their effects. And the toolbar needs a big, fat Undo button. You can undo most changes with the Cmd-Z keystroke combination, but people often want to back out of changes they've made to photos, and how to do this isn't obvious. There is a Revert to Original command in the Photos menu, and it should be a button on the toolbar. Before-and-after preview windows would also be nice. Nonetheless, if IPhoto is your photo organizing and editing tool of choice, this is a worthwhile upgrade.
Altogether, ILife '05 is impressive–but you'd have to use at least one of its applications frequently in order to make the purchase worthwhile.