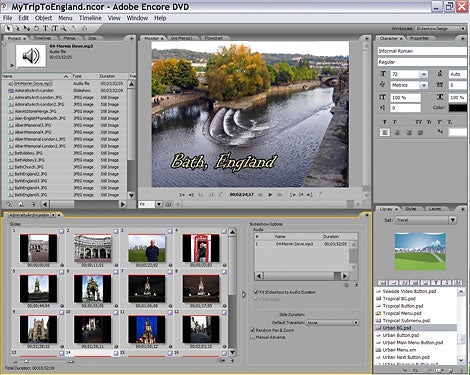 You can find many applications that can author DVDs, but few have the power of Adobe's Encore DVD 2. The new version of Encore improves the professional look of the finished discs and makes creating them easier than ever.
The nifty new slide-show tool in Adobe's Encore DVD 2 is one welcome feature. In Adobe's Bridge asset manager (bundled with the Production Studio package), select the still images you want to use, and then use a menu command to import them all into Encore as assets.
The $349 application provides many types of transitions and effects, including the obligatory pan and zoom controls (the so-called Ken Burns effect). You get fairly precise control over how the tool applies the effects–for example, you can control the origin and direction of panning and zooming.
Encore DVD 2 lets you add video and still images to a single timeline–a timesaver if you want to include both types of media. In previous versions of Encore, to put stills and video in the same video track (and thus the same DVD chapter), you had to use Premiere Pro to create a slide show, then export a movie file of it, and then import the movie into Encore). Encore DVD 2 still won't let you import high-definition or HDV-formatted video, however, and you can't use it to create high-definition DVDs (for example, Windows Media 9 discs).
Chapter and Verse
Encore DVD 2 lets you introduce chapter points directly and automatically; just add them at regular intervals, if you like, and then drag them to where you want them to appear in the timeline. Previously, you could add chapter points manually, or you could add them automatically in Premiere Pro and then import them into Encore. Alternatively, you can use new commands to create chapter menus automatically; this involves selecting the buttons you want to modify, and then choosing a couple of commands. I had to follow directions to find these commands, but using them automatically creates image thumbnails and "Next" and "Previous" links for all of your buttons. Because the menu buttons are native Photoshop .PSD files, you can edit them in Photoshop.
A new flowchart tool gives you a graphical representation of how to navigate your DVD– a nice feature for complicated DVD projects. A "pickwhip" tool identical to the one in Adobe's GoLive Web authoring tool lets you drag from one element to another, thereby setting activations without having to type anything.
Other new features in Encore DVD 2 are DTS surround-sound audio support (though you can't hear the audio during editing) and closed-caption support. It also has the handy automatically resizing interface found in some of the other tools in the latest Production Studio suite.
On its own, Encore DVD 2 is a highly sophisticated authoring tool; but its smooth integration with other Adobe applications is one of its greatest strengths.
Adobe Encore DVD 2
New slideshow capability and workflow aids make a good DVD authoring tool even better. $349
Current prices
(if available)