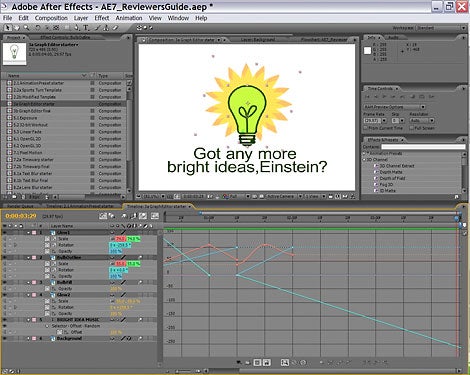 Adobe Systems' new version of After Effects comes with a new graph editor that takes keyframing to a previously unattainable level.
In other applications, keyframing–setting a specific video frame where an effect begins to work and another frame where it stops–allows consistent implementation of effects only between keyframes. This is true even of Adobe Premiere Pro 2, the video-editing component of Adobe's Production Studio suite.
For example, if you're working in other software and you want to apply a glow slowly at first and then more quickly, you must add keyframes. But in After Effects 7, you can use the graph editor, with its Bezier-curve controls, to manage such effects with remarkable precision.
Better Color Support
New 32-bit color support (a feature shared with Adobe's Photoshop CS2 image editor) permits you to work with still images that have a much wider dynamic range than previously, so you can import a high-dynamic-range picture without incurring blown-out highlights or too-dark shadows. Such images must be composed of bracketed images in Photoshop, though, and that's a time-intensive process. Both Premiere Pro 2 and After Effects 7 also support HDV video files.
You can greatly speed up some processes in After Effects 7 if you have the right graphics card, because the application has far better OpenGL support than in the past–taking more processing away from your system's CPU and putting it on the graphics card's processor. Adobe claims up to triple the performance in both 2D and 3D previews, and I could see a big difference when I turned OpenGL support on and off. Not all graphics cards support every OpenGL feature found in After Effects, however; even the powerful ATI Radeon 850-based card in my system didn't support everything.
The application comes with many new presets for effects, transitions, backgrounds, animated text, and behaviors. You can modify and stack these presets, and of course you can create your own. They're a nice starting point for the creatively challenged (like me).
A Bundle That Costs a Bundle
After Effects 7 targets professional graphics designers who work in television or with motion graphics on the Web, and it doesn't come cheap. By itself, After Effects costs $699 for the Standard version or $999 for the Pro version. It's also available in Adobe's full Production Studio package, along with (in the full-boat Premium version) Premiere Pro 2, Audition 2, Adobe Encore DVD 2, Adobe Photoshop CS2, and Adobe Illustrator CS2. Production Studio costs $1199 for the Standard version and $1699 for the Premium version.
Adobe After Effects 7
A new graph editor allows virtually infinite adjustability to keyframes in this motion-graphics application. $699 Standard version, $999 Professional version
Current prices
(if available)