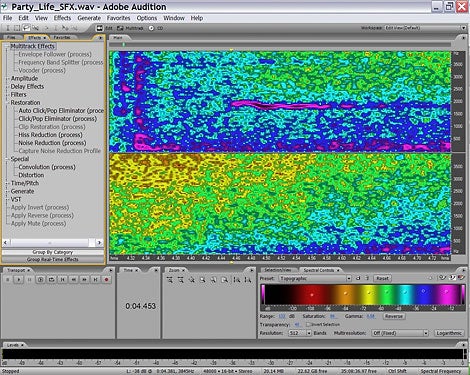 I'm no expert in audio editing, but I'm familiar enough with most of the other applications in Adobe's Production Studio suite to know that this high-end audio-editing application is an important component of the package. Audition 2's new features make it easier than ever to work with elements created in the suite's other applications.
For example, in Audition 2 you can see the timeline and video frames from a Premiere Pro 2 project, while keeping tabs on your movie in a video monitor. Audition 2 supports more audio formats contained in video files than the previous version did; but when editing the audio, it doesn't touch the video in the file.
Audio Streaming Input/Output (ASIO) is now the default audio driver in Audition, according to Adobe. If you have an ASIO-compliant sound card, you should be able to handle lower-latency operations and to monitor audio as you record it. In other words, you can hear the input from a microphone as you record someone's voice, and if you choose to add effects, you can hear those in real time as well. I could still hear audible timeline scrubbing on two different systems–one with a Creative SoundBlaster Audigy 2 card and one with integrated audio–but Adobe says that some systems with integrated audio may not respond as quickly as ones with a discrete sound card.
Lassoing Sound Problems
A more-sophisticated frequency-space editing tool works in much the same way as the lasso tool in Photoshop to select and erase unwanted sounds, and it works amazingly well. Switch to the application's Spectral Frequency Display mode and you can see a representation of the audio that makes aberrant sounds pop out. Use this visual aid to zoom in on a squeak, a pop, or a chewing sound; then select the sound with the lasso tool, and choose Repair Transient. The software will remove the unwanted sound but leave all the other sounds that occur in the same time interval. Audition includes many other tools for dealing with recurring problems.
This sound editor is highly capable on its own, but it's also a fantastic complement to the other applications in Adobe's Production Studio suite.