While many DVD burning packages aim to provide a full suite of services, some are more targeted in their options. Ulead's DVD MovieFactory 5 falls into the latter category.
MovieFactory 5 does not try to be everything to everyone. Instead, it focuses on one task–burning movies and video–and strives to make it as painless as possible. The software is ready to rock for high-definition formats, too, even though high-def burners were not yet shipping at this writing.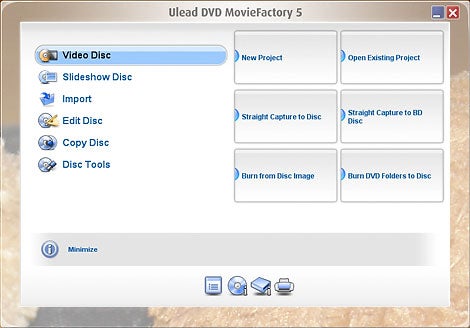 Getting started is easy. The launcher's interface is blissfully uncluttered and clean: The six tasks listed on the left determine the context-sensitive buttons on the right. The tasks–video disc, slide show disc, import, edit disc, copy disc, disc tools–handily cover most video-related burning chores you might want to perform, while the buttons for each of those tasks do a good job of breaking down choices for accomplishing that task.
Ready, Set, Action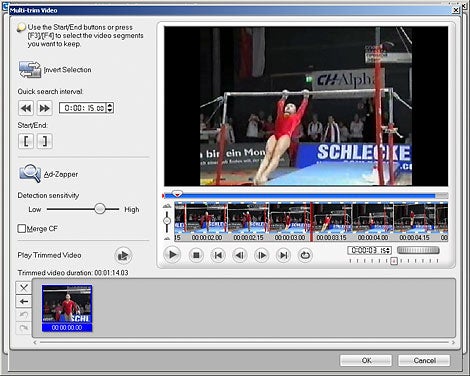 Mostly, I found the software convenient to navigate and use for the different tasks. Creating a basic DVD video disc (in DVD-Video, DVD-VR, or DVD+VR format) was an easy and pleasant experience: Just pick the files, and if they aren't already MPEG-2 encoded, the software will do the necessary transcoding. It works with a variety of formats, including .mpg, .avi, DV, and HDV. Ulead has improved the video editing tools since the previous version, refining what they can do. I found the tool collection to be a strong selling point for this package.
Also new: the Ad-Zapper option, for automatically detecting and removing commercials. I've yet to try this feature; but if it works, it could be a boon for those who wish to transfer recorded TV shows to disc.
The slide show creation software, however, manages to be both easy and confounding at the same time. Adding files and effects to a slide show is easier than building menus for it. In addition, DVD MovieFactory 5 doesn't give you as much control over the minute details as you get with some of the dedicated slide show software programs.
HD Support
The slide show feature supports creating high-def slide shows, which means you can view your digital images in full resolution on a high-def screen. Unfortunately, the slide show creation option does not copy the original still images to disc along with the MPEG-2 slide show. To put the stills on anything but DVD, CD-RW, or DVD-RAM media, you'll have to create a multisession disc by completing the slide show, closing that burning session, and then opening a separate session to add the original images as data. With rewritable discs, you don't have to close the session.
Also, for all of the improvements to its menu, DVD MovieFactory 5's biggest limitations are creative. For example, when I was creating a video disc, I was often frustrated with the suite's inability to undo an action, be it a text entry or resizing of a box–an oversight that became apparent as I tried to experiment with DVD menu creation. I also couldn't rotate a background image I imported to jazz up my menu, nor could I find a way to change the image-quality settings.
Another gripe: The meter bar that gauges available space on the disc didn't take into account how much space the menu structure would require. This meant that I made it all the way to the "burn disc" screen before realizing that, oops, I needed to delete a couple of the short videos on my disc to make more room.
However, for quick-and-dirty data burns, I think I'll find the quick-drop box feature handy. It's an icon that resides on your desktop onto which you can quickly drag and drop files you wish to burn to disc. This is one of the few features that's useful for all types of data.
High-Def Ready
Several vendors have announced HD-DVD and Blu-ray Disc players for the living room; in fact, Toshiba's HD-A1 and HD-XA1 were scheduled to ship this week. However, PC burners are lagging behind. The first Blu-ray Disc burner, from Pioneer, won't be out until sometime in May–and it will cost a whopping $1000. More Blu-ray burners are coming from Samsung, Sony, and Panasonic, but no one has announced an HD-DVD burner yet.
Nonetheless, it's refreshing to see a software program that's forward-looking enough to be ready for next-generation technology. DVD MovieFactory 5 is ready for high-def action … sort of. Not surprisingly, you'll likely need a software update to fully enable burning to any high-def video format: Ulead's software is still being certified as Blu-ray ready, and HD-DVD's spec doesn't allow for capture direct-to-disc, according to a Ulead representative.
Bottom Line
For video disc creation, Ulead's $50 package certainly has a lot to offer, and it offers what it has in a reasonably logical manner that's less intimidating than that of some competitors. I liked enough about MovieFactory to want to keep on using and experimenting with it. However, I suspect MovieFactory will turn into just one component of my arsenal–a supplement, but not a replacement for burning suites from Nero or Roxio–which cost about twice the price of MovieFactory 5.