Microsoft is putting a new face on Windows Media Player, with the application's biggest overhaul in years. The company announced a beta version of the new player this morning, featuring a cleaner, Vista-like interface; integration with a new digital music store from MTV; and improved handling of large libraries and album art.
I've been playing around with the beta of Windows Media Player 11 for a while now, and the app's streamlined look and improved performance have proved quite impressive. MTV's new Urge music service (see "MTV Does Digital Music") is deeply integrated with the player, letting you manage music downloads and subscription tracks in one interface.
Early adopters can download the player here, with the integrated Urge service. Here's a rundown of the highlights in WMP 11 and Urge.
WMP Goes to 11
Instant Search is the star of Media Player 11. Even when dealing with large libraries, the search feature is amazingly fast, updating as you type each letter of your search query to help you quickly drill down through your music collection to find exactly the song, artist, or album you want. The speed of the search function helps make it a primary tool for navigating your media library, allowing Microsoft to streamline Media Player's interface further and to focus on a clean, engaging look.
WMP 11 uses Advanced Audio Fingerprinting–based on the waveform of the song itself, rather than whatever fragmentary metadata already exists in the file–to match the music in your collection with proper metadata (track numbers, album name, year of production, and so on) and album art. This helps correctly identify different versions of songs that appear on multiple albums. Media Player will automatically grab this information in the background, or you can elect to have it update your library all at once by choosing "Apply Media Information Changes" from the newly simplified Library menu.

A couple of other nice touches: Media Player 11 features a universal back button that lets you retrace your steps whether you're browsing a subscription service or your own library, and a handy drop-down menu lets you manage other types of media in your collection. And WMP 11 will still collapse into a tiny window with just play controls if you reduce the window to small enough size.
Under the Hood Enhancements
Once you get past WMP 11's interface overhaul, you'll find some improvements to the syncing and burning features of Media Player.
You can choose what to sync or burn by dragging albums, artists, playlists, or tracks to the hideable right pane in the player, where a handy icon and meter show you which device you're transferring songs to and how much space you'll have left when you're done. WMP 11 will automatically spread tracks over multiple discs if you're trying to burn more tracks than will fit.
Reverse syncing and multiple PC syncing features aid you in archiving voice or FM recordings from an MP3 player or in keeping a consistent collection on multiple PCs.
Microsoft Windows Media Player 11
A streamlined interface, superfast search, and integration with MTV's music store take Windows Media Player to the next level.
Free download
MTV Does Digital Music
While Microsoft has done some impressive work improving Media Player's interface, the company's real coup involves its integration of MTV's Urge music store into the player. While the specs for MTV's music store are fairly standard–a library of around 2 million tracks, 99-cent downloads of 192-kbps WMA files, and an unlimited download subscription model that lets you sync tracks to a portable player for $14.95 per month–MTV's strength as a music brand is unmatched.
But Urge will feature lots of different sources for music recommendations. For the Informer section of the service, MTV has recruited well-known music bloggers to produce custom playlists in their genres. Future updates of the service should allow users like you and me to start our own music blogs through Urge, recommend songs to friends, and write reviews of tracks or albums we like.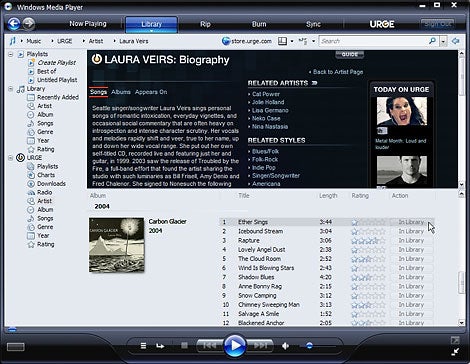 Thanks to that same integration, browsing through the tracks on Urge can feel just like browsing the tracks in your local music library. The same Instant Search function that works with your music library works in Urge, too, and it's almost as fast (though you have to search your local library and Urge offerings separately).
(In case you're wondering, Urge ships its main track listing over as a hefty XML file when you first download the player. Once that's downloaded, you'll receive small updates in the background every time you log in to the service.)
Currently, MTV is calling Urge a beta product, with more community features planned for later in the year. It's one of those Google-type betas, though: The beta that will be available to grab on Wednesday is a fairly finished product. The results so far are fairly impressive, though it remains to be seen whether even MTV can sway a significant portion of the iPod-buying masses over to a service that won't work with their MP3 player of choice.
Note: When you purchase something after clicking links in our articles, we may earn a small commission. Read our affiliate link policy for more details.