Though I appreciate the level of control that photo editing programs like Photoshop and Paint Shop Pro offer, they can be too involved for my needs. When I require a few quick-and-dirty photo fixes or the ability to share my snapshots instantly, I want an app like Corel's $40 Snapfire Plus, whose straightforward organization and editing tools will please most casual photographers. I do wish, however, that it had a little more flexibility in some of its editing functions.
Snapfire's modular user interface consists of four areas–Home, Enhance, Show, and Create–that are well laid out and easy to navigate. From Home you can perform most rudimentary tasks, such as sharing, finding, reviewing, rotating, and backing up your pictures. You can accomplish your basic editing with just a few clicks–sometimes in less than 5 minutes–but only if you work on one image at a time. Snapfire lacks batch processing for tasks like resizing and applying quick fixes, so working with multiple photos will take you longer.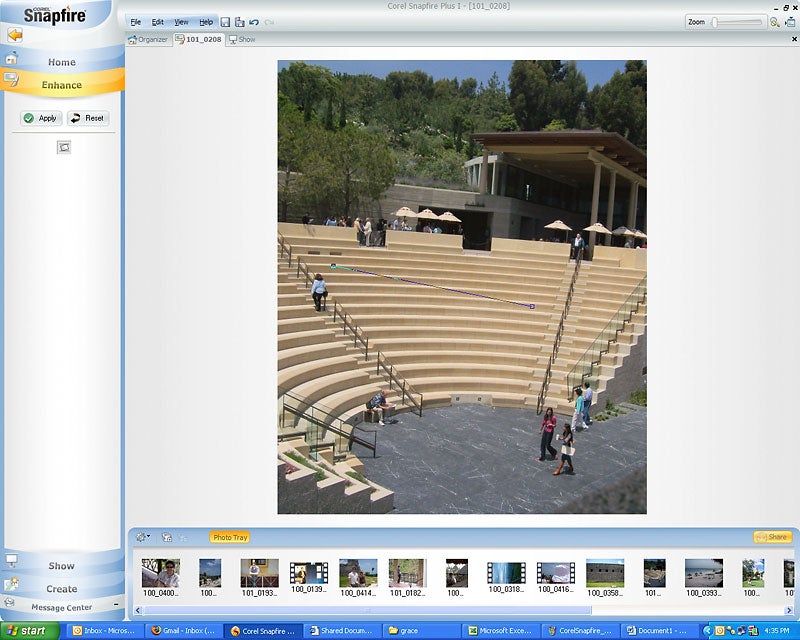 Corel has applied some of the enhancement features, including straighten and makeover, found in its more capable and more expensive Paint Shop Pro program. The straighten tool worked perfectly with my slanted shot of an amphitheater, but the results from the makeover tool were less pleasing: Although it lets you remove blemishes, whiten teeth, and apply a tan to your subjects, fine-tuning and erasing the effects are difficult. If you make a mistake, you can undo, but if you're levels deep into applying effects, having to backtrack and reapply is a real hassle.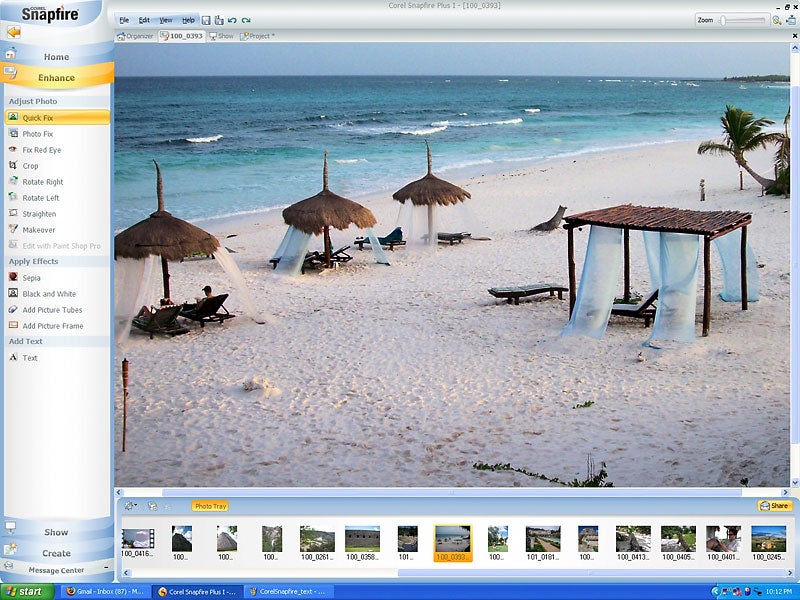 Easy E-Mail Sharing
Sharing a slide show via e-mail was easy: I simply selected the photos, clicked the e-mail option, clicked OK, and typed the e-mail address, and it was off. Snapfire automatically applies transitions and provides a handy preview. However, your recipients will need to download a copy of Snapfire to view your slides. (An available free version lacks features such as backup, resizing, text, image straightening, and video editing.) It would be less of an inconvenience if the slides came with an embedded player.
Now that nearly all cameras and some cell phones can capture videos, it makes sense that Snapfire Plus incorporates a very basic video player and editor (an addition that is fairly typical for many photo apps nowadays). You can mix photos and videos together, creating a slide show with transitions and background music. In my tests, though, performing any of the video functions was extremely slow, even on my 2-GHz laptop with 1GB of RAM. Sometimes it took several seconds to show anything on-screen. At press time, the software lacked DVD authoring, but Corel promises to offer the feature as a $10 add-on by December 2006.
Like many photo tools, Snapfire Plus lets you create layouts for albums, collages, greeting cards, calendars, certificates, and magazine covers. At launch, the selection of templates is sparse, but Corel plans to provide more over time via downloads. The creation process is drag-and-drop, so it's quick and easy–but don't expect a lot of creative freedom with the layouts, as certain objects and text palettes are immovable.
Snapfire is ideal for people who want a quick way to manage photos and perform minimal enhancements. For versatility, go for Paint Shop Pro, Photoshop Elements, or Photoshop. And if you're looking to save money, consider a free app like Google's Picasa: Snapfire's modular interface is more approachable, but Picasa trumps Snapfire with its speed and price.
Corel Snapfire Plus
Offers just enough photo organizing and enhancing tools to help the busy or novice shutterbug get the job done quickly. List: $40
www.snapfire.com