Like many people, I find that managing my collection of digital images is almost as big a job as editing them. New versions of two popular imaging applications–Corel's Paint Shop Pro Photo XI and Adobe's Photoshop Elements 5–promise to help you deal with photo glut, but only one of them delivers. Excellent editing tools and advances in the importing and sharing of photos put Photoshop Elements a big step ahead of Paint Shop Pro.
Both programs feature photo-downloading utilities that help you organize new images. The downloader in the latest version of Elements has received an impressive overhaul: When it recognizes that you've connected your digital camera to your PC or inserted a memory card into a reader, it can batch-rename all of the images in a variety of formats, remove red eye (though that feature isn't new), put the pictures in a new subfolder, and delete them from your memory card when it's done–all without any intervention on your part, if you choose to set it up that way.
Corel's photo downloader dumps images into SnapFire, its new ad-supported application. (The program disc includes the app, but you must install it separately.) The SnapFire downloader detects memory cards and CDs–any CD. In fact, when I inserted Adobe's Elements CD to install the application, Corel's downloader tried to bring up the images from that disc. SnapFire allows you to create a custom folder using the download date or a custom name, but it will not rename individual photos–a big disadvantage compared with Elements. Corel says it's considering adding that capability as an advanced feature in subsequent versions.
Oddly, Paint Shop Pro includes another organizer that's accessible from within the program. This organizer, which uses the same database as SnapFire, lets you very quickly search images by date, size, tag, or rating; still, I'd have preferred to see Corel consolidate the best features of the two organizers into one.
In Elements, the process of tagging photos so you can find them fast later hasn't changed–it's still exceptionally easy and intuitive. In Paint Shop Pro, unfortunately, tagging doesn't get the same priority: You must dig through menus to find tags, and when you do find them, they're tiny. Also, searching by multiple tags requires using a dialog box, whereas in Elements, you simply check off boxes in a prominent tagging palette.
Editing Power
Editing your images is still important, of course, and both apps are very capable editors. But whereas Adobe tries to maintain some distinction between Photoshop Elements and its high-end Photoshop, Paint Shop Pro is a Photoshop wannabe, packing in tons of tools–many more than Elements has–and this version adds even more, making the interface increasingly busy. For example, Paint Shop Pro offers a One-Step Photo Fix and a Smart Photo Fix; they do different things, but why not combine them into one tool? Elements presents a much more elegant interface, made the more so thanks to a minor makeover in this version.
Elements 5 adds a couple of new tools to its inventory. One is Curves, an editing tool that has long been a mainstay of Photoshop. Curves gives you a graphical way of adjusting an image's color and contrast at the same time. The version found in Elements is weak, however: You can't adjust a curve directly, and you don't get a histogram, which would allow you to adjust settings more accurately. The results were adequate, but inferior to what you could accomplish with Photoshop.
Paint Shop Pro has offered Curves in previous versions, but this latest release enhances the feature. It includes a histogram, and it allows you to manipulate a curve directly. But you can't click directly on your image with eyedroppers to set dark and light points (thereby setting the parameters by which the tool makes adjustments). Also, as with many Paint Shop Pro functions, you're working in a dialog box with minuscule "before" and "after" pictures.
Paint Shop Pro has a new Depth of Field command that allows you to emphasize an object in the foreground–say, someone's face–by blurring the background of the shot. Pulling this effect off, however, requires a careful selection of the foreground object, and the only tool for doing so is a freehand lasso–a poor choice when you have to work in one of the application's tiny dialog boxes; in addition, you can't modify your selection in this box, so if you make a mistake, you must start over.
Paint Shop Pro's new Color Changer feature, which changes the color in a high-contrast area, works very well. A new Skin Smoothing tool, though, is extremely slow. I tried it on two different PCs, and making an adjustment required 30 seconds to show results–per adjustment.
Elements has a nice new tool that corrects camera-lens distortion, eliminating image bulges and other problems. The application also adds an Adjust Sharpness tool. Adobe says this new tool works better than the old Unsharp Mask, and I believe it does in many instances. But I'm still more comfortable using Unsharp Mask–which is one reason Adobe left it in. Nevertheless, I don't like having to worry about which sharpening tool is going to work best.
Mapping It Out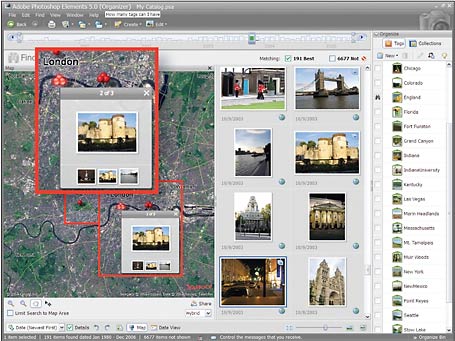 By far the coolest tool included with either program is Elements' Mapping: You plot images on a Yahoo-powered map, and the GPS data from the map is then written to your images' metadata. You don't get all of the controls you would if you were using Yahoo Maps in a browser–you don't have full zoom control, and instead of entering an address in the map, you have to do it by right-clicking on a picture–but this feature is yet another way that Elements helps organize your photos.
You can also share those maps online by uploading them to your own FTP site or to Adobe's new online Photoshop Showcase, a sort of photo blog. In addition, you can create Flash-based Web galleries. The galleries themselves are pretty snazzy, but the online gallery site is unimpressive–it's ad-supported, though you get 100 ad-free viewings before the ads kick in.
Elements feels like a bargain: It gives me 90 percent of what I use in Photoshop, but at a much smaller price. Paint Shop may offer a bit more of Photoshop's power than Elements does, but it does a very poor job of hiding its complexity, and its organizational tools just don't compete.
Adobe Photoshop Elements 5
This elegantly designed consumer image editing program makes managing photos even easier. Price when reviewed: Street: $90 Current prices (if available)
Corel Paint Shop Pro Photo XI
This application has powerful image editing tools, but its two organizers are clumsy and weak. Price when reviewed: Street: $100 Current prices (if available)
Adobe's Inexpensive Video Editor Becomes Even Easier
People upload more than 65,000 videos to the YouTube video sharing site every day. But with the release of Adobe's new Premiere Elements 3 ($100), YouTube may want to brace itself for an even bigger onslaught. This video editing application is so good and so easy to use, it may well encourage still more people to share their videos.
Building With Storyboards
The most obvious update to the application is a new storyboard feature (Adobe calls it a "Sceneline") that supplements the application's standard timeline. Each can serve as the application's main working platform for arranging video and audio clips and transitions, applying effects, adjusting sound levels, and implementing other features, but storyboards are more common in video editing applications aimed at novices.
Storyboards are easier to work with because they use fixed time slots–you drag your clips to boxes in the storyboard, and then drag transitions into boxes in between the clips (or, unique to Elements 3, you can right-click on the boxes and choose transitions from a list). Adobe's Sceneline even labels clip boxes with 'Drag a clip here to add to movie.' The Sceneline isn't much different than, say, Pinnacle Studio's storyboard (except that the boxes are bigger), but it's still a nice addition to the application; as with Pinnacle Studio, even experienced users may find it handy to use a storyboard to quickly assemble a rough layout, and then switch over to the timeline for finer control.
Most of the other improvements are relatively minor, but still welcome. You can now import and edit high-definition video. A new stop-motion capture mode lets you capture still images from your camcorder at regular, adjustable intervals (think Claymation). You just plug in your camcorder and set two parameters, and the application will automatically insert the still images into the Sceneline. I found that the feature works best on video footage that doesn't change much; otherwise, the shifts in movement from frame to frame are too jarring; it would probably help to plan your video shoot ahead of time if you're going to use the feature.
Telling Your Story
Clicking a new button near the top of the Premiere Elements screen lets you record voice narration if you have a microphone attached to your computer. When you're finished recording, the application automatically inserts the recording into a new "narration" track in the Sceneline or timeline.Want to add a title screen to your composition? With previous versions, you had to create a title and drag it into the timeline. Elements 3 lets you click a button and begin typing; all the usual font styles and controls are easily accessible.One feature that's missing is a link to online video-sharing sites. Adobe has a new sharing site that's accessible from its Photoshop Elements 5 app, but I'd rather see some integration with YouTube and other popular sites–a one-touch "upload to video site" button would be a nice addition.If you use Premiere Elements 2 and you're comfortable with its timeline, you may not consider Elements 3 a significant upgrade. After all, its predecessor was excellent to begin with. But Premiere Elements 3 is just that much better.